Pure Storage all-flash gains ObjectEngine backup appliance
All-flash vendor Pure Storage provides ObjectEngine inline deduplication appliance to reduce data locally and shuttle it to S3-based object storage for analytics, DR and reuse.
Flash storage pioneer Pure Storage is getting into cloud backup, allowing customers to deduplicate data and protect it on AWS.
Pure Storage this week introduced ObjectEngine//A270, a cloud backup target for Pure Storage FlashBlade NAS appliances. The Pure Storage all-flash ObjectEngine is based on the StorReduce inline cloud deduplication Pure acquired in 2018. Shipments of ObjectEngine are expected to start in March.
Pure Storage also formally launched the DirectFlash Fabric it first revealed in January for FlashArray//X block storage. The DirectFlash Fabric network adapter runs NVMe over Fabrics via Remote Direct Memory Access (RDMA) over Converged Ethernet to optimize flash performance.
ObjectEngine for rapid restore from cloud
Pure Storage moved into backup unintentionally following the 2016 release of FlashBlade as a high-performance system for unstructured data. Pure executives said customers with tight recovery times began backing up to FlashBlade, using the all-flash system for a use case normally served by slow, cheap spinning disk.
Pure Storage ObjectEngine//A270 extends FlashBade's use for data protection into the cloud. The ObjectEngine appliance is a four-node base cluster in a 6U rack. The product moves data between local NVMe-based FlashBlade arrays and AWS S3 storage. StorReduce provides high-bandwidth data deduplication.
Pure Storage moved into backup unintentionally following the 2016 release of FlashBlade as a high-performance system for unstructured data.
Pure Storage supports backup software from Cohesity, Commvault, Veritas, Veeam and Rubrik on ObjectEngine. Brian Schwarz, Pure Storage vice president of product management for FlashBlade, said ObjectEngine appliances allow Pure Storage all-flash customers to retire disk-based backup systems such as Dell EMC Data Domain.
"People have good backup [with disk], but they don't have good restore times with disk. We're giving you the performance of flash with the elasticity of bursting into the cloud," Schwarz said.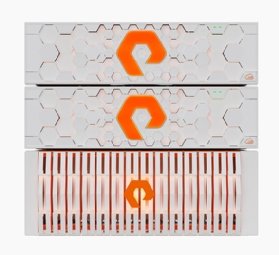 The StorReduce acquisition allowed Pure Storage to apply flash, S3 semantics and inline deduplication before traffic hits the WAN, said Steve McDowell, a senior analyst for storage and converged systems at Moor Insights & Strategy.
"StorReduce lets you dedupe on site and move the on-premises deduped data to AWS. Object-based flash is what I want for my snapshots, my backups and lots of other data," McDowell said. "I can see ObjectEngine being used as a replication target for other [vendors'] storage" in select environments, McDowell said.
Pure said ObjectEngine also will be available as a virtual storage appliance in late 2019. The OE//Cloud model will protect more than 100 PB in AWS, with 11 nines of availability.
Support for Ethernet-based NVMe flash fabric
Pure's first NVMe all-flash device was the dual-ported NVMe non-volatile RAM card for FlashArray//M, which launched in 2015 as enabling technology for Pure Evergreen cloud architecture.
The initial FlashArray systems used commercially available SSDs, but Pure replaced SSDs with software-defined DirectFlash custom NAND modules when FlashArray//X launched in 2017.
DirectFlash Fabric provides connectivity between FlashArray//X block arrays and rack servers. It requires an RDMA-enabled Ethernet network interface card for controller-to-shelf connectivity. Customers can get DirectFlash Fabric with a firmware upgrade.
The NVM Express industry consortium governs standards for NVMe and NVMe over Fabrics technologies, including development of Fibre Channel and RDMA protocols.
Chadd Kenney, Pure Storage vice president of product for FlashArray, said the vendor sees Linux-based NoSQL databases and other "direct attached-storage used inside native applications" as early use cases for NVMe-oF.
Kenney said Pure Storage will support NVMe-oF for Fibre Channel this year and plans to add NVMe over TCP by 2020.