Toshiba memory business sale faces bumpy road
Toshiba signs a $17.7 billion deal to sell its memory business to a Bain-led consortium that includes Dell and Seagate, but Western Digital's SanDisk wants to stop it.
Financially troubled Toshiba signed a $17.7 billion deal to sell its memory business to a Bain Capital-led consortium that includes Apple, Dell and Seagate in hopes of closing on March 30, 2018.
The Tokyo-based conglomerate is under intensifying pressure to cover crippling losses from its U.S.-based Westinghouse Electric nuclear power division and stave off delisting from the Tokyo Stock Exchange. But the completion of the Toshiba memory business sale could be stalled by lengthy antitrust and security reviews, as well as potential arbitration to settle contract disputes.
Toshiba's 17-year NAND flash joint-venture partner, SanDisk, has complaints pending with the International Court of Arbitration. SanDisk, now a Western Digital subsidiary, claims the Toshiba memory business transfer could not take place without its consent. SanDisk also claimed that Toshiba had unjustly blocked access to shared databases and made improper unilateral investments in equipment at their joint flash manufacturing operation in Yokkaichi, Japan.
Western Digital noted that SanDisk plans to seek interim injunctive relief and warned that a final ruling might not come until 2019, "given that complex international arbitrations like these often take more than 24 months."
"The whole purpose of a statement like that is to get Toshiba's attention and make sure that Toshiba is not ignoring them," said Jim Handy, general director and semiconductor analyst at Objective Analysis.
Handy said he expects Toshiba will be delisted from the Tokyo Stock Exchange, because Western Digital will prevent the deal from going through. But he also said he could see Western Digital dropping its lawsuits if the investor makeup of the consortium changes, or if Toshiba gives them some reason to accept the deal.
Howard Marks, founder and chief scientist at DeepStorage LLC, gave 60-40 odds that the Toshiba memory business deal will go through, but probably not before July or August 2018. But he also acknowledged, "Western Digital can tie this up for years."
Toshiba memory business sale terms
The share purchase agreement that Toshiba signed last week for 2 trillion yen, or about $17.7 billion U.S. dollars, was with K.K. Pangea, "a special-purpose acquisition company" that Bain Capital Private Equity formed and controls. According to Toshiba, the investment breakdown in U.S. dollars is the following:
Toshiba -- $3.1 billion
Bain Capital -- $1.9 billion
SK Hynix, a South Korean semiconductor manufacturer -- $3.5 billion
Hoya, a Japan-based optical product manufacturer -- $239.6 million
U.S. investors -- $3.7 billion
Pangea also plans to secure $5.3 billion in loans from financial institutions and banks.
Among U.S. investors Apple, Kingston Technology, Seagate Technology and Dell Technologies Capital, only Seagate has disclosed its commitment of $1.25 billion in financing. U.S. investors do not acquire any common stock or voting rights as part of the deal.
Toshiba said Bain and Toshiba Memory Corp. would lead TMC's business operations after the transfer of TMC shares to Pangea. SK Hynix would be "firewalled" from accessing TMC's proprietary information and cannot own more than 15% of the voting rights in Pangea or TMC for 10 years, according to the agreement.
In a release issued last week, Western Digital raised specific concerns about competitor SK Hynix, claiming the chipmaker's participation would increase the risk of "technology leakage" from the joint ventures and Japan. SK Hynix was "at the center of a well-publicized theft" of Toshiba's and SanDisk's "trade secrets," and it made "substantial monetary and business concessions" to Toshiba and SanDisk to settle their complaints two years ago, according to Western Digital.
Western Digital also noted its general concern that Toshiba's consortium includes "both competitors and customers." Western Digital, which was also a bidding finalist, said the Bain-led consortium makeup would create the potential to "not only weaken the [joint ventures] going forward," but also introduce regulatory risk that did not exist with one of the competing proposals that included financing from Innovation Network Corporation of Japan and KKR & Co.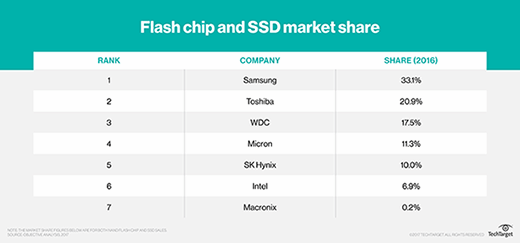 Toshiba memory business sale impact
Despite the length and complexity of negotiations, industry analysts said they do not expect the potential deal to cause near-term major disruptions to the NAND flash memory industry and the flash-based solid-state drive (SSD) market.
"The signs are changing on buildings, but the net effect to consumers is minimal," Marks said.
Marks said the deal would provide Apple, Dell, Seagate and Kingston with flash supply chain protection. And, as SSD makers, Kingston and Seagate in particular could be the biggest winners, because "it's hard to compete in the SSD business when you don't own the flash," he said.
"On the surface, Western Digital appears to be a loser in this deal," said Walter Coon, director of NAND flash technology research at IHS Markit. "Their main HDD competitor, Seagate, appears to be much stronger coming out of this deal. So, their competition strengthened."
Coon said he expects no major impact to the NAND flash market, with the Bain-led private equity side of the consortium counterbalancing the potentially aggressive OEM flash customer side.
"There's a group in the consortium that's going to want lower-priced NAND and more NAND, and then there's the Bain group that's going to want free cash flow," Coon said. "The way private equity works is they want to drive up free cash flow, get the business as healthy as possible and then sell it off or IPO [initial public offering] it and make billions of dollars. So, I don't think they're going to do anything that might drastically disrupt the market."
Joseph Unsworth, a semiconductor research vice president at Gartner, agreed that Toshiba's and Western Digital's flash chip customers should not expect major disruptions to technology and production in the near term. But he advised them to carefully monitor the legal proceedings to ensure supply continuity.
"Longer term, customers should be mindful of the risks regarding the different agendas of the invested parties and seek transparency and commitments to future capital investment and technology for both NAND flash and emerging memory technologies," he wrote in an email.
Dig Deeper on Storage architecture and strategy