Managing and protecting all enterprise data

Five essential steps to build a cloud-native strategy
Container storage has taken off, thanks to its performance and portability. Make the most of the technology with a comprehensive cloud-native strategy.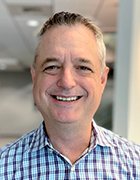 By
What makes a digital business digital? For years, industry experts and the media have lauded the rise of digital transformation, with many claiming data to be the new oil. More effective and efficient data use often delivers superior business results, operational efficiencies, better customer engagement and even opportunities to unlock new markets.
Yes, data is an incredibly valuable business asset. But businesses have, in one way or another, been using data for decades to help drive decisions. What makes a digital business digital is not just its ability to use data. Rather, it is the business's ability to analyze that data to make decisions, and then execute on those decisions quickly, ideally much faster than competitors.
There are few places where the importance of data and speed of execution are more combined than in the realm of modern DevOps practices. Specifically, it's in cloud-native and container-based application development and Kubernetes.
To begin, it is important to understand the tie between cloud-native and container-based applications and DevOps success. A 2019 Enterprise Strategy Group (ESG) research study of IT professionals whose organizations use containers or plan to use them for production applications in the next 12 months found the following:
Fifty-three percent indicated that their interest in modern DevOps practices was the catalyst for their container interest or adoption.
The three most commonly identified benefits of container technology were better application performance (50%), improved software quality (45%) and better application portability (45%).
This connection between container adoption and application development success is one of the major reasons it is essential for IT decision-makers to understand that containers are not VMs.
Consider this: When VM adoption arose, the benefits were predominately IT-centric; for example, delivering increased infrastructure use along with optimization for IT operation workflows. With containers, the business benefits also accelerated and improved application development. Ultimately, containers can create that link between smart IT architecture decisions and more revenue creation.
Which bring us back to the concept of speed. With the nature of modern business being digital, competitive success using technology is both powerful and fleeting. Gaining a real, long-term edge depends on how well and fast your organization's developers can adapt your technology, services and engagement to changing customer and market needs.
If you approach container support by focusing only on what it means for IT to support containers and cloud-native applications, then your organization will be at a disadvantage. With containers, infrastructure support alone is insufficient to achieve the application development benefits identified above. IT decision-makers need to work with development teams to not just support containers, but to also build a larger cloud-native strategy.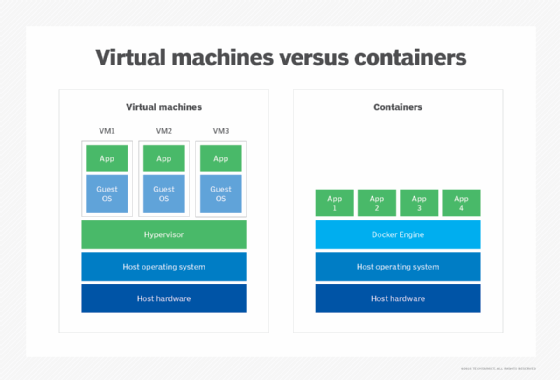 How to maximize the value of containers
So, what steps do you need to take to build an IT strategy around containers to maximize the value of the technology? Here are five suggestions:
Understand the need for a cloud-native strategy that extends beyond just container or Kubernetes support. To fully reap the benefits of adopting containers, your organization will require more than hardware and software. Specifically, you need to analyze and perhaps rethink your organizational dynamics and internal processes. Work to understand how your development teams request resources, and then speed up and automate those steps as much as possible.
Design your environment to provide developers with as much control and freedom as possible, while protecting the business and the data. To deliver as much freedom as possible to development teams, IT admins need to work upfront to understand their data environment, including how to continuously ensure data protection and security. Containers are meant to be portable, but data often can't be. That situation is helping to fuel adoption of DataOps practices and retention of personnel who specialize in DataOps. Seek out technology and tools that can provide insight on data and advice on where the data needs to reside. Services should also provide controls for managing data placement and protection.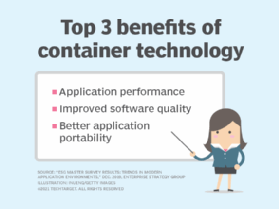 Modernize for performance, scalability and consistency across locations. Containers are designed to be portable. But for that portability to work, you need consistency across environments. An ESG study found that 70% of decision-makers indicated that their container-based applications are or would be deployed in a combination of public clouds and private data centers.
For data storage, it's not going to be good enough to ensure that your storage system supports a Container Storage Interface driver. Look for technologies that can provide the same capabilities across multiple environments: public clouds, data centers and edge locations.
In addition, infrastructure offerings often need to support a much higher level of performance than traditional applications, not just for data access but for storage services. When you request to spin 100 or 1,000 microservices up or down instantly, you need to ensure the storage system can keep up with those requests.
Start with a focused, achievable project. If you start with containers, pick an objective that is achievable. Container technology can benefit a wide variety of application types. Start with something small enough to be achievable, but large enough to use as an internal example to encourage other projects in your company.
Measure, improve and repeat. Remember that the goal for cloud-native container projects is to be business transformational, not just another technology deployment. Prior to starting, clearly identify your objectives and make sure that you can measure them. As you deploy your cloud-native strategy, monitor any improvements. Investigate and analyze any misses or hiccups, continually identify new lessons and work to improve.
Container technology and Kubernetes can deliver truly transformational benefits. But to do that, IT must ensure the business can reap the portability and scalability benefits in a manner that accelerates development activities. And that requires more than just container or Kubernetes support; it requires IT decision-makers to ensure that the surrounding process improvements and benefits are in place as well.
Scott Sinclair is a senior analyst at ESG, which is a division of TechTarget.
Dig Deeper on Storage architecture and strategy