Best practices for multi-cloud optimization
Optimizing multi-cloud environments is essential to ensuring performance and low costs. There are several best practices organizations can use, including governing cloud resource usage.
As organizations continue to adopt multi-cloud environments, they must ensure users expend cloud resources reasonably. Organizations can use best practices such as governing resource usage, managing costs and implementing cloud security measures to optimize their multi-cloud strategy.
In a session at VMworld 2020 called "Best Practices for Optimizing Your Hybrid and Multi-Cloud Environment," speakers Mike Giacometti, senior product manager at VMware, and Sarah Lucas, head of platform and infrastructure at William Hill Plc, shared strategies organizations can use to improve their multi-cloud environments.
Understanding the drawbacks of multi-cloud environments
Multi-cloud's popularity has skyrocketed because the approach can provide more control to users, rather than leaving every task to the IT department. But as power is put into users' hands, tracking and maintaining cloud resources becomes difficult. Data center resources are some of the main building blocks for effective operations; organizations must learn how to collaborate with their teams to ensure cloud resources aren't being stretched too thin.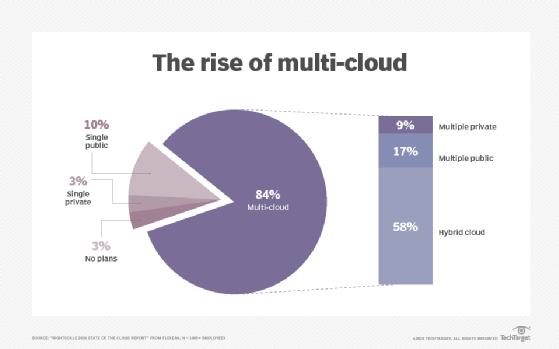 Unlike private and hybrid cloud environments -- which are generally Capex intensive and have stable costs -- organizations provision multi-cloud resources directly; multi-cloud resource usage is highly dynamic, unpredictable and Opex intensive.
Best practices for optimizing multi-cloud environments
When determining how to manage multi-cloud resources, organizations must first consider two things: adapting and using the right tools. Knowing how to adapt to new business processes and system architectures is essential to ensuring performance. When it comes to multi-cloud operations, organizations should consider implementing a cloud center of excellence (CCoE), which supports and governs an organization's cloud strategy and best practices.
Organizations must also know which tools work best with their multi-cloud environments. Products such as VMware's CloudHealth, Morpheus Data and Flexera enable organizations to take advantage of multi-cloud management capabilities in a centralized software format.
"One of the most important factors in optimizing or managing a multi-cloud environment is to ensure that IT teams have the right tools in place so they have complete visibility into the various platforms and can better control spending. Multi-cloud tools should help optimize workload distribution, maintain security and compliance, and automate operations," said Robert Sheldon, a technical consultant and freelance technology writer.
From there, organizations can begin to use best practices to refine their multi-cloud optimization strategy.
Understand your starting point. Whether organizations are looking to optimize an existing multi-cloud environment or they're just beginning to look into deploying one, IT must know their technology stack inside and out. Day-to-day business operations play a role, too. To get the most out of a multi-cloud environment, organizations must have a clear picture of why they're pursuing it and what the nuts and bolts look like.
"Understand what you have and are using. You cannot optimize anything if you don't have a deep understanding of what it is, what it's being used for and the impact that exists if you have a problem. This is not just a best practice, but a fundamental step in working with and understanding a multi-cloud strategy," said Brian Kirsch, an IT architect and instructor at Milwaukee Area Technical College.
Cost management. Cost management is an essential component of managing a multi-cloud environment. To help manage costs, organizations can identify and reduce app integration costs and avoid unnecessary networking fees. In addition, organizations should create strong relationships with financing teams to receive more accurate cost metrics based on real-time information.
Manage the change narrative. When dealing with multi-cloud environments, organizations must create a clear narrative of what will occur with the technology. This is especially important for organizations at the beginning of their multi-cloud journey. Introducing new technologies that disrupt traditional workflows can elicit negative responses from end users.
It's important for organizations to invest in the people and provide resources for teams to get a better grasp of what is to come. This means speaking with their teams and clearly communicating any upcoming changes to ensure a seamless multi-cloud experience. For example, organizations should make their expectations clear, provide a detailed plan, offer training for the technology they plan to implement and field questions as they come.
Dig Deeper on VMware updates, certifications and training