Sinisa Botas - Fotolia
Use the Rufus utility to create a bootable VMware ESXi installer
Rufus -- short for Reliable USB Formatting Utility -- is a free Windows tool that can create a bootable VMware ESXi installer and a custom installation package in mere minutes.
There are a number of ways to install VMware ESXi. You could use a CD/DVD drive media, but this becomes an issue...
Continue Reading This Article
Enjoy this article as well as all of our content, including E-Guides, news, tips and more.
if you use a server that doesn't have a CD/DVD drive. Another option is to use a USB flash drive to install the VMware hypervisor. This method is fast and convenient, because it doesn't require any special knowledge to complete. You could also use any number of Windows utilities to create a bootable flash drive out of an ISO image.
One such Windows utility, Rufus, is free to use and can create a bootable VMware ESXi installer within minutes. Since it's an executable file, it doesn't require installation, and it works with most versions of Windows, starting with Windows XP.
Rufus requirements
There are a few requirements you must meet in order to use the Rufus tool to install ESXi. First, you need a USB drive with a large enough capacity; fortunately, most modern USB drives have a capacity of 16 GB or greater, which is more than enough for our purposes. It also goes without saying that you need a Windows box to run Rufus, as Rufus is a Windows utility. If you don't have Windows, you can use VMware Workstation or Player software to install a VM with Windows on it, and then run Rufus inside that VM.
To create a bootable ESXi installer, you also need the ESXi installation ISO file. Go to the My VMware site and download the latest copy of the ESXi hypervisor. If you're a paying customer, you can download ESXi from within your account. If you aren't a paying customer and don't have an account already set up, you can create a free account to download free trials and products from VMware.
You can try the full, paid version of the ESXi hypervisor for a 60-day free-trial period. At the end of your trial period, the free version of the ESXi hypervisor will automatically install; note that even though this version is free, it still requires a serial number.
How does the Rufus tool work?
Rufus grabs the ISO installation file, extracts it and places it on a USB so the USB becomes bootable media, with installation files in the right places, with the right subdirectories and so on. Rufus eliminates much of the hassle associated with installing ESXi and completes the entire installation in as little as two minutes.
To start the ESXi installation process, download Rufus directly from the source, or from another site, such as Reboot.pro. Next, connect the USB flash device to your computer. Open Rufus. Your USB key should be preselected as a device in the application windows -- this just means your Windows installation recognizes it.
Leave the default settings as is and, next to the check box that says, "Create a bootable disk using," select "ISO Image" from the drop-down selection. Click the icon next to it, highlighted in the figure below, and browse for the VMware ESXi hypervisor ISO file you downloaded from the My VMware site.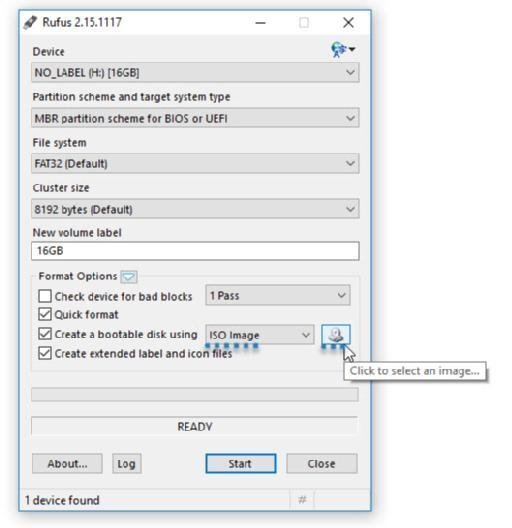 Once you've located and selected the ESXi ISO file, the "New volume label" under Rufus' settings should inherit the label from the ESXi ISO image. This label is modifiable. Once the label has changed, hit the Start button.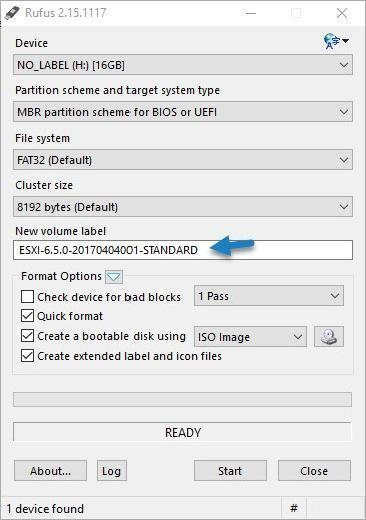 Next, replace the default boot menu, as shown in Figure C. This step is necessary because it replaces an obsolete version of "menu.c32" of the ESXi installer.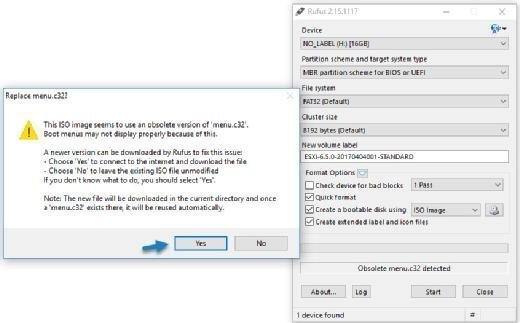 If your USB key isn't blank, you'll receive a warning that all data on the device will be destroyed. Make sure you don't leave any important files on the USB drive before you erase, then click OK to erase. You can now use this USB drive to boot your server into the ESXi installer. Typically, ESXi is installed on a local disk or RAID 1 group for redundancy.
Create a custom installation package
You might need to embed custom drivers into ESXi ISO before you can use Rufus to create installation media. There are two known and supported methods for creating a custom ESXi 6.5 ISO: with the vSphere 6.5 Image Builder or with vSphere PowerCLI and the Image Builder.
The vSphere 6.5 Image Builder uses a GUI to build a custom ESXi ISO. In order to use the vSphere 6.5 Image Builder, you must first deploy the vCenter Server Appliance. VCSA is a vCenter Server that runs a Linux OS. Once you've deployed vCSA, you can use the Image Builder tool to add or remove drivers from the original ESXi ISO image.
PowerCI uses VMware cmdlets to add or remove drivers from the original ESXi ISO image and build the final ISO file. If you choose this method, be mindful to follow the exact syntax and use several cmdlets to create the custom ESXi ISO.
As you can see, Rufus makes it easy to create standard VMware ESXi installation media -- all you need is a USB drive with the necessary files to install the ESXi hypervisor on a physical server. This USB drive can share ESXi installation media with any number of servers, but is best suited for small-scale installations.
Next Steps
Upgrade to ESXi 6.5 without breaking a sweat
Why a proper ESXi installation is absolutely essential
Upgrade stand-alone hosts to ESXi 6.5 to access new features
Dig Deeper on VMware ESXi, vSphere and vCenter