Salesforce adds SASB templates to Net Zero Cloud
Salesforce's Net Zero Cloud now includes its SASB Report Builder, which is designed to help companies gather and disclose industry-specific ESG risk data.
With the availability of SASB Report Builder, Salesforce is continuing to expand the capabilities of its Net Zero Cloud, a SaaS environmental, social and corporate governance data management and reporting platform.
The new Sustainability Accounting Standards Board Report Builder provides templates so that Net Zero Cloud customers can automate the disclosure of data that adhere to SASB Standards, industry-specific metrics that can include environmental footprint of hardware, labor conditions in the supply chain and data privacy.
The SASB Standards were established by a non-profit organization to normalize ESG reporting and are used by more than 600 organizations in the S&P Global 1200 Index to disclose data relating to potential sustainability risks and opportunities that may affect the organizations' cash flows, access to finance and capital costs over the short, medium and long-term, according to the SASB Standards Board.
SASB Standards have targets for 77 specific industries including e-commerce, software and IT services, automobiles and real estate. Right now, Salesforce SASB Report Builder includes templates for 14 of those industries, but more are expected to be added over time. The 14 industries are in four sectors: consumer goods, financials, services, and technology and communications.
The aim is to make sustainability reporting easier in an increasingly complex regulatory environment, according to Ari Alexander, general manager for Net Zero Cloud and Marketplace at Salesforce.
"The world of ESG reporting is getting a tremendous amount of attention as things move in the direction of compliance. But there's a huge amount of work to be done once people have a sense of what those numbers look like," Alexander said.
SASB Report Builder is the third of four reporting templates for Net Zero Cloud's Disclosure and Compliance Hub, which was released earlier this year. The first two templates -- Carbon Disclosure Project and Global Reporting Initiative -- were also released earlier in 2023. A fourth template centered on European Sustainability Reporting Standards and Corporate Sustainability Reporting Directive is expected this fall.
The templates provide out-of-the-box functionality that automate reporting for these specific standards, Alexander said.
"This is one leg in a stool of expectations our customers have to make it easy to report out in these different ways," he said.
Companies are facing more pressure from customers, suppliers, employees and investors to disclose sustainability information, Alexander said. They are also feeling regulatory pressure and understand that financial penalties for non-compliance are coming.
However, adhering to standards from various international boards and government agencies creates complexity in sustainability reporting.
"Customers are telling us that there's an acronym soup of expectations and possibilities out there, and they're all different from one another," he said. "Some people at our company are responsible for filling out these massive questionnaires around all of them. And it's just too hard and takes too much time, so they're looking for tools to make all that easier."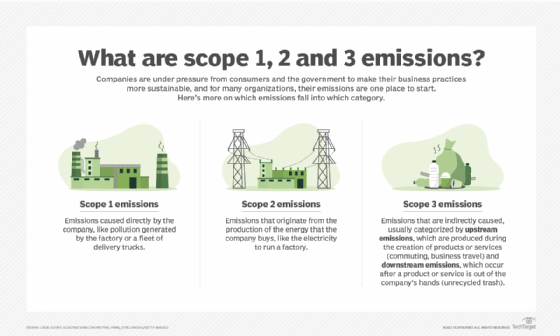 Sustainability reporting challenges
A recent survey report from Hitachi Vantara, infrastructure subsidiary of Hitachi, Ltd., highlighted some of the challenges organizations face in sustainability reporting. In the survey of 1,000 global IT leaders and C-suite executives, 78% of the 250 U.S.-based businesses have made achieving carbon neutrality a top priority. However, 40% said that their organization lacked a sustainability strategy and implementation plan, and 45% said that their biggest challenge was keeping up with regulations.
Organizations are looking to easily calculate their carbon footprints but also, more importantly, link this data with financial metrics, said Craig Wentworth, an analyst at TechMarketView, a technology research and analysis firm in Farnham, U.K.
Without making that connection, bolted-on sustainability initiatives risk getting axed when times get tough, Wentworth said. And it's harder for the businesses to derive benefits in their operations from sustainability improvements.
In this context, it's good for Salesforce to offer a platform like Net Zero Cloud to democratize access to carbon accounting, he said.
"Salesforce is all SaaS-based and is all about ease-of-use," Wentworth said. "So the fact that they have an offering that represents that for data collection and automated reporting on the templates is absolutely to be applauded."
Net Zero Cloud needs more time
However, Net Zero Cloud is still in its early stages and will need time to become a more complete sustainability reporting product, Wentworth added. For example, Salesforce prides itself on offering horizontal products that can be standardized across industries, but carbon accounting has industry-specific considerations.
The world of ESG reporting is getting a tremendous amount of attention as things move in the direction of compliance. But there's a huge amount of work to be done once people have a sense of what those numbers look like.

Ari AlexanderGeneral manager, Net Zero Cloud and Net Zero Marketplace, Salesforce
SASB Report Builder is useful but only covers 14 of the 77 industry sector standards that SASB includes, he said.
"They've picked the ones that are the hottest at the moment," Wentworth said. "But they need to embrace more industries, or they risk alienating customers that are in the industries that aren't covered."
It also appears that Net Zero Cloud is more difficult to implement than a SaaS product needs to be, he said. For example, one customer Wentworth spoke to at the recent Salesforce World Tour event in London is using Salesforce partner PwC to help implement Net Zero Cloud.
Better ease-of-deployment will come as Salesforce adds more templates and learns from customer engagements, which will be important to democratize cardon accounting, especially as organizations have to start reporting Scope 3 emissions, Wentworth said. Scope 3 emissions include everything that is generated across an organization's entire value chain, including all its suppliers and their suppliers.
"Once people start having to report on Scope 3 emissions, even the smallest companies get swept up in somebody else's supply chain," he said. "That's the big scare now for a lot of small businesses. It almost doesn't matter how big you are or where you trade, if you trade with anybody from a jurisdiction that has those, you get swept up in that net. And that's pressing a lot of people into action."
Jim O'Donnell is a senior news writer who covers ERP and other enterprise applications for TechTarget Editorial.
Dig Deeper on Sustainability and ESG data and reporting