Award-winning culture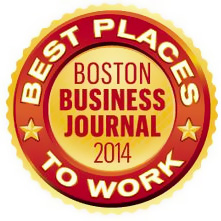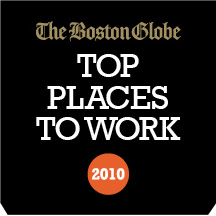 Our open-door management style and fun-loving attitude have earned us a frequent spot on Boston Business Journal's list of the "Best Places to Work" in Massachusetts and The Boston Globe's list of "100 Top Places to Work."
Since going public in 2007, we've maintained our start-up attitude, so while we work hard to deliver results, we dress as we please, commune over bagel Wednesdays, and hold employee appreciation parties every quarter.
Remarkable growth
As a growing company, we depend on our employees' development for continuous momentum. At TechTarget, you can choose to have direct responsibility for generating results and your ideas could well be the catalyst for a whole new area of opportunity. You will personally prosper among a large group of like-minded peers and, with a long track record of promoting from within, it's highly likely you'll work directly with managers who've built their initial success with us.
Inclusive innovation
We've got a host of new offerings that are leading the purchase intent-driven marketing industry, built by teams that leverage buyer insight that's unparalleled in the space. We run company-wide programs like our Innovation and Excellence Awards to recognize employee achievements, but we trust you'll be inspired from day one to start sharing your own ideas with your team. Even as you partner with established thought leaders at TechTarget, everyone will be excited to hear directly from you.
Flexibility and balance
Our policies are designed for flexibility and to support personal accountability. That's why we've never required formal vacation or sick-day calendars. We've found that when our employees take the lead in structuring their schedules responsibly, they prove able to deliver significant contributions to the company in balance with their other needs and interests.
Come join us
We're a great company aspiring to even greater heights. It's a terrific place to get your start and a fantastic company to accelerate your career. If you aspire to be a part of something special and join a team where your contribution can make a measurable difference, we very much hope you'll take the first step by sending your resume to jobs@techtarget.com.
To apply, please go to our Job Opportunities page, or visit our LinkedIn Jobs page.