The leading source of UK IT news and analysis
Built on the foundation of ComputerWeekly.com and MicroScope.co.uk, TechTarget offers an extensive reader community and in-depth coverage of the issues, challenges and trends facing today's IT leaders in the UK, Europe and rest of the world.
Computer Weekly provides the latest news and analysis through its website and 200,000-subscriber weekly digital magazine, as well as award-winning and exclusive premium content; a dedicated monthly magazine for European IT leaders; and CW500 exclusive networking events for senior IT managers.
Computer Weekly covers a broad range of IT topics, but has more than 100 niche topical sections, which can be individually targeted, delving into the sub-topics of areas like Data Centre, Enterprise Software, Security, Storage and Networking.
For more than 30 years, MicroScope—an extension of Computer Weekly that serves the UK IT Channel market—has been bringing key business and in-depth technology information to value-added resellers, to better sell and run their ever-changing business.
For vendors selling IT products and services, Computer Weekly and MicroScope provide access to the most qualified buyers in the UK IT market. Deliver your message to these buyers through TechTarget's cutting-edge media and data services, along with behavioral insights on these buyers and their upcoming IT purchases.
17M+
unique network visitors
46K
in-market leads delivered quarterly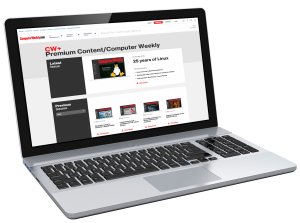 Computer Weekly
Launched in 1966 as a print publication, Computer Weekly is the first ever and longest-running weekly technology publication in the UK. Now in a digital only format, the Computer Weekly E-Zine remains the UK's trusted source of IT news and local case studies for B2B IT. The e-zine is distributed to more than 200,000 subscribers each week with more than 1,000 downloads to each individual issue. Sponsors are able to:
Align with award-winning editorial content and access the UK's most elite subscriber base
Generate premium UK leads selected based on topical user activity over the last three months
Increase brand awareness with a regular readership staying on top of key market trends and technologies
CW500 Event Series
Exclusively target the UK IT industry's most important influencers and decision-makers
The CW500 is an exclusive group of senior IT leaders from the most important and successful organisations in the UK. Monthly events offer an opportunity for IT leaders to meet with their peers and share best practices around the latest technology topics, industry trends and IT management issues. Event sponsorships allow you to directly connect with and get your brand in front of this premium audience.
Find Out More
Building blocks for better results