Evaluate
Weigh the pros and cons of technologies, products and projects you are considering.
5G to provide advanced connectivity for fourth Industrial Revolution
The rationale for the development of the fifth generation of mobile communications (5G) was not only to expand the broadband capabilities of mobile networks, but unlike previous communications technology generations (2G, 3G and 4G LTE), also to provide advanced wireless connectivity for a wide variety of vertical industries, such as the manufacturing, automotive and agricultural sectors. The fourth stage of the Industrial Revolution, also termed Industry 4.0, is the next era in industrial production, which will be largely dependent upon advanced mobile wireless communications connectivity.
While the earlier generations were designed as "all-purpose" connectivity platforms with limited capabilities for different use cases, everything will be much different with 5G connectivity. 5G is an ecosystem for technology and business innovation with a massive portfolio of applications and their equally widespread requirements such as high reliability, ultra-low latency, high bandwidth and mobility. Some of the newer features that will augment the development of Industry 4.0 include cloud platforms, analytics, system automation and network slicing technologies, as well as new business models. Network slicing is one of the key capabilities that will enable flexibility, as it allows multiple logical networks to be created on top of a common shared physical infrastructure. What this means is that new services and new requirements may be quickly addressed and the elasticity of network slicing will help with cost, efficiency and other flexible requirements imposed by a large variety of industrial vertical services.
5G Americas, the industry trade association and voice of 5G and LTE for the Americas, published a white paper, "5G Communications for Automation in Vertical Domains," summarizing automation concepts and communication modeling for vertical domains incorporating the key specific use cases, requirements and security mechanisms. The paper is available on the organization's website 5GAmericas.org for free download and is a key resource in the creation of this article.
Communication for automation in vertical domains comes with demanding and diverse requirements with respect to latency, data rates, availability, reliability and in some cases, high-accuracy positioning. The vertical industries that will reap the benefits of this new level of automation will range from railways, buildings, factories, healthcare, smart cities, electrical power supply and special events. These new Industry 4.0 opportunities will be possible through making sure that communications between machines is secure, dependable and seamless.
To achieve this, 5G supports three essential types of communication: enhanced mobile broadband (eMBB), massive machine-type communication (mMTC), and ultra-reliable low-latency communications (URLLC). Connectivity is a key component of Industry 4.0 which aims at significantly improving the flexibility, versatility, usability and efficiency of future smart factories, integrates IoT and related services in industrial manufacturing, and delivers seamless vertical and horizontal integration down the entire value chain and across all layers of the automation pyramid. Meeting these objectives will greatly depend on the 5G technical performance such as supporting a peak data rate of 1-20 Gbps; connection density 1 thousand – 1 million devices/km2; reliability of 99.999%; enhanced battery life of 10 years; higher position accuracy; latency 1-10 ms; and strong privacy and security.
It is becoming increasingly important that 5G technologies have the capabilities to provide ultra-reliable low-latency communication, which will enable automation in vertical domains through mission-critical machine type communication use cases. A 3GPP study item focuses on the requirements for automation in verticals with critical communications as an enabler for wireless control loops, identifying the normative 3GPP work needed to deliver 5G for automation in a variety of industries.
5G technology will provide a wide range of vertical applications such as IoT, virtual reality, industrial control, smart cities, smart grids and smart factories. Security and seamless communication offered through 5G will be of utmost importance as we move toward automation of verticals.
Smart manufacturing
By combining cellular networks with industrial IoT, manufacturing will become more effective and flexible. Cellular network capabilities are evolving from the support of massive IoT to extreme low-latency IoT applications — meeting the requirements of IIoT. Currently, most use cases on manufacturing sites are based on wired connections. However, as the evolving cellular capabilities are challenging industrial Ethernet systems, cables will in many cases become redundant, introducing opportunities for more flexible production and expanded digital operations. Tomorrow's use cases for advanced manufacturing will require advanced connectivity offered through 5G. Market development for smart wireless manufacturing will depend on showing the value for mobility or wireless connectivity through a common service platform; providing offerings that resolve the issues and challenges that offset the investment in a new technology, thereby, proving the new networks' practical and business value; and building horizontal and scalable systems to address cost, deployment and spectrum issues. Today's manufacturers may not be aware of cellular capabilities, how they enable different digital systems and finally how these technologies address the issues and challenges for manufacturers today.
Some areas that will derive great benefits from 5G connectivity and mobility for automation are, for example, shop floors with automated vehicles and assembly warehouses, which need secure and precise management as well as tracking of traffic, data flows and assets; low-volume and high-variance manufacturing cases, where wireless machine line configuration is simple and flexible compared to cabled machine lines; processes that cannot be monitored and controlled via cables but require wireless, real-time critical data transmission and a stable, deterministic network performance (bandwidth and latency) to operate; processes susceptible to human error, or advanced manufacturing that requires tacit knowledge and skills transfer, where digital tools will be widespread to mitigate for errors and encourage faster learning; and processes where coordination of factories, resources and components is time-sensitive or crucial for the result (for example, product quality and timely delivery).
The upcoming 5G systems are targeted to extend mobile communication services beyond mobile telephony and broadband into new vertical domains with special communication services to provide automation for various use cases and services. Key vertical domains and associated uses cases with a compelling need for automation include the following:
Rail-bound mass transit
Building automation
Factory of the future
eHealth
Smart city
Electrical power distribution
Central power generation
Program making and special events
Smart agriculture
Communications for automation in vertical domains come with demanding and diverse requirements and must support applications for production in the corresponding vertical domain (for example, industrial automation and energy automation, but also transportation). This needs to be incorporated into new security standards and mechanisms for dependable communications.
3GPP standards for automation in vertical domains
5G systems will extend mobile communication services beyond mobile telephony, mobile broadband and massive machine-type communication into new application domains, so-called vertical domains, with special requirements toward communication services. Communication for automation in vertical domains comes with demanding requirements — high availability, high reliability, low latency and, in some cases, high-accuracy positioning.
3GPP's study item on requirements for automation in verticals focuses on critical communications as an enabler for wireless control loops needed to deliver 5G for automation in a variety of industries. Emerging issues are mostly related to coexistence problems of technologies that rely on the industrial, scientific and medical radio bands. 3GPP systems, and certainly 5G, are set to offer a better level of service. The 3GPP SA1 study group will formulate service requirements, particularly using two features of evolving 5G technology — controlled channel access and the use of alternative frequency bands — to address the needs of the critical communication sector and overcome coexistence issues. The study group completed work in May 2018 to:
Survey industry standards pertaining to critical communication;
Identify potential requirements on 5G networks by new sectors;
Address new vertical use cases (for example, train control in mass transit); and
Survey industry security standards and their implication for critical communication over 5G networks.
As we move toward 5G, real-time automation scales out from local compute to distributed large-scale compute to mission-critical experience. In the figure, Ericsson describes the 5G evolution of real-time automation:
Local automation such as smart meters, smart greenhouses and agricultural remote sensing;
Large-scale automation such as precision medicine, real-time load balancing, distributed energy management, and real-time mobile and high-frequency trading; and
Mission-critical automation such as bio-electronic medicine, virtual power plants and management of solar grid generation and so on.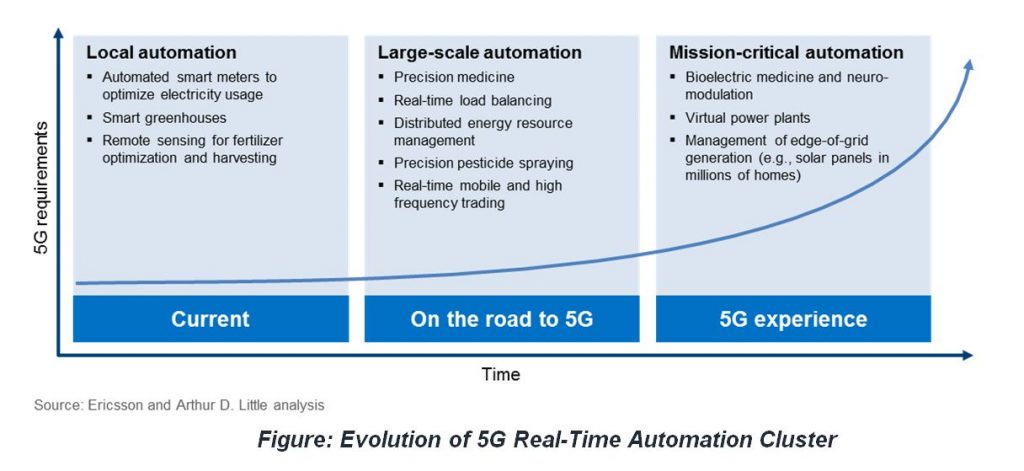 Security
Security responsibilities for automation in vertical domains are complex, as explained in the 5G Americas white paper "5G Communications for Automation in Vertical Domains," as they are shared by several actors and need to be managed by credential pairs or certificates from different sources. Authentication and verification are implemented using the Extensible Authentication Protocol (EAP) framework. 5G security features include native support of EAP. The 5G mandate of supporting EAP Authentication and Key Agreement (EAP-AKA) allows adding new EAP authentication methods in the future that can be used for authenticating IIoT systems.
Devices in many verticals operate over long usage periods (in industrial environments typically 10 to 20 years). It is important that an automation application system can be kept in service over a long usage period without requiring regular physical access to the devices for upgrades (for example, replacing hardware components or redesigning the technical system). However, it is also critical for the distributed automation application that UEs are upgradable or can be patched (including firmware, security-related algorithms and long-term keys) to maintain the security of the system to the state-of-the-art over the life span of the devices.
When the security provided by the communication system is deemed to be insufficient for a vertical automation application, security of the industrial system is realized on top of the application layer (for example, using IPsec or TLS). 5G offers secure communications and state-of-the-art encryption. Integrity protection mechanisms are utilized in 5G to protect the user plane, control plane and management traffic. In addition, 5G supports user privacy protection for the information that can be used by unauthorized parties to identify and track subscribers (for example, protecting permanent identifiers such as Subscription Permanent Identifier (SUPI), International Mobile Subscriber Identity (IMSI) and International Mobile Equipment Identity (IMEI)).
Year end 2018. 5G arrives!
As 5G hits the market, particularly with early deployments in late 2018 and 2019, momentum is building as service providers accelerate their plans for 5G rollout. In its "3Q 2018 Mobility Report," Ericsson predicted that in 2024, 5G will reach 40% population coverage and 1.5 billion subscriptions, making it the fastest generation ever to be rolled out on a global scale. This is driven by new, innovative systems that reuse existing infrastructure and available spectrum. In parallel to the 5G rollout, cellular IoT is passing new milestones on its way to becoming the technology of choice for wide-area IoT applications. Boosted by a strong uptake in Northeast Asia, cellular IoT connections are set to pass the 4 billion mark by 2024. As 5G arrives, many other vertical industries are looking with great anticipation at what 5G might bring to productivity, safety, reliability, quality of service and new innovations and services.
So here we are with a new "G" after years of research, standardization and trials that will revolutionize industry and boost economy.
About 5G Americas: The voice of 5G and LTE for the Americas
5G Americas is an industry trade organization composed of leading telecommunications service providers and manufacturers. The organization's mission is to advocate for and foster the advancement and full capabilities of LTE wireless technologies and their evolution to 5G, throughout the ecosystem's networks, services, applications and wirelessly connected devices in the Americas. 5G Americas is invested in developing a connected wireless community while leading 5G development for all the Americas. 5G Americas is headquartered in Bellevue, Washington. More information is available at http://www.5gamericas.org/or Twitter @5GAmericas.

5G Americas' Board of Governors members include AT&T, Cable & Wireless, Cisco, CommScope, Ericsson, Intel, Kathrein, Mavenir, Nokia, Qualcomm Incorporated, Samsung, Shaw Communications Inc., Sprint, T-Mobile US, Inc., Telefónica and WOM.
All IoT Agenda network contributors are responsible for the content and accuracy of their posts. Opinions are of the writers and do not necessarily convey the thoughts of IoT Agenda.