Definition
smart home hub (home automation hub)
A smart home hub is hardware or software that connects devices on a home automation network and controls communications among them.
Smart home hubs, which connect either locally or to the cloud, are useful for internet of things (IoT) devices that use the Zigbee or Z-Wave protocols or Bluetooth, rather than Wi-Fi.
Sometimes referred to as a smart home bridge, a smart home hub collects and translates various protocol communications from smart home devices. For example, if a smartphone, which does not use Zigbee to communicate, wants to "talk" with a smart lock, which only uses Zigbee and not the Wi-Fi or Bluetooth native to the smartphone, the smart home hub acts as a translator between the two.
As such, a smart home hub acts as the heart of a smart home network, tying together various devices and systems in a centralized platform. This also simplifies the network for users and gives them a single smart home application to rule all the various systems and applications. If users want to set up a command that when the smartphone approaches the owner's home, the garage door opens, the hall light turns on and the radio tunes to a classical music station, they can with the smart home hub.
As the master home automation controller, a smart home hub can also divert traffic off Wi-Fi or Bluetooth, easing network congestion.
With all the smart home devices connected in the home, users can also remotely access the various systems and control them while away from home with their smart home app.
How a smart home hub works
Hubs, in general, are network devices that serve as places of convergence for data from one or more devices and then forward the data in one or more other directions.
A smart home hub usually has a built-in switch, which maintains the information necessary to determine how and where data is forwarded. Devices may also include compute resources to perform some processing tasks before data is forwarded.
The associated smart home app acts as a "universal remote" for all smart home devices, allowing the owner to monitor elements of the smart home network and automate, schedule and control tasks.
Smart home hubs are able to control many smart home and IoT-enabled devices and systems, including smart sensors on thermostats, lightbulbs, outlets and switches, door locks and sensors, doorbells, garage door openers, energy monitors, and window treatments/coverings and sensors. They can also control motion sensors, flood and leak sensors, smart radios and speakers, security systems and cameras, smoke and carbon monoxide detectors, irrigation controllers, and fans, water heaters and other household appliances.
Many smart home devices come with their own proprietary hubs, but these systems often cannot integrate with other smart home systems, disabling devices from communicating -- for example, if a smoke detector senses a fire, it may not be able to tell the smart locks to unlock the door for an easier exit or firefighter access. In this instance, a dedicated smart home hub can offer a single point of control. Likewise, if a homeowner uses smart lightbulbs from different manufacturers, each may have its own hub with its own app. A dedicated smart home hub can combine and simplify the use of the disparate hubs.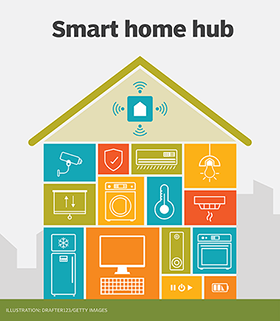 Though a dedicated smart home hub provides a centralized command center, it doesn't mean the proprietary hubs can be discarded; a dedicated smart home hub won't replace the hubs that come with devices, but it connects them all into a centralized location. Getting rid of proprietary hubs can reduce the device or system's functionality.
Do you need a smart home?
One point of contention is that not every smart home network requires a smart home hub. Many smart speakers, including Amazon Echo and Apple HomePod, can fill a dedicated smart home hub's spot and act as the command center of a smart home system, providing hub-like functionality though their companion apps and voice interfaces, for example Alexa or Siri. Dedicated hubs do not offer native voice control options, though integrations are available.
Similarly, if all of a home's connected devices run on Wi-Fi, there is no need for a smart home hub.
However, an issue with using a smart speaker in a smart home hub's stead is that the speakers may not offer full compatibility with all protocols and standards. For example, Amazon Echo Plus supports Zigbee, but not Z-Wave. It does, however, offer Alexa skills, which can pair smart home devices with Alexa, offering much of the same control, and users won't experience a difference. And as with dedicated hubs, the Echo Plus requires proprietary hubs to remain in place for full device functionality. For example, Hue devices can connect with an Echo without the Hue Bridge, but functionality of the smart lightbulbs will be limited to on/off and brightness.
Other smart speakers and devices that can be used as smart home hubs include Apple HomePod, Apple TV 4K and Google Nest.
Popular smart home hubs
A handful of popular smart home hub products on the market are:
Samsung SmartThings Hub
Wink Hub
Insteon Hub
Logitech Harmony Hub
Philips Hue Bridge
Securifi Almond 3
Amazon Echo Plus
Google Nest Hub
Wink Hub 2
Apple TV 4K
Smart home hub considerations
When purchasing a smart home hub, you should keep several things to keep in mind:
Voice control: If you want to control your smart home system via voice, see if the device can integrate with your smart speaker (e.g., Amazon Alexa or Google Home).
Integrations: Some smart home hubs offer more integrations than others. Also, the number of available integrations may be limited by the hub; for instance, Logitech Harmony only connects up to eight smart home devices.
Operating system compatibility: While most systems are iOS- and Android-compatible, be sure to check prior to purchase.
Connection: Some smart home hubs require a direct connection to your router, like the SmartThings Hub, while others connect over Wi-Fi.
Compatibility: Know what standards (Zigbee, Z-Wave, Bluetooth, Wi-Fi) your smart home devices use and ensure the hub can accommodate them.
Smart home app: Most smart home hubs are accessed through a smartphone app. There are also some options available through a PC or Mac.
Smart home hub security
Because smart home devices connect to the internet and communicate wirelessly, they are inherently at risk of attack. There have been several notable smart home hub security events in recent history, including:
In July 2019, researchers at BlackMarble found an issue with Zipato's ZipaMicro smart hubs where a combination of three security flaws could be exploited to open a smart lock connected to the hub.
In May 2018, researchers from Pen Test Partners found a five-year-old software flaw in the Z-Wave protocol, dubbed Z-Shave, affecting an estimated 100 million chips in smart home devices sold by more than 2,400 vendors. If attacked, hackers could potentially intercept smart lock keys and unlock home doors.
In February 2018, researchers at Kaspersky Lab found vulnerabilities in an unnamed smart home hub that could potentially allow remote attackers to access the server and exfiltrate user data, resulting in a potential takeover of the entire smart home system.
In 2017, Rapid7 researchers found plaintext credentials stored in configuration files in the Android applications used to control the Wink Hub 2 and Insteon Hubs. Unless the phone had strong authentication, full phone encryption or used Android's built-in secure keystores, user data could be lifted from the app.
In 2016, a Cognosec researcher discovered a flaw in the SmartThings Hub that could potentially allow a robber to break into a smart home by opening smart locks and jamming motion sensors.
To prevent security issues within a smart home hub and entire smart home network, it is suggested to use multifactor authentication, change any default usernames or passwords, update software and firmware, and to never share serial numbers, IP addresses or other sensitive network information. The use of antimalware and avoidance of public Wi-Fi are also advised. Segmenting IoT traffic to a guest network is also an option.
Evolution of the smart home hub
Early smart home devices often relied on Wi-Fi or Bluetooth to communicate. However, as these specifications can drain battery power quickly, new protocols entered the scene. Zigbee and Z-Wave, two of the most popular protocols in home automation, alleviate power issues and bring low-cost wireless connectivity to smart home devices.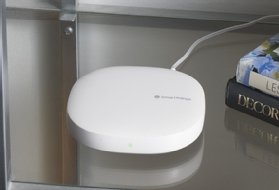 The first smart home hub on the scene was SmartThings. It launched a Kickstarter campaign in 2012, raising $1.2 million. The system was acquired by Samsung in 2014.
Originally only a hardware device, software smart home hubs have recently become available. Software-based smart home hubs unify the various smart home devices on a smartphone, reducing the need for another box on the shelf. Examples of software-based home automation hubs include Eve and Yonomi.
This was last updated in
August 2020
Continue Reading About smart home hub (home automation hub)
Dig Deeper on Enterprise internet of things