everythingpossible - Fotolia
3 ways 5G IoT use cases in healthcare push better patient care
Healthcare providers can more effectively care for patients by applying the low latency of 5G and IoT technology into their services and creating new use cases, such as remote surgery.
When providing care to a patient, seconds can matter in delivering quality service or saving lives, and connecting IoT devices with 5G networks has the potential to make that difference.
With the advent of 5G connectivity, opportunities abound for healthcare providers and facilities to deliver critical care on-demand, powered by low latency and edge computing. 5G's agility, combined with IoT's interconnectivity, offers promise for the future of healthcare innovation. There are several promising 5G IoT use cases in healthcare such as remote robotic surgery, connected medical devices and ambulances operating on dedicated network slices.
Connected ambulances deliver lifesaving information to caregivers
When an emergency arises and an ambulance is called, the paramedics on board have little to no information about the patient they are treating, aside from current physical ailments and readings. The addition of 5G connectivity can give paramedics quick access to their patient's medical records in order to make better-informed treatment decisions on the fly.
Caregivers can use the information from recent X-rays and surgeries, drug allergies and blood work to help provide the appropriate level of service. Medical personnel can share patient medical records in varying formats and sizes, including high-resolution X-rays, scans and diagnostic-grade video and imagery because of 5G networking's high-speed connection. The connection also underpins the clear video conferencing between caregivers in the ambulance and receiving hospital. Connected ambulances have already become a reality in Barcelona, Spain.
5G's low latency, high bandwidth make remote surgery a reality
What if access to an expert surgeon wasn't limited to geographic location? With 5G, patients can expect experienced surgeons at their disposal, accessible to provide remote support to in-person surgeons via augmented reality (AR), high-definition video and real-time data readings from medical sensors. The surgeon performing the operation or procedure is guided by remote surgeons via precise 3D information -- such as X-rays, CT scans or MRI -- overlaid into an AR headset, delivered with virtually no latency, as well as remote robotic surgical tool operation from the consulting surgeons miles away.
Chinese doctors have already used 5G for remote surgery to insert an implant in the brain of a Parkinson's patient from nearly 1,900 miles away. With faster and easier collaboration and training between surgeons in various operating locations, doctors and caregivers can spend less time solving complex problems alone and more time helping additional patients.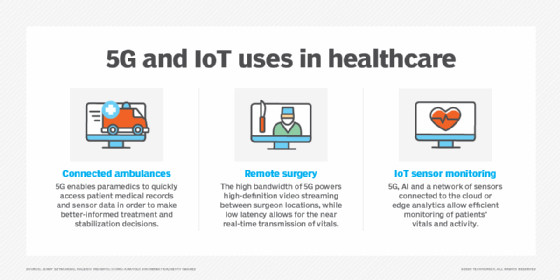 The high bandwidth of 5G serves as the foundation for high-definition video streaming between surgeons' locations and delivers the video clarity that is paramount to a diagnostic-grade standard of care. Low latency allows for near real-time transmission of patient vitals, as well as the collaborative AR experience among caregivers. With the transmission of highly sensitive medical data, 5G network slicing can also deliver the reliability and security needed to adhere to medical community standards.
The 5G network provides a scalable, reliable infrastructure for IoT sensors of varying bandwidths to send data securely to the cloud.
Sensor-laden IoT environments provide infrastructure for patient monitoring
Many healthcare patients reside and receive care outside of a traditional hospital or clinic, such as assisted living facilities or their own homes. By harnessing the power of both 5G connectivity and a network of sensors connected to the cloud, caregivers and medical professionals can monitor and quickly respond to patient emergencies in person or via remote healthcare. Patient monitoring increases the quality and timeliness of care and offers operational efficiencies and scale to caregivers.
The continual and contextual data -- such as air quality, patient movements, drug adherence, breathing and biometrics -- that sensors gather and AI analyzes also provide medical staff with the full picture of a patient's recent and long-term medical history to use in diagnosis and care. For example, the medical technology company Cardiologs offers an AI-based heart disease diagnostic tool that supports physicians with EKG data analysis and reporting.
The 5G network provides a scalable, reliable infrastructure for IoT sensors of varying bandwidths to send data securely to the cloud. In the cloud, analytics software enhanced with AI capabilities remotely monitors patients while maintaining data privacy standards.
Dig Deeper on IoT industry and vertical markets