everythingpossible - Fotolia
Explore 3 IoT trends in healthcare for 2021
Healthcare IoT predictions for 2021 include growing adoption of complementary technologies such as AI and cloud to more effectively handle patient care and safety.
Healthcare IoT, in combination with cutting-edge technologies, can lead to numerous advancements.
The COVID-19 pandemic forced people and organizations to face new challenges and concepts -- such as social distancing -- and prioritize technologies such as cloud, IoT and AI that push technologists to explore new use cases. This trend places IoT as a big technology for healthcare in 2021 and beyond.
Organizations might face some implementation challenges at first, but tech adoption will continue to accelerate in healthcare because of the ongoing pandemic. In a recent global survey, 42% out of 350 CIO and CTO participants said they expedited the adoption of IoT technologies due to the pandemic, according to IEEE.
The internet of medical things (IoMT) has undergone several innovative revolutions to address the current state. A recent MarketsandMarkets report revealed that experts predict the global healthcare IoT market size will grow from $72.5 billion in 2020 to $188.2 billion by 2025, at a CAGR of 21.0% during the forecast period.
Further, it highlighted that many Asian countries, such as China, Japan and India, use information-intensive IoT technologies to cater to increasing healthcare service demands.
New uses and IoT trends in healthcare
IoT may significantly enhance the way people interact with the world. IoT technology, whether high-level healthcare devices or common household gadgets, facilitates seamless communication between networks and devices.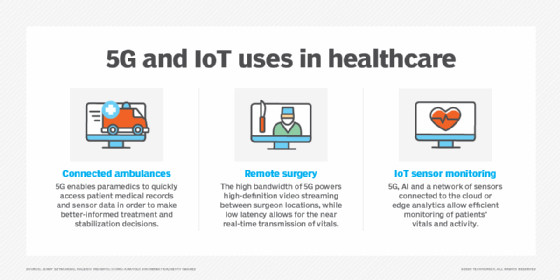 Moreover, IoT has the ability to change the entire healthcare industry because of a variety of new uses, such as:
smooth communication between patients and doctors, including virtual prescriptions;
home-connect programs for patients to decrease potential exposure to the coronavirus;
virtual and augmented reality to teach students healthcare courses;
smart sensor-based ambulance service at road-junctions;
emergency vehicular networks; and
medical data collection at the user level through sensors.
These use cases promote trends that hospitals and patients will adopt in 2021, including:
Telemedicine and remote healthcare. Many hospitals across the globe use AI-based patient monitoring tools to collect and treat the patient based on real-time reports.
Personalized healthcare. Home healthcare devices can sufficiently decrease the risk of human loss. Personalized healthcare predicts and informs patients about their real-time monitoring parameters and intelligent analytical data. Healthcare providers can share the collected data simultaneously with family members and doctors in case of emergencies.
Health management. Hospital facilities can use IoT devices to manage and track the movement of all patients, doctors and staff across wards in real time, which can decrease any delay to address emergency situations or physical damage. A typical hospital visit requires patients to follow a procedure that includes registration, ward allocation, operation or medication, doctor supervision, medicine allocation and release after positive results. Healthcare providers can automate each step in the procedure and digitally track a patient with IoT devices to generate data for medicine sale analysis, number of patient intakes, temperature-sensing tools and test report analysis. The data can be deployed into one common cloud-based architecture with edge nodes, commonly known as a health information management system.