How to design IoT infrastructure in 7 parts
Organizations can prepare their IoT deployments for success by understanding each IoT infrastructure component and how they all work together.
When it comes to implementing IoT initiatives, tech leaders should internalize one key lesson: IoT infrastructure matters.
A growing number of organizations adopt IoT to achieve new goals and improve established processes, which testifies to the advantages that the technology can provide. More than two-thirds of organizations in Nemertes Research Group's "IoT Research Study 2019" said they would implement IoT as of the end of 2019, and the remaining one-third considered tackling an IoT deployment in 2020 or later. Of those organizations moving forward with IoT, 68% were in proof-of-concept or early adoption stages.
But not all of those organizations are developing a consistent, common IoT infrastructure. Just 31% of organizations reported incorporating a standardized infrastructure; the remaining 69% are relying on an ad-hoc or siloed approach. However, having a standardized architecture correlates strongly with success. Based on an organization's ability to achieve their stated goals, successful organizations are 34% more likely to have a standard IoT infrastructure architecture than not.
As with any new technology, getting started with IoT presents many challenges, starting with setting up IoT infrastructure. Many components make up IoT infrastructure, including hardware and management platforms. Even if not all parts are necessary to start an IoT deployment, many become critical later. Organizations should start by understanding the overarching basics and plan intelligently for future needs.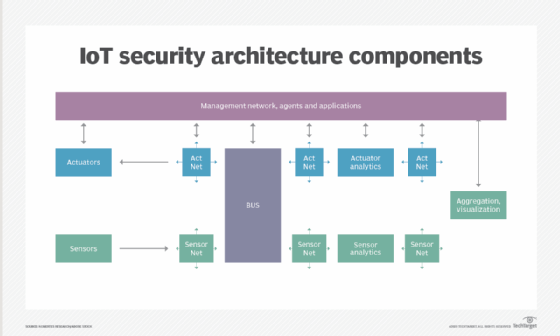 What parts make up IoT infrastructure?
Organizations should focus on seven key components of IoT infrastructure. If they develop and standardize each, they can make the most of their IoT investments.
IoT networks. Networks connect to IoT sensors and actuators. Sensors are devices that measure factors, such as humidity, motion, temperature and pressure, while actuators are devices that control or take action, such as controllers, robotic arms or drones. Organizations typically use a wireless network. Sensors and actuators may rely on different networks or run across the same network, depending on the IoT use case. Network technologies include Wi-Fi, Bluetooth, 4G or 5G wireless. The exact design of the network and when to use which technology is critical to a successful IoT deployment.
IoT communications bus. Often an IoT infrastructure incorporates a bus to link the networks to the first set of analytics and data aggregation platforms. A bus streamlines connectivity. Instead of multiple disparate connections to the aggregation platforms, organizations use a common bus to manage and protect all IoT traffic.
Analytics and aggregation platform. Sensor and actuator data is concentrated and sometimes analyzed on an edge computing device or a cloud platform. In some cases, the IoT deployment also calls for separate platforms for sensors and actuators.
Organizations should start by understanding the overarching basics and plan intelligently for future needs.
IoT platform network. This is the network connecting the analytics and aggregation platforms to other analytics and visualization platforms, which are likely, but not exclusively cloud based. These platform networks are often based on hard-wired connectivity services with low latency and technologies such as software-defined-WAN, WAN exchange carrier and direct cloud connections.
Aggregation and visualization platform. This is the platform where data lakes and analytics resides. It's typically cloud-based and includes a range of visualization, data management and data analysis tools.
Management and control system. This dashboard provides enterprise technologists with an end-to-end view of the IoT components and their interactions from networks and platforms.
Cybersecurity. All components of IoT infrastructure should integrate into a cybersecurity platform and framework, which is consistent across IoT use cases and incorporates into the organization's overarching cybersecurity framework.
Other key components that typically execute on the aggregation, analytics and visualization platforms include IoT database and data analytics software; integration software, which links the IoT infrastructure into existing ERP and manufacturing execution systems; and any applications that apply across all or most of an organization's IoT initiatives.