sp3n - stock.adobe.com
IoT biometrics play a greater role in workplaces
Organizations can use biometric interfaces to increase workplace security and employee safety through sensors and surveillance, but employers must also evaluate potential effects.
As health and safety imperatives become core to the future of every business, workers will discover a new digital interface: their bodies.
Biometric interfaces include several methods for measuring and analyzing a person's physical or behavioral characteristics. Given an individual's unique biological attributes -- fingerprints, voice, face, irises or DNA -- biometrics offer promising advantages over passwords, but the opportunities and risks far transcend access controls.
Biometric sensors for employee authentication and access controls have been used for decades in high-security environments like government and financial services, but now, businesses of all sizes and sectors are deploying IoT biometrics.
Explore different biometric uses
Recent shifts in technology, costs, and health and safety practices are expanding the market rapidly with more than a dozen distinct use cases.
Identification via smart infrastructure. Smart door locks, terminals, machines and cameras are all examples of equipment that an organization can outfit with biometric sensors for authenticating a person's identity to access a place or resource. Organizations are also developing related solutions for remote access, such as telehealth.
Identification via touchless sensors. In light of the novel coronavirus, contact-free touchpoints offer one way to reduce the likelihood of infections spreading. Some organizations turn to IoT biometrics for high-security uses such as access controls and payments. For example, Hewlett Packard Enterprise's new return-to-work offerings include facial recognition to enable employees to enter a location without touching door handles or keypads.
Multifactor identity authentication. Biometrics are an emerging factor organizations use as an enterprise security authentication mechanism. For example, employees are asked to present biometrics for access controls login authentication when using an enterprise mobile app to access sensitive data, accounts or other assets.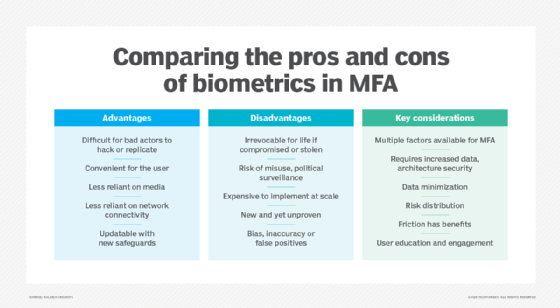 Identification for risk reduction. Biometrics are also being used to reduce fraud, theft, cyber-risks and health risks. For example, the Coca-Cola Co. uses a biometric fingerprint system to track the activity of independent truck drivers entering its canning facilities. Another firm called Verifyii offers visitor and vendor credentialing with thermal scanning to reduce the risk of contracting COVID-19.
Candidate evaluation. Organizations can use biometric analysis systems in the hiring process to analyze and evaluate prospective employees. Recruiters conduct video interviews using voice and facial recognition AI to analyze word choice, tone and facial movement based on responses to gamified behavioral assessments.
Location and proximity monitoring. In addition to cameras, IoT biometric sensors are cropping up in wearables as well and can monitor employee movements. Companies are using geofencing, haptics and a range of other capabilities for surveillance and to ensure social distancing among employees.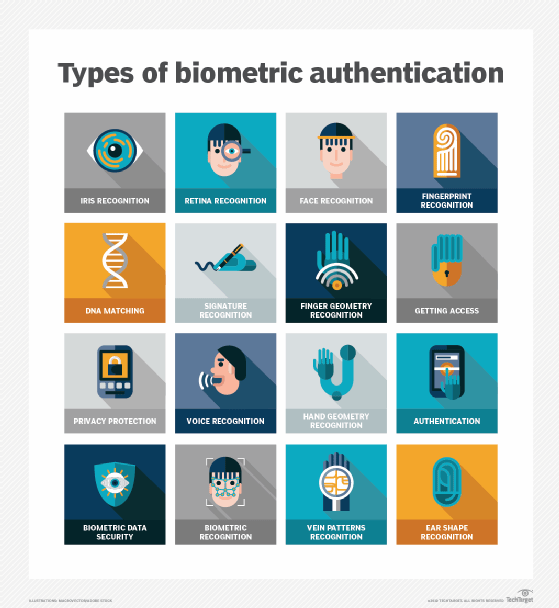 Workplace analysis and surveillance. Biometric analyses can detect movement, proximity, heat and interactions in facilities, whether an office, hospital or factory. Organizations use these analytics for staffing, performance monitoring and training.
Remote workplace surveillance. As millions of workers have rapidly shifted to work-from-home environments, employee surveillance tools have followed. This more controversial use case is motivated by employers' concerns around productivity. Some employers have installed various camera technologies -- such as group video conferencing software, Sneek, that's always on by default -- to ensure employees are working and to easily reach employees.
Performance analysis via biometric monitoring. A variety of IoT devices can be outfitted with sensors that infer various physical and emotional states. For example, heart rates, gaze-tracking and temperature sensors can indicate levels of stress, engagement and more. Some have posed particularly intrusive scenarios of monitoring physiological responses to leadership or in employee satisfaction questions. While nascent, this biotech adoption in the workplace could integrate across diverse workflows, for example:
In training, emotional states of trainees could influence and adapt curriculum questions, tasks or sequences.
In logistics, drivers or machine operators could be scanned for fatigue.
In robotic interactions, robotics could be equipped with scanners to read human emotions or gestures.
Safety and compliance analysis. Intelligent monitoring for safety -- such as to avoid hazards, ensure compliance, quality assurance or protect employees -- has been a top selling point for biometric-enabled and infrared cameras. Identity verification can ensure patient privacy and offer analysis on construction sites or in manufacturing plants. However, this category has been dramatically expanded in the wake of COVID-19.
Public health and sanitization analysis. Sanitary environments become a lynchpin for economic viability in a post-pandemic world. Software that supports health-related safety and sanitation are proliferating. These solutions offer predefined AI models running on IoT devices to detect a range of biometric and behavioral signals. FogHorn System's new Lightning Edge platform offers cough and elevated temperature detection, hand washing monitoring, social distancing monitoring, facial covering detection and personal protective equipment monitoring.
Health and wellness. Employers also offer workers various options for biometric-enabled health monitoring. Some programs are tied to insurance offerings and discounts, such as Humana's Employee Assistance Program partnership with Fitbit. Others are less insurance-centric, aligned with broader corporate wellness programs offering devices and apps to monitor everything from diet and sleep to mental health. PwC recently offered its employees AI wristbands to monitor stress levels during the pandemic.
Critical questions for IoT leaders
IoT biometrics represent a fundamentally distinct interface from analog methods, machines and screens, and introduce several novel questions for businesses. As IoT and other leaders evaluate these implementation decisions, they must evaluate more than technological feasibility.
Culture. Is leadership prepared to offer visibility, accountability and choice, and invest in processes and tools to forge trust, as employees are asked to share their biometrics?
Productivity. Will digital surveillance tools actually lead to productivity gains? Do the benefits outweigh the risks, relative to alternative approaches?
Risks. What are the technological and systemic risks of machine error, fraud, simulation, privacy, anonymity, misuse or breach?
Liabilities. What are the legal ramifications -- or gray areas -- involved with biometric data collection from workers?
Ethics and employees' rights. What are the ethical implications of collecting sensitive biometrics, beyond proprietary use, in case of a breach, inadvertent misuse or unintended consequences? How do factors outside of the organization -- such as high unemployment and income loss -- erode workers' choices?
Market and competition. What market, technological, societal and competitive forces influence biometric interface adoption? How should your industry or organization incorporate this into its strategy?