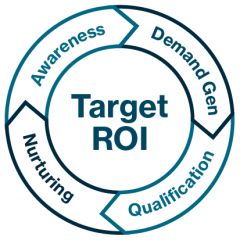 TargetROI packages ensure comprehensive coverage of the most engagedIT buyer audience in the right context: when they're performing technology purchase research.
Powered by TechTarget's first-party purchase intent insight, TargetROI delivers true media integration with confidence. It's "always on," enabling you to cover your market strategically across channels.
Provides a clear view of all relevant prospects including those you've engaged and activity you're not yet aware of
Provides weekly access to leads, additional contacts and active accounts, prioritized by interaction levels with your content
Automatically coordinates cross-media targeting triggered by relevant prospect activity levels
To ensure you're establishing influence that translates into consideration, TargetROI incorporates both inbound and outbound to intercept, engage and nurture. Clients choose TargetROI because of the results it delivers and the efficiency it provides to their organizations.