shyshka - Fotolia
Tableau Foundation, Splash fight for clean water in schools
With funding and analytics technology from Tableau, Splash, a global nonprofit organization, is providing clean water, sanitation and hygiene to children in Ethiopia and India.
Data is one of the tools being used in the fight for clean water in schools in Ethiopia and India, and the Tableau Foundation is helping provide both the funds and technology that turn information into a vehicle for change.
At the recently completed Tableau Conference 2019 in Las Vegas, the vendor revealed a $1 million grant through the Tableau Foundation to support Splash in its effort to provide safe water, sanitation and hygiene programs to urban schools throughout Addis Ababa, Ethiopia, and Kolkata, India, by 2023.
Through its foundation, Tableau is also providing Splash with free licenses to use its platform, access to Tableau's network of partners, and free tech support.
Splash, meanwhile, is a global nonprofit organization working to ensure safe water, sanitation and access to proper hygiene to children living in urban poverty throughout Asia and Africa.
The Tableau Foundation had already been connected with Splash for three years, giving the group small grants in recent years. The foundation made the $1 million commitment to Splash a few months before the conference.
In total, the Tableau Foundation and Splash are hoping to reach approximately a million children -- more than 450,000 in Addis Ababa and more than 450,000 in Kolkata -- over a five-year period. And once success is proved in those cities, Splash hopes to broaden its reach to other cities throughout Ethiopia and India.
"What it means is the kids will have lower rates of diarrheal diseases so they actually can attend schools and improve education outcomes," said Neal Myrick, global head of the Tableau Foundation. "Girls who are going into puberty can get help during their menstrual periods and they don't have to skip school during that time.
"It's a health-related thing that has direct education outcomes, and then the broader community takes advantage of the clean water systems that are installed in the schools," he continued.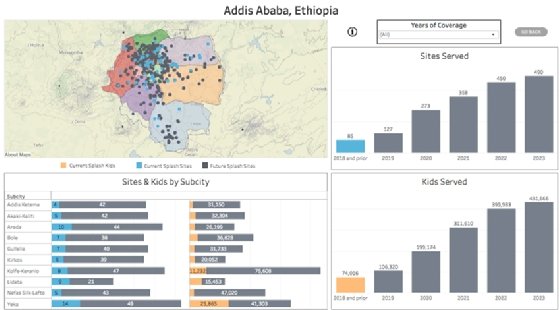 What data can do
Currently, Splash is providing water, sanitation and hygiene access to 16% of the schools in Addis Ababa and 19% of the schools in Kolkata.
Data will play a major role in helping Splash reach its goal of expanding that reach to approximately 1 million children by 2023, said Eric Stowe, founder and CEO of Splash.
Data will be a means of convincing municipalities to allow Splash to come into their schools, and also toward convincing potential donors to contribute the funds Splash needs to continue its work.
"It's hard to get a government to move on something," Stowe said. "Moving a city forward is hard unless you have good data for them to look at -- you're not going to get the minister of education in a city to act with Excel spreadsheets. You have to show them how you're moving the needle."
We're using Tableau to show big data sets in meaningful ways that we've never been able to do before.

Eric StoweFounder and CEO, Splash
Before using Tableau, Splash had stories of individual people and schools it could tell, but those anecdotes didn't tell the full story.
They didn't demonstrate what Splash could do at scale; for example, what Splash could do for 500,000 children instead of just 500.
"We're using Tableau to show big data sets in meaningful ways that we've never been able to do before," Stowe said. "We need to show governments we can be cost-effective at scale so they allow us to go into other cities."
Splash's stack
Beginning in 2011, Splash began publishing its data online, showing its work on an internally designed website called ProvingIt.
Proving it, however, proved to be cumbersome for Splash.
Not only was the data entry process difficult, so was the data management and data preparation, which required manual manipulation.
Splash needed something better.
"It was unwieldy," Stowe said. "There were redundant data entries, and it wasn't pulling data from a controlled resource."
With the help of Tableau, Splash was able to completely redesign its analytics stack from data entry through insight, and do so in a mere 10 weeks.
Splash now uses CommCare to collect data on the ground, using Salesforce as its customer relationship management system, Microsoft Azure and Snowflake for data warehousing, Alteryx to clean its data, and finally Tableau to visualize the data. Meanwhile, it uses Mapbox as its mapping tool.
Coincidentally, Salesforce and Tableau are in the process of combining forces after Salesforce acquired Tableau in June for $15.7 billion.
Beyond Splash
Splash is one of about two dozen nonprofit organizations and projects the Tableau Foundation is helping with both funding and technology.
Others include a project called Community Solutions that uses software training and financial support to combat homelessness in 50 U.S. cities; Visualize No Malaria, which is attempting to eliminate malaria in Zambia by 2021; and projects to battle climate change.
Most, according to Myrick, are like the Tableau Foundation's commitment to Splash in that they involve more than simply contributing money to a cause. Although Tableau said at its 2018 user conference that it planned to commit $100 million from 2018 to 2025 to philanthropic works, when it teams with an organization, it does so with a clearer goal and timeframe in mind.
Visualize No Malaria, for example, represents -- to date since 2014 -- a $4 million commitment from the Tableau Foundation, and in the five years since the project began, due to better data that has led to faster action, Myrick said that there has been a 90% decline in malaria death and an 80% decline in malaria cases in Zambia's Southern Province.
"Now, when a clinic director is looking at a dashboard, she is seeing the number of active cases discovered, people tested, people treated, and that data are no more than a week old," Myrick said. "That lets her better allocate and target her scarce resources. Now Zambia is committed to roll that process out nationwide, and they're also rolling into Senegal and Ethiopia."
Next for Splash
Now that Splash has secured a $1 million grant from the Tableau Foundation, as well as $8 million from the Ethiopian government and is in the process of trying to secure $4 million from India's government -- part of $45 million it eventually hopes to raise -- it can move beyond the beginning phase of its projects in Addis Ababa and Kolkata.
According to Stowe, while 2019 was focused on pilot projects -- starting small -- 2020 will focus on developing a model so that school projects will go as smoothly as possible. The next three years will then focus squarely on reaching the goal of providing clean water, sanitation and hygiene education to more than 1,500 schools and nearly a million children.
Data, meanwhile, will continue to be Splash's tool for carrying out its mission.
"We need to be able to show and convince governments of the cost efficiencies and the direct impact we can make, and the increase we can provide in education for girls in particular," Stowe said. "We also need to show schools where they land on the spectrum compared to other schools, if they're the gold standard or if they're laggards."
He added that data is important when meeting with donors as well.
"We need to show that the funds are being used effectively," Stowe said, "and that we're on schedule or ahead."
The look of the data, however, differs depending on who is viewing it.
Different dashboards are designed for different audiences -- governments, schools, donors, even finance teams -- taking advantage of perhaps Tableau's greatest strength.
"We need really good data," Stowe said, "that is convincing as hell."