WavebreakMediaMicro - Fotolia
Cloud AutoML, BigQuery ML upgrades expand Google stake in ML
Google introduced a raft of updates to its cloud-based machine learning and AI products, including expanded capabilities for its AutoML and BigQuery ML tools.
Google moved to advance its position in the automated machine learning market with expanded Cloud AutoML and BigQuery ML capabilities aimed at making it easier for data analysts, data scientists and developers with limited expertise to build and deploy machine learning models.
The expansions to Cloud AutoML -- a suite of machine learning (ML) products that can be used with the new AI Platform also unveiled at the Google Cloud Next '19 conference -- feature AutoML Tables, a codeless model development tool. Like the rest of the AutoML offerings and AI Platform, Tables is currently in beta.
The highly anticipated BigQuery ML upgrades are available in a mix of alpha and beta releases. These upgrades appear to constitute Google's response to criticism that BigQuery ML had fallen behind products from smaller competitors since Google released it last year.
Needed expansion via AutoML Tables
AutoML Tables gives nondata scientists who are data-savvy the ability to create custom machine learning models on structured data without coding, Forrester analyst Mike Gualtieri said in an email from the San Francisco conference. That's a key selling point for automated machine learning technology -- or auto ML, as Gualtieri referred to it in a general sense.
"[Tables] is pretty significant for [Google Cloud Platform], because that will bring in a whole new set of users to GCP," Gualtieri said. "DataRobot, H2O.ai and several other vendors also offer auto ML on structured data. This is less about competition and more about the credibility that Google brings to auto ML."
This is less about competition and more about the credibility that Google brings to auto ML.

Mike GualtieriAnalyst, Forrester
During a livestreamed keynote session, Julie Price, a big data specialist for Google Cloud, touted the ease of use in AutoML Tables.
"You don't have to be an ML expert," she said.
Google needed to broaden its Cloud AutoML capabilities, said Doug Henschen, an analyst at Constellation Research.
"The Tables announcement was particularly important, as Google lacked an option to address structured data, which is the majority of what companies manage," Henschen said. "I want to hear more about the frameworks and algorithms Google will bring to bear against this data, but it's a step in the right direction."
Cloud platform market leader AWS has approached machine learning for structured data aggressively, while also claiming to run more TensorFlow workloads than Google, the developer of that framework, Henschen added.
BigQuery ML updates
Meanwhile, Google said it has enhanced BigQuery ML, a suite of SQL extensions and services attached to Google's BigQuery enterprise data warehouse, with new model-making functions.
The slew of new machine learning models supported in BigQuery ML includes k-means clustering for customer segmentations and data quality, as well as matrix factorization for product recommendations. Users can also build and directly import TensorFlow deep learning neural network models through BigQuery ML.
The new models available on BigQuery ML seem to assuage concerns from some analysts that the machine learning platform, which lets developers use standard SQL commands instead of more advanced languages, was limited to only linear and logistic regression models.
During a keynote session, travel reservations site Booking.com took the stage to discuss how it uses BigQuery ML's k-means clustering to help ensure data quality and accurate data grouping for the sizeable 176 search dimensions available on the site.
Booking.com's goal is to make sure, for example, that all hotel rooms with microwaves are correctly included under the "microwave" grouping, Timo Kluck, the Amsterdam-based company's principal developer, said during the session.
A new destination for machine learning
BigQuery ML is an initial foray for Booking.com into the cloud with regard to machine learning, Kluck said in an interview after the session.
"We are an old company," he said. "Historically, we have been very used to building our own [machine learning] technology. Many things are still in our own data centers."
Booking.com's parent company, formerly Priceline Group and now Booking Holdings after changing its name last year, has also made a number of acquisitions over the years, which brought machine learning tools that those companies had been using to Booking.com.
Kluck declined to comment on the maturity of BigQuery ML today.
"I can say, specifically, we were excited to try it out in the alpha phase as an early access customer," he said.
Kluck also declined to provide details on how much of a financial investment Booking.com plans to make in BigQuery ML, but noted that the company does have a commercial contract in place for GCP services.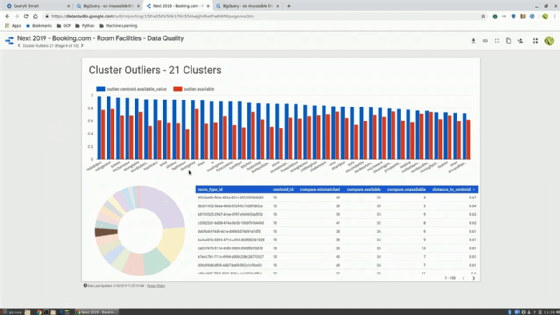 Google said AutoML Tables can reduce the total time required to build machine learning models from weeks to days and can pull data from Google BigQuery and other GCP storage services.
Google also touted another new feature, AutoML Video, which will be able to use natural language processing and translation to transcribe conversations, and computer vision to classify visual content.
Last year, Google released AutoML Vision, which made it easier for developers to create custom machine learning models for image recognition. At Google Cloud Next '19, Google introduced AutoML Vision Edge to help users train and deploy high-accuracy, low-latency custom models to do image recognition on edge devices.
Senior news and features writer Chris Kanaracus and news director Shaun Sutner contributed to this story.