ra2 studio - Fotolia
New funding fuels startup analytics vendor Kloud.io's growth
Armed with $4 million in new seed funding, startup Kloud.io aims to expand its engineering and marketing efforts to fuel the growth of its no-code analytics platform.
Startup analytics vendor Kloud.io said Thursday that it secured $4 million in seed financing that will help fuel the growth of its technology platform and enable it to expand sales and marketing.
Unusual Ventures led Kloud.io's funding, with participation from Jason Calacanis and Firebolt Ventures.
Kloud.io, based in San Jose, Calif., and founded in 2016, provides a no-code platform that enables business users to access and explore data through a spreadsheet interface. The interface connects directly to the user's data, whether stored in the cloud or on premises, and runs SQL code in the background as the user asks questions of the data right in the spreadsheet.
The no-code interface eliminates the need for citizen data scientists to run their queries through data engineers, significantly reducing the time it takes to ask a question of the data and receive the answer, according to Kloud.io.
Kloud.io is particularly geared toward finance departments to help them automate mundane tasks, but the platform can be used for any business purpose, said Krishna Bhat, co-founder and CEO of the startup analytics vendor.
People are constantly living and breathing in spreadsheets, and there's a need to put all the information in a self-service manner without bothering engineers.

Krishna BhatCo-founder and CEO, Kloud.io
"We saw a problem where business users and finance departments were reliant on engineers," Bhat said. "People are constantly living and breathing in spreadsheets, and there's a need to put all the information in a self-service manner without bothering engineers."
The response to Kloud.io's platform has apparently been swift.
Despite not attracting seed funding until now, the startup analytics vendor has attracted well over 100 paying clients, Kloud.io said. Among the customers are Rakuten Rewards, formerly Ebates, a cash-back and shopping rewards company, according to the vendor.
The rapid pace at which customers have adopted Kloud.io's platform is one of the main reasons Unusual Ventures chose to invest in the startup analytics vendor, but not the sole reason the venture capital firm was drawn to the company, said John Vrionis, one of Unusual's co-founders.
"We're excited about these guys," Vrionis said." There are a lot of mundane tasks in the RPA [robotic process automation] space that can be written now by software. These guys found an interesting vein in the finance industry."
"These are repetitive tasks, and they built software that allows tasks to be automated away," he continued. "There's a huge market for them -- I think there's a ton of opportunity for these guys."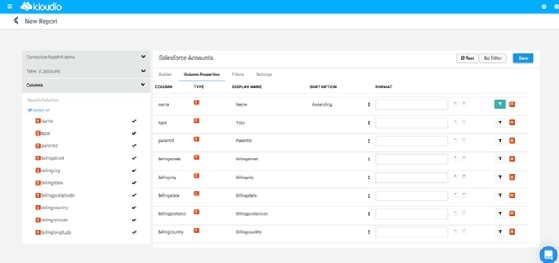 Vrionis, who said his firm invests in only 1% to 2% of the startups it looks at, added that the authenticity of Bhat and co-founder Sathish Raju helped Kloud.io stand out.
"These guys experienced this problem and were passionate about solving it," he said. "They took a leap. They are the actual creators of the solution -- they didn't hire people to build it."
Like any startup analytics vendor, however, one of the keys to the future success of Kloud.io will be its ability to differentiate its platform from those of other BI vendors. And though fellow startup analytics vendor Sigma Computing also uses a spreadsheet interface to free up business users from their reliance on engineers, the spreadsheet interface is different enough from most other vendors that it serves as a potential differentiator, analysts said.
"I think it makes great sense," said Mike Leone, an analyst at Enterprise Strategy Group. "Spreadsheets are a universal tool for quickly analyzing and visualizing data. They're easy to navigate, highly accessible and familiar to virtually every persona across the business that works with data."
Beyond that, Leone added, the way spreadsheet interfaces can reduce or in some cases eliminate reliance on engineering teams is critical.
"It's really about self-service and empowering as many folks as possible to use the tools they know to complete their data-driven tasks without becoming a productivity drain to the experts," he said. "While SQL may be a widely known query language, many of the folks that live in spreadsheets don't know SQL. They want to use the tools they know inside and out to access the data they need to satisfy their objective."
With its new funding, Kloud.io plans to build out its staff, Bhat said.
The cash influx also will enable the startup analytics vendor to add a lead engineer and back-end engineer, a sales manager and a marketing team, he said.
And as the vendor plots its roadmap, it maintains a narrow focus.
"There are a billion spreadsheet users who do that last mile of analysis," Bhat said. "They have a set of tasks they have to do each day, and they can automate that using our platform. We want to be the spreadsheet leader in automation."