yblaz - Fotolia
Analytics startup Grid raises $12 million in funding
Armed with $12 million in Series A venture capital financing led by New Enterprise Associates, BI startup Grid is in position to take its platform to market.
Startup analytics vendor Grid revealed Wednesday that it raised $12 million in venture capital financing.
Grid, founded in 2018 and based in Reykjavik, Iceland, previously raised $3.5 million in seed funding in March 2019 and this latest round represents its Series A financing, led by New Enterprise Associates. BlueYard Capital, Slack Fund and Acequia Capital are among the other investors.
Grid, like other analytics startups such as Kloud.io and Sigma Computing, uses a spreadsheet interface in order to take advantage of skills many business users already possess. Unlike Sigma and Kloud.io, however, Grid's focus is less on the data preparation phase of the analytics process -- using no-code tools to prepare and explore data -- and more on enabling end users to digest and share data and models.
Instead of replacing users' existing spreadsheets, Grid enables them to take the work they've done in Excel and Google Sheets and, without writing code, turn them into visual, interactive web documents where they can explain their analysis and then share those web documents across their organizations. Meanwhile, the underlying spreadsheets remain under the control of their creator without risk of interference from others.
And it's that ability to take a spreadsheet and turn it into something to present and share while at the same time governing the data behind the spreadsheet -- hiding calculations, locking cells and other operations -- that makes Grid an innovator, according to Donald Farmer, principal at TreeHive Strategy.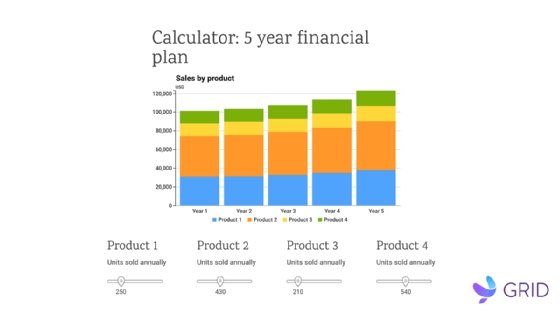 "The spreadsheet as you know it is fine; that's what most of us use," he said. "But the way in which we use spreadsheets after having created them, the way in which we share them and make them available to other people, needs to be fixed. That's what's so interesting about Grid to me. It enables you to share the spreadsheet in a way that feels very natural, but at the same time is quite secure."'
We are looking to establish ourselves as a significant player in the market -- which is on the cusp between productivity tools and analytics -- within the next three years.

Hjalmar GislasonFounder and CEO, Grid
Grid's ease of use is another differentiator, he added.
"It has a simplicity and elegance to it that makes it very usable," Farmer said. "It's not turning you into an app developer. It's well within the scope of a business user but it's enabling you to create these app-like interfaces, these web apps based on spreadsheets, and keep it refreshed and secure."
The new financing, meanwhile, will enable Grid to move out of the open beta testing stage and go to market within the next few months, according to founder and CEO Hjalmar Gislason.
"We are looking to establish ourselves as a significant player in the market -- which is on the cusp between productivity tools and analytics -- within the next three years," he said. "We've been in beta for a while, seen a lot of traction there and good usage patterns, and … identified a few features and capabilities we want to make sure we get in place before commercially launching."
While the infusion of capital will allow Grid to go to market, the analytics startup first had to somehow differentiate itself from other BI startups in order to attract the attention of investors.
Venture capital firms receive hundreds of pitches for every one investment they choose to pursue, and just as Farmer said Grid's reimagining of the use existing spreadsheets to share work is what stands out, that same reimagining is what intrigued NEA.
"There are some other approaches that attempt to capitalize on spreadsheets, but typically they try to substitute their own spreadsheets for the ones we already know, and for us that's a non-starter," said Forest Baskett, general partner at NEA. "So having the spreadsheet be the source of truth is really powerful in terms of user behavior."
In addition, Baskett said the ability to securely turn spreadsheets into digestible visualizations that help explain the analysis differentiated Grid from other startup analytics vendors.
"We know how important visualizations can be and we know how important parameterizing your models that are inside your spreadsheets can be, and that's something that's a little tedious in spreadsheets right now," he said. "What Grid does is provide a way to not only visualize but parameterize as well. It's almost intuitive how powerful and useful this can be."
Once Grid goes to market, plans are to add use cases so that more people within an organization can take advantage of the platform.
In its initial form, the startup analytics vendor's tool is aimed at enabling individual business users to take the work they've done in spreadsheets and share it, but new features could help make the tool more collaborative from the start by delving into an organization's data flows before they're used in a spreadsheet.
Just as Sigma and Kloud.io are taking advantage of spreadsheets to connect to data warehouses and prepare data, Grid may add similar capabilities.
"We could easily see ourselves providing connectivity more directly to the data sources," Gislason said. "That's something we could take on more over the next couple of years, taking on more of these data flows and actually helping with the tension between IT departments and the spreadsheet user where we connect the edge of the enterprise to the core IT department."
In essence, Baskett added, Grid is taking a bottom-up approach to the analytics process rather than a top-down approach.
"This is potentially a viral kind of product much in the same way Tableau was when we invested in it so many years ago," he said. "People use it, show it to their friends, and with the sharing and collaboration tools that are on the roadmap it becomes something that spreads inside an organization."
Dig Deeper on Business intelligence technology