blobbotronic - stock.adobe.com
AI, no-code tools highlight Domo analytics platform update
The latest update from Domo, unveiled during the vendor's virtual user conference, include a no-code tool for application development and a host of AI features.
The latest Domo analytics platform update features a no-code tool for developing and deploying applications, plus a host of new capabilities fueled by augmented intelligence.
Domo unveiled the update March 18 during the keynote address of Domopalooza, the vendor's annual user conference which this year was held virtually rather than in person due to concerns over exposing attendees to COVID-19.
Domo, based in American Fork, Utah, and founded in 2010, was among the first business intelligence software vendors to alter its user conference, which was originally scheduled for March 17-20 in Salt Lake City.
"We tried to put together some good content with some decent production quality," Domo CEO Josh James said at the end of the keynote.
The keynote presentation included live commentary from two hosts in the studio with James and four members of Domo's product team working remotely, plus taped segments with other members of Domo's product team and customer profiles.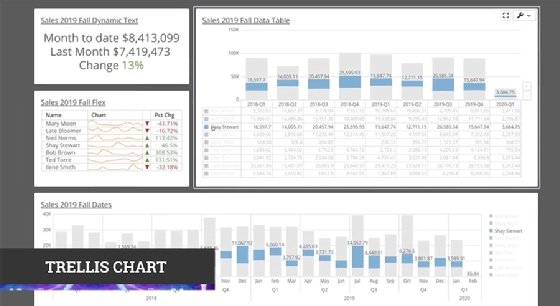 The virtual event went on as scheduled despite a 5.7-magnitude earthquake that shook a large section of Utah from Salt Lake City to the Provo area near American Fork just after 7 a.m. as the Domo conference was preparing to start.
"They pulled off a remarkable feat switching a well-established, highly produced in-person event to a virtual event," said Donald Farmer, founder and principal at TreeHive Strategy. "Considering the day started with a significant earthquake -- and aftershocks later in the day -- it was extraordinary."
In all, the Domo analytics platform update consists of more than 10 new features, now generally available and all aimed at improving ease of use and helping to make business intelligence available to a wider audience of business users.
Domo also revealed six features it plans to release in the near future as well nine more it has in the development pipeline for later in the year.
Domo is providing a comprehensive platform anchored in automation and intelligence that makes data accessible and available seamlessly at scale.

Mike LeoneSenior analyst, Enterprise Strategy Group
"I believe these announcements are in line with the direction the industry is going around helping organizations better unite massive silos of data across environments, while empowering more non-technical users to interact with data," said Mike Leone, senior analyst at Enterprise Strategy Group. "Domo is providing a comprehensive platform anchored in automation and intelligence that makes data accessible and available seamlessly at scale."
The Domo Data Experience Framework (DDX) -- Domo's no-code tool for the development of new applications and the deployment of prebuilt applications -- is designed to enable technical and non-technical users alike and is in step with similar low-code/no-code tools for developers released by competing BI vendors in recent months.
DDX operates on Domo Stories, the vendor's layout and design tool it released a year ago at Domopalooza 2019.
In addition, DDX comes with a series of prebuilt apps, including one for security and entitlement management, another to enable automated alerts that suggest actions, and one that enables native write-back capabilities and integrations with other systems to speed up workflows.
Beyond DDX, the Domo analytics platform update includes new augmented intelligence features for use in the Domo Business Cloud.
The tools, according to Domo, all include omnipresent machine learning and data science capabilities that are designed -- like DDX -- for use by technical and non-technical users alike to be able to go from data management and modeling to insight in a single workflow.
Among the new products are: more powerful connectors to data warehouses including Amazon Redshift, Google BigQuery and Snowflake that Domo said make users able to process big data six times faster than before; a feature called Adrenaline Transforms that transforms big data sets into meaningful summarized data sets that can be turned into digestible dashboards; and a new automated machine learning tool that enables users to tell the system which data they want machine learning applied to.
"Looking for shifts in Domo's position, it was clear that they are responding to an increasing demand from customers for the ability to build no-code or low-code applications, leveraging their wide range of business application connectors to do so," Farmer said. "Last year Domo hinted at some of this. This year, they are clearly going after the growing low-code market in a big way."
Farmer added that compared with the low-code/no-code tools from other BI vendors, Domo now stands near the forefront.
"Of all the business intelligence and analytics companies, Domo and Yellowfin stand out for no-code development, ahead of Microsoft in quality if not in quantity," he said.
Leone similarly pointed out the importance of Domo's new connectors, noting that they will play a role in easing the critical process of data integration.
"Organizations want to leverage advanced analytics and machine learning, but fact of the matter is problems often point back to the early stages of the analytics lifecycle, specifically areas like data integration," Leone said. "So while connectors across environments and data sources aren't exactly eye-popping headlines, they're … critical to success."
Other new Domo analytics platform features address data management, data exploration and reducing the complexity of writing code.