Getty Images
3 tips to reduce enterprise e-waste
Sustainable device management is an important area CIOs and IT teams should focus on to support organizational ESG goals. Learn how it can also help lower e-waste and save money.
IT has a profound effect on a company's ability to go green, starting with device management and extending to every area of the organization.
Boards of directors and other critical stakeholders are asking IT leaders to go green in the quest to meet environmental sustainability goals.
"Technology leaders need to play the role of sustainability leader in the enterprise," said Jeffrey Lewis, a senior partner in the life sciences practice at McKinsey & Company. "If sustainability is not a top-three agenda item for a CIO today, it should be."
Focusing on more sustainable device and asset management is one way to help. The effort can pay off both in terms of lowering costs and helping to reduce enterprise e-waste.
Many consumers have a powerful appetite for the latest gadgets -- an appetite they also bring to work. But new devices and products require an entire ecosystem of materials and energy, as well as a steep environmental cost.
Enterprise technology is responsible for emitting approximately 350 to 400 megatons of carbon dioxide-equivalent gases, with much of that coming from laptops, monitors, tablets, smartphones, printers and other user devices, according to the September 2022 McKinsey & Company report "The green IT revolution: A blueprint for CIOs to combat climate change," which Lewis co-authored. Worse, emissions from user devices are on track to increase at a CAGR of 12.8% per year, according to the report.
"Devices are actually the biggest driver of greenhouse gas emissions in the enterprise, and this comes from first of all … the proliferation of devices, and secondly, the scope three emissions from devices," Lewis said.
Devices don't just generate carbon emissions when someone plugs them into a socket, Lewis said. Manufacturing devices -- and getting those devices into the hands of employees -- also generate massive emissions.
About 75% of emissions from user devices come from manufacturing, upstream transportation and disposal, with a significant source of these emissions being semiconductors, according to the McKinsey & Company report.
For CIOs looking to green their IT activities, more sustainable device management and reducing enterprise e-waste are important places to start. Here are three tips to help this happen.
1. Focus on sustainable sourcing
To create more sustainable device management, CIOs need to start at the source.
CIOs should ensure they source products with the lowest emissions possible, Lewis said. That means greening procurement processes and adding sustainability as a factor in IT buying decisions.
Organizations should examine various device choices through the lens of sustainability, said Andrea Del Miglio, a senior partner in McKinsey & Company's technology practice and a co-author of "The green IT revolution" report.
More technology makers are disclosing the carbon footprint of various devices, Del Miglio said. CIOs can use that information to make better decisions.
As with other areas of tech, IT leaders should also do their own due diligence.
Numerous studies find that many technology companies greenwash their efforts and under-report carbon emissions, including a study published in Nature Communications.
2. Extend device life and procure fewer devices
Although many vendors use forced obsolescence as an upgrade strategy, CIOs can make powerful strides by using fewer devices and extending the life of the devices they do have, where possible.
For example, CIOs can support a bring-your-own-device policy and use that to reduce the number of devices per person, Del Miglio said. That strategy can, in turn, save money.
As for extending device life, CIOs and IT leaders can examine the desire for new technology through the lens of sustainability.
Asking tough questions, like the ones below, can help create greener device replacement approaches, Lewis said.
Are we refreshing devices because their new models are available?
Are we refreshing them because we always refresh them on this cycle?
Are we refreshing them because current devices are having a negative effect on the employee experience or otherwise impeding organizational value?
Are there actions IT can take to improve device performance?
IT leaders can use questions such as these to find ways to improve device performance, especially remotely, and make device upgrades only when truly necessary.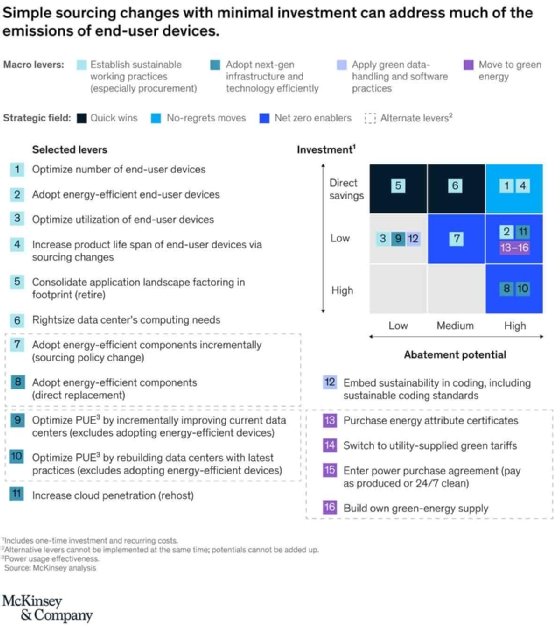 3. Find new life for devices
"One man's trash is another man's treasure" goes the saying, and as sustainability efforts heat up, more people are finding the wisdom in that. Donating unwanted items, shopping in resale shops, and trade-in and buy-back initiatives are gaining traction as more consumers focus on sustainability. But such initiatives are also growing in the technology realm; for example, Apple's trade-in program has consumers sending their devices back to the company for credit on new ones. CIOs can check with technology vendors for similar programs.
Work with manufacturers, vendors, third parties to help those devices find a life beyond your enterprise.

Jeffrey LewisSenior partner, McKinsey & Company
If IT leaders decide they do need to refresh devices, they can work to make sure those devices find a new user.
"Work with manufacturers, vendors, third parties to help those devices find a life beyond your enterprise," Lewis said. "It's an opportunity to avoid another new device being manufactured."
Companies can also partner with a nonprofit that helps to distribute devices such as laptops to lower income or other organizations.
"There might be companies that would prefer to use … cheaper devices, or older devices [and] their experience is not impacted by that because of the tasks that they're doing," Lewis said.