Getty Images/iStockphoto
HPE adds environmental reporting dashboard to GreenLake
A new dashboard for HPE's GreenLake tracks a company's carbon emissions and energy use. But ESG experts warn the lack of standardization opens the market up to greenwashing.
HPE wants to help customers go green when placing workloads in the vendor's GreenLake infrastructure platform.
Project Sustainability Dashboard, a new capability added to GreenLake in preview, lets IT ops view energy consumed by different workloads connected through the GreenLake console.
Tools providing an overview of IT's energy footprint can be a useful first step toward environmental, social and governance (ESG) goals and minimize wasted energy, said Jon Brown, an analyst at TechTarget's Enterprise Strategy Group.
But such tools can be subject to greenwashing, leading to minimal results or little savings for enterprise customers. Clashing terminology, differing metrics and a lack of reporting standards can also muddy environmental initiatives.
"There are no standards in place that are universal," Brown said. "The metrics can be all over the place."
Dredging the GreenLake
Project Sustainability Dashboard builds off existing GreenLake tools, such as the HPE Right Mix Advisor for application modernization, and customer requests, according to Arti Garg, deputy global CTO for data and AI and lead sustainability architect at HPE.
Metrics tracked within the dashboard include energy costs, kilowatts of energy consumed per hour and total energy costs. The data can be further broken down for customized reports and track consumption of power by individual devices.
"Our plan is to incrementally add more kinds of actionable recommendations, potentially different types of visualizations that make it a little bit easier for customers to make decisions about how to operate more sustainably," Garg said.
HPE plans to roll out the dashboard alongside a handful of other sustainability capabilities in preview Monday with a full release later this fall. The release also includes new operational services that connect customers with ESG planners, who can suggest improvements to efficiency reports and other capabilities as well as new courses in HPE Digital Learner, a collection of certification programs now expanded to include ESG metrics.
Dashboards giving an overview of energy efficiency are useful to establish a baseline accountability metric, according to Mitch Lewis, an analyst at Futurum Group. Most of the major IT infrastructure providers -- whether operating entirely in the cloud, entirely on premises or both -- are looking to provide their own sustainability tools for customers.
Each dashboard is slightly different, from HPE's focus on individual workloads compared to NetApp's BlueXP Sustainability Dashboard that monitors the entire estate, Lewis said.
"There is a lot of greenwashing or lack of credibility in the claims," Lewis said. "But it's better if there's actually a tool being put out rather than just a marketing message."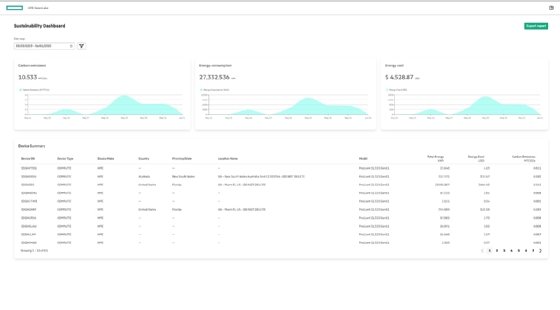 Standard bearers
Contributing to the difficulty of tracking sustainability efforts is a lack of universal standards vendors must follow, government enforced or otherwise, according to Brown.
In FinOps, we have things called dollars. People understand that. We can't really do that with carbon yet.

Jon BrownAnalyst, Enterprise Strategy Group
Corporate accounting follows generally accepted accounting principles as enforced by the U.S. Securities and Exchange Commission. But carbon reduction or environmental offsets aren't held to similar standards, Brown said.
Some standards now include power usage effectiveness, which tracks overall data center energy efficiency and total CO2 emissions. But both lack the bottom line record keeping enterprise finance teams seek.
"In FinOps, we have things called dollars," Brown said. "People understand that. We can't really do that with carbon yet."
Both analysts said enterprise customers and vendors alike are interested in improving their green reporting and conservation capabilities. IBM's Environmental Intelligence Suite provides one of the more comprehensive ESG reporting offerings on the market, Brown said, as its experience with industrial markets helps to refine what's important for IT concerns. SAP also unveiled its green ledger last month at its annual user conference, which aims to make it easier to track and share carbon emissions data.
Vendors focused purely on IT customers aren't offering as clean of a narrative, Lewis said. Vast Data provides a sustainability guarantee for reducing energy costs while using its storage hardware and software. But proving how effective or enforceable such claims are remains to be seen, he said.
Tim McCarthy is a journalist from the Merrimack Valley of Massachusetts. He covers cloud and data storage news.
Dig Deeper on Sustainability and ESG data and reporting