SAP's new sustainability ledger tracks carbon emissions
If companies want to improve sustainability efforts, they will need to treat environmental reporting like financial accounting. SAP unveiled the green ledger to facilitate this.
SAP is betting that companies are ready to embrace efforts to reduce carbon emissions throughout their operations.
However, one of the obstacles to carbon reduction is the complexity of calculating and managing carbon emissions data within an enterprise.
SAP's stance is that accounting for carbon emissions needs to be treated the same way as financial reporting. To help organizations facilitate this process, it unveiled a "green ledger" initiative last week at SAP Sapphire, its annual user conference.
The green ledger initially is comprised of an updated version of SAP Sustainability Footprint Management, formerly SAP Product Footprint Management, which calculates and manages carbon emissions data across the entire value chain, and the new SAP Sustainability Data Exchange to securely share sustainability data with suppliers and partners. Both are expected to be available later this year in SAP S/4HANA Cloud and will be included in SAP's cloud migration initiatives Rise with SAP and Grow with SAP.
SAP has a portfolio of sustainability-related products, and the green ledger is intended to help customers roll up sustainability data so that they have an accurate and shareable record, according to Michael McComb, global head of sustainability communications at SAP.
Carbon accounting is imprecise because it relies on industry estimates and averages of carbon emissions data rather than actual data, McComb said. SAP tools that are integrated into a green ledger provide a verifiable and auditable record.
"This approach is aimed at increasing the data accuracy and granularity, and moving from these top-down averages toward a bottom-up approach that's similar to the financial flows through an organization," he said. "You wouldn't estimate an invoice, for example."
Credibility on sustainability
While some details around the green ledger remain unclear, the concept is worthy and SAP offers useful sustainability-related applications, according to industry observers.
"While SAP's sustainability products roadmap is a little confusing, the green ledger is an ultimate destination to integrate sustainability and financial information together," said Jon Reed, co-founder of Diginomica, an enterprise industry analysis firm. "It makes a lot of sense to get as granular as possible, which resonates with customers because they are looking for more precision around sustainability."
Customers with more European exposure have a heavier regulatory burden, but it's more back and forth in the U.S. The regulatory landscape is spread out, and that affects how customers perceive this.

Jon ReedCo-founder, Diginomica
Customer interest in sustainability products is not established overall, but it does resonate with certain industries or in areas where companies face consumer demand or regulatory pressures, he said.
"Customers with more European exposure have a heavier regulatory burden, but it's more back and forth in the U.S.," Reed said. "The regulatory landscape is spread out, and that affects how customers perceive this."
SAP has been committed to sustainability for years, before climate change became an executive talking point, said Joshua Greenbaum, principal at Enterprise Applications Consulting.
SAP has been talking about sustainability for longer than other enterprise vendors, and now the environmental issues are driving the need for these applications, he said.
"Ten years ago, we thought we might be able to dodge a bullet, but now the bullet is coming at us, and the economy is shifting in SAP's favor," Greenbaum said.
Integrating sustainability products into the green ledger is more advanced than what other major ERP vendors are offering, and could also provide incentives and the business case for SAP customers to move to S/4HANA Cloud, he said.
"If you want advanced functionality to be there for the next iteration of solving big business problems, you have to be on the next version of the software -- there's no other choice," Greenbaum said.
Therefore, SAP is smart to include this in Rise with SAP and Grow with SAP, he said.
"Rise and Grow are sales programs, but it behooves SAP to make this advanced functionality available because they want the customers on it," Greenbaum said. "It makes sense to put this in to sweeten the pot."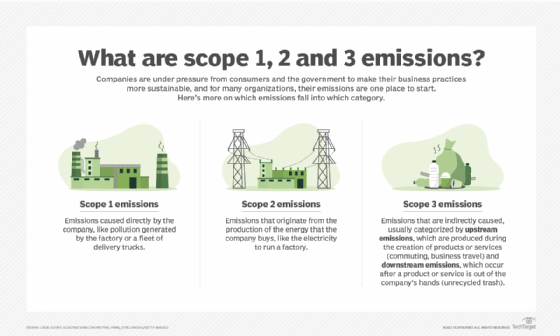 Considering future sustainability needs
Sustainability will become an issue that companies such as Arista Networks have to tackle, according to Ken Fischer, manufacturing project engineer at the provider of networking products and software in Santa Clara, Calif.
Arista recently implemented SAP Integrated Business Planning to digitize its supply chain operations, and Fischer investigated some of the sustainability issues and products while attending SAP Sapphire.
"There hasn't been a huge discussion within Arista on sustainability, but it will as we become larger and have to become more of a corporate steward," Fischer said. "It's not currently in the front of the mind, but I wouldn't be shocked if we talk about it more and more in the future."
Arista is an electronics industry manufacturer, which puts it in the middle of the sustainability discussion, he said. The last few years have focused on recovering from the pandemic disruption, but addressing sustainability will be driven by demands from customers, employees and business requirements.
"When you're in the electronics business, you're in the rare-earth mineral business," Fischer said. "We know the environmental cost of this, and our customers are going to expect us to be better in this area."
It will also become a larger issue as Arista looks to grow its business in Europe, which has more stringent carbon emissions, he said.
"If we want to penetrate that market, we have to build a supply chain that has those aspects in it," Fischer said. "I don't think we have the muscle memory today to do that, so we'll need a partner -- whether it's a consultant or SAP -- to help guide us through the best practices."
Jim O'Donnell is a senior news writer who covers ERP and other enterprise applications for TechTarget Editorial.