SAP pushes business-grade AI, but customers aren't biting
Business-oriented AI headlined this week's SAP Sapphire, which includes new partnerships with vendors like Microsoft, but customers expressed only cursory interest.
SAP jumped on the generative AI bandwagon at its annual user conference this week, but questions about the demand for AI among its customers remain.
Further, while SAP unveiled a flurry of partnerships with enterprise vendors like Microsoft to embed generative AI in SAP products, details on the availability of much of the AI integrations were unclear.
Nonetheless, SAP is on the right track in its goal of providing what it terms business-oriented AI, according to industry observers.
SAP has increased internal R&D investment for AI use cases while entering into technology partnerships to expand AI capabilities in SAP products, said SAP CEO Christian Klein in the SAP Sapphire opening keynote Tuesday.
One partnership embeds Microsoft's Copilot AI into SAP's HR platform, SuccessFactors. Two weeks ago, SAP revealed it was embedding IBM Watson AI into SAP cloud products.
SAP's approach is centered around building AI tools and applications that are useful to business so that customers can, for example, better run supply chains and HR operations and close books faster, said Bharat Sandhu, SAP senior vice president of AI and application development platforms, in a briefing.
"The world has not changed -- AI has changed a lot in the last few months, but customers have not changed," Sandhu said. "They don't have pools of data science teams like Microsoft, AWS or Google. And the ones that do are resource-constrained, so they want to get these capabilities out of the box."
Interest in generative AI, but not much use yet
For years, AI has generated interest from companies, so discussing the technology is not in itself new, said Liz Herbert, an analyst at Forrester Research.
For example, SAP had already embedded IBM Watson AI technology into SAP cloud products, including SAP Ariba and SAP Fieldglass, but the generative AI story changes things, she said.
"The generative AI stuff is early stage and much hyped, and is much more prone to challenges of accuracy, ethics and more," Herbert said. "We do have customers exploring that but have not seen any serious use yet, given its newness."
At this point, generative AI is a gimmick, to a large extent, said analyst Joshua Greenbaum, principal at Enterprise Applications Consulting, but several Sapphire attendees were interested in the functionality provided by the integration of the digital assistant Microsoft Copilot and SAP SuccessFactors.
"The demo of writing better job descriptions in SuccessFactors came up a lot as something that customers are genuinely interested in at least kicking the tires on," Greenbaum said. "It's not a mission-critical function, but it may kickstart a next generation of functionality for using generative AI in more important areas."
For the most part, however, there doesn't appear to be a high requirement for AI functionality in the SAP customer base, he said.
Disconnect between AI hype and customer priorities
"Customers have other priorities like integration and data quality that are much more pressing than adopting some AI technology," Greenbaum said. "There's a disconnect between the AI hype and what's important for a lot of customers."
Customers have other priorities, like integration and data quality, that are much more pressing that adopting some AI technology.

Joshua GreenbaumPrincipal, Enterprise Applications Consulting
SAP has stepped up to help customers address issues like data management with products like SAP Datasphere, a data integration environment that was released in March, he said. Datasphere didn't get as much airtime during the conference keynote.
Generative AI is not a priority for customers, agreed Jon Reed, co-founder of Diginomica, an enterprise industry analysis firm, but there is often a gap between customer priorities and what a vendor wants to highlight at a conference like SAP Sapphire.
"The question is how big the gap is and how do you bridge it," Reed said.
SAP has been working on AI for years, but the rapid expansion of generative AI in the last few months has changed the game, he said.
"Generative AI has come on very quickly this year, with unprecedented adoption levels," Reed said. "That forces SAP's hand and other vendors to make announcements around scenarios that they're going after."
Customers at Sapphire were talking more about pain points on integrations and data siloes, he said, which are issues that need to be addressed to get the true benefits out of AI.
There's also a gap between the AI integrations announced and their availability, Reed said.
The functionality within SuccessFactors that uses Microsoft Copilot to help create more targeted job descriptions is expected to be available soon, but some AI functionality with complex requirements may take longer.
"For example, the ability of an interviewer to ask better questions based on a candidate's resume is more complicated because it gets into data privacy issues," Reed said. "SAP has to be careful not to release something until they've made sure that they've [dealt with sensitive issues]."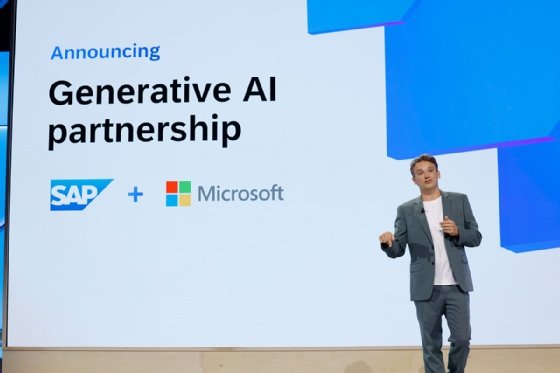 Exploring AI for improved onboarding
Sapphire attendee Ken Fischer, manufacturing project engineer at Arista Networks, is interested in exploring generative AI but has no immediate plans to adopt the technology.
Arista Networks, a provider of networking products and software in Santa Clara, Calif., recently implemented SAP Integrated Business Planning (IBP) to digitize its supply chain operations, Fischer said.
Generative AI may help the company support the new system as more users come on board, he said.
"We don't have a large support structure for internal users inside Arista, so having an AI type of chatbot that walks people through would enhance our training systems [as we ramp up use of IBP]," Fischer said. "As we grow, we're going to need to hire people, and we try to make our training suites around ramping new hires up so we don't have to lean on experienced people."
This may also be useful as Arista Networks is planning a possible move from its current Oracle NetSuite ERP, he said.
"We are looking to move to a new ERP system -- whether that's S/4HANA or Oracle -- and that will be a huge step forward into something that no one at Arista has knowledge on," Fischer said.
Jim O'Donnell is a senior news writer who covers ERP and other enterprise applications for TechTarget Editorial.