SAP Business AI and sustainability dominate Sapphire
The new SAP Business AI, which embeds AI into a number of SAP products, and new SAP sustainability products including its 'green ledger' highlighted the first day of SAP Sapphire.
SAP Sapphire 2023 kicked off Tuesday with a large helping of AI -- specifically, the launch of SAP Business AI.
The difference between SAP Business AI and the countless other forms of AI tools released lately is that SAP's is "built for business," said SAP CEO Christian Klein in the Sapphire opening keynote address.
SAP also took the wraps off new products for sustainability reporting and business networks.
SAP Business AI is generative AI technologies embedded into a number of SAP cloud products, including S/4HANA Cloud, SAP Transportation Management, SAP Category Management and SAP Business Network.
SAP partners with Microsoft for AI integration
The embedding of generative AI into SAP will take its business usage to the "next level," Klein said. This will increase the productivity of every end user by changing the way they work, he added.
"For example, our software will be able to answer any business-related question and recommend actions to improve your company's performance," Klein said.
One of the business-related AI initiatives is a partnership with Microsoft, which integrates SAP SuccessFactors with Microsoft 365 Copilot AI.
In the opening keynote, SAP demonstrated use cases for this embedded AI integration to help with recruiting, continuous learning and upskilling in the enterprise. The Copilot integration in the SAP SuccessFactors Recruiting application allows users to compose job descriptions that are specific to particular roles, and they can use Copilot in Microsoft Word to detect bias in the job descriptions.
Integration between SAP SuccessFactors and Copilot in Microsoft Viva Learning helps users create personalized recommendations to determine the best learning courses to meet their goals. The SAP SuccessFactors portfolio will update automatically, providing companies an up-to-date view of the skills landscape in their organization.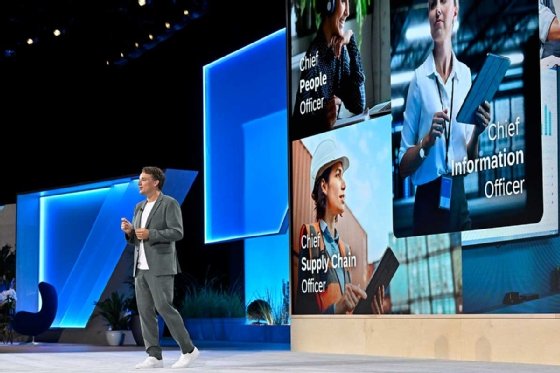 SAP also announced a host of other AI integrations and tools across SAP cloud products that are coming later this year, including the following:
The Built-In Support tool for SAP S/4HANA Cloud, public edition, which lets users report problems without leaving a page and flags problems before they happen.
SAP Signavio Process Manager, which enables process owners and analysts to identify and adopt the optimal process models.
SAP Extended Warehouse Management, which will help improve warehouse stock and replenishment processes.
SAP Transportation Management, which will help freight carriers improve the accuracy of deliveries.
SAP Business Network, which will help procurement professionals deal with dynamic markets.
SAP is no stranger to AI, but like all enterprise software vendors, it has been put on its heels by the explosion of generative AI, said Jon Reed, co-founder of Diginomica, an enterprise industry analysis firm.
So, SAP's approach is to rely on third-party vendors to provide the AI tools and add SAP's business logic and customer data into the large language models, starting with SAP SuccessFactors, he said.
"It's the right approach, but it will take a while for the generative AI use cases to mature," Reed said. "I give SAP credit with customer opt-ins rather than opt-outs, so customers can opt in whenever data is being processed with any third-party tools."
Here comes the 'green ledger'
SAP expanded its sustainability portfolio with new products and capabilities aimed at providing companies with ways to capture and manage sustainability-related data, helping them meet a growing number of sustainability regulations.
To this end, SAP introduced its "green ledger" initiative, a ledger-based carbon accounting system that enables companies to capture and manage carbon emissions data in the same way that they do financial accounting. The green ledger will be included later this year in Rise with SAP and Grow with SAP, and will initially comprise updated and new SAP sustainability products, including the following:
SAP Sustainability Footprint Management, which customers can use to calculate and manage the full range of carbon emissions throughout their organization and value chain.
SAP Sustainability Data Exchange, a new application that enables customers to securely exchange sustainability data with their partners and suppliers.
SAP Business Network members will also be able to include human rights data and sustainability ratings in their criteria for choosing suppliers, along with pricing and availability.
Jim O'Donnell is a senior news writer who covers ERP and other enterprise applications for TechTarget Editorial.