Olivier Le Moal - stock.adobe.co
Process mining tool provides guidance based on past projects
SAP Signavio Process Explorer is a next step in the evolution of process mining, delivering recommendations on transformation projects based on thousands of completed projects.
SAP Signavio is attempting to write the playbook for process mining projects with the release of a new tool called Process Explorer.
SAP Signavio Process Explorer builds on the process mining data that Signavio has gathered from thousands of business transformation projects delivered by SAP and partners, presenting this as recommendations that can help customers initiate, run and complete similar projects.
Process Explorer users can access more than 7,000 process models, capability maps for 20 business domains and value accelerators for 13 industries, according to the company. Process Explorer can work with SAP and non-SAP systems, and includes a number of system-independent process models. It also has a collection of practices and models specific to projects for SAP systems, such as SAP S/4HANA implementations aimed at accelerating deployments and reducing customizations.
SAP Signavio, based in Berlin, is a pioneer in process mining software, a technology that was built to help organizations understand and improve business operations by analyzing their processes. SAP acquired Signavio in 2021, and its process mining software has been a central component of Rise with SAP, SAP's two-year-old initiative to move customers from legacy systems to the cloud.
"With Process Explorer, you now see not only findings on where you stand today, but also solution alternatives going into the future -- what other people have done right about this, what are the best practices for projects," said Gero Decker, general manager at SAP Signavio.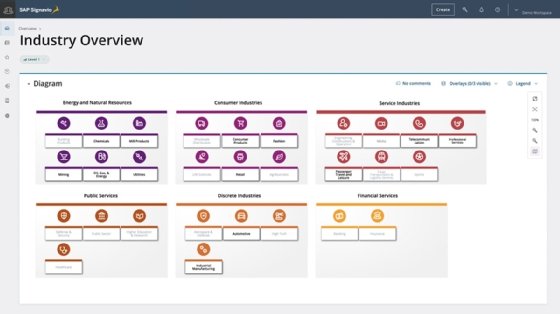 Next step in process mining evolution
Process Explorer is a promising step in the evolution of process mining, analysts said.
It takes on an overlooked part of business transformation projects -- getting them over the finish line, according to Jon Reed, co-founder of Diginomica, an enterprise technology analysis firm.
Anything that helps customers initiate and complete transformation projects is a positive step and long overdue, he said.
"In our personal lives, we have things like health check devices that we can consult all the time. Why don't we have that for our projects?" Reed said. "This looks like a genuine and serious attempt by [SAP Signavio] to provide that to their customers."
However, Process Explorer is a new product, so there are questions about how costly it will be for customers, and if there will be partners with enough education and experience to use the tools, Reed said. SAP environments, in particular, can vary widely in complexity, and the more complex a landscape is, the more challenging it will be to derive relevant recommendations, he added.
"You can sometimes flummox systems like this with situations they haven't seen before, and their recommendations may not be completely foolproof," Reed said. "That's where customer feedback around this is going to be very important."
The more the system gets used, the more data it can access, and the more accurate it will become, he added.
"A system like this doesn't have to be perfect to be powerful," Reed said. "It will provide recommendations and point you to things that you should fix, but you're still going to make the final decisions."
Providing use cases for process mining
Process Explorer should give a boost to the adoption of process mining, which has suffered due to the complexity in starting projects and deriving valuable use cases, according to Reetika Fleming, executive research leader at HFS Research.
One key challenge area at the start of a process mining project is that people don't know how this technology relates to their function and what should they do with it.

Reetika FlemingExecutive research leader, HFS Research
"Overall, it's a good step forward that will help customers -- both SAP customers and Signavio users," Fleming said. "One key challenge area at the start of a process mining project is that people don't know how this technology relates to their function and what should they do with it."
Data mining can provide information about how processes are working, but users don't usually have the ability to make sense of it or use it well, she said. Process Explorer is about bringing that data together in context to provide examples of how companies have used the data, giving users a firmer start on their projects.
"If you're in oil and gas or manufacturing or logistics, this can show some of the domain-specific processes that could make sense for you to start using process mining based on your SAP data," Fleming said. "It's a good foundational base for somebody to get started with process mining."
Because SAP Signavio is primarily focused on SAP systems, she said, it's best suited for companies that are deeply embedded there, such as an SAP-centric lead-to-cash functional process transformation or an S/4HANA migration project.
"This is great for SAP-specific transformations, and it makes total sense that this is the direction that SAP Signavio is now taking to help clients make the most of that particular platform," Fleming said. "But we see the way this industry is going is in finding points of intersection between different business functions and different technology platforms. So it's a step forward, but can't remain contained or siloed."
Customers should cast a wide net when evaluating process mining systems, Reed said.
"Process Explorer looks like a slightly unique take right now, but the process mining industry is a very fast-moving space right now with a lot of players," he said. "A lot of these tools are working hard to not be proprietary because even SAP customers run some non-SAP software, so the system needs to look at both to be effective."
Jim O'Donnell is a senior news writer who covers ERP and other enterprise applications for TechTarget Editorial.