Nabugu - stock.adobe.com
GenAI moves into enterprise spend at SAP Spend Connect
At Spend Connect Live, SAP unveiled plans to embed generative AI into its spend management applications and introduced its Spend Control Tower for enterprise spend analysis.
SAP Intelligent Spend management applications are the latest on SAP's generative AI to-do list.
SAP's new generative AI assistant Joule is set to be embedded into SAP Ariba, SAP Fieldglass, SAP Concur and SAP Business Network. The intelligent spend use cases for generative AI functionality were shown at SAP Spend Connect Live 2023, held this week in Vienna.
For example, the new SAP Ariba Category Management application will include generative AI capabilities designed to help procurement professionals improve category management by initiating market analysis and offering procurement professionals category strategy suggestions, according to SAP.
The generative AI capabilities in SAP Ariba Category Management are expected to be available by the end of 2023, and the Joule AI assistant is expected to begin to be embedded in other SAP spend applications in 2024, the company said.
Automating routine processes with generative AI
The generative AI capabilities that will be embedded into the spend applications allow organizations to automate repetitive tasks to drive more efficient processes, said Muhammad Alam, president and chief product officer of SAP Intelligent Spend and Business Network in a briefing.
This can also bring in data that was otherwise difficult to bring in, making decision-making easier.
"If you can eliminate the mundane, or as much of it as possible with [generative AI], which seems to be one of the most obvious use cases for it, this then frees up organizations to do a lot more strategic work," Alam said.
For example, generative AI capabilities in SAP Fieldglass can be used to create more effective job descriptions, he said. Customers might need to post job postings globally and struggle with translating them into multiple languages, but generative AI can create postings and translations on the fly.
In Fieldglass, generative AI can also be used to create more detailed statements of work for proposals, Alam said.
"SOW generation has also been laborious, and in some cases, if you're not detailed enough, it leads to lower-quality work on the other side," he said.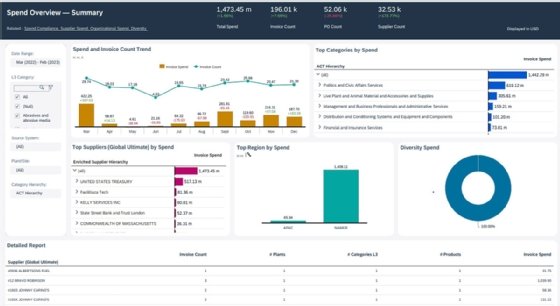 A view of entire organizational spend
At Spend Connect, SAP also introduced the SAP Spend Control Tower, a new application that provides organizations with an analysis of their spend data across the Intelligent Spend applications, as well as others that have procurement functionality, such as SAP S/4HANA.
This provides customers with a comprehensive view of their spend categories outside of payroll, including travel, direct and indirect procurement, contingent labor and services, Alam said.
"All of that data is rationalizing into a unified data model with out-of-the-box insights that are already built," he said.
The Spend Control Tower includes dashboards that provide various views of the spend data, such as by application, by quarter and year-over-year, by category, by supplier and by regions. Users can drill down into these dashboards to get more granular data.
Generative AI capabilities will also be embedded into Spend Control Tower to produce new insights on spend trends, but they can also suggest actions such as ways to improve processes and save on costs, Alam said.
"The thing that makes it a control tower is that it can suggest action and allow you to jump to the right application with the right context," he said.
SAP Spend Control Tower is expected to be available for early customer access at the end of 2023, with the first limited availability beginning in February and general availability in second quarter of 2024, Alam said.
Good use cases for generative AI
Spend management is a good category for generative AI, and SAP's vision at Spend Connect seems robust, said Jon Reed, co-founder of Diginomica, an enterprise industry analysis firm.
The question is whether SAP will be too aggressive about pricing when there's so much co-innovation and ROI still to be demonstrated.

Jon ReedCo-founder, Diginomica
However, one area of concern for customers is that pricing around generative AI capabilities is "fuzzy," and SAP runs a risk if it comes at this aggressively, he said.
"The question is whether SAP will be too aggressive about pricing, when there's so much co-innovation and ROI still to be demonstrated," Reed said.
If the pricing is too aggressive, which SAP has implied previously, it may provide openings for other AI vendors to pitch their applications to SAP customers, he said.
Nonetheless, Reed was impressed with the breadth and thoroughness of the generative AI capabilities, particularly in the Spend Control Tower.
"[Generative AI] excels at identifying patterns and anomalies," he said. "And if it's trained on procurement processes, a control tower could surface opportunities for spend efficiencies that a human might miss or not see as soon, as well as identify clunky processes and suggest how to improve them."
The question of whether customers will begin to implement generative AI in spend management applications comes down to demonstrated business value and through earning customer trust, Reed said.
"Many customers will want to see evidence of some adoption by market leaders, but this batch of announcements seemed particularly thorough and well thought out," he said.
Jim O'Donnell is a TechTarget senior news writer who covers ERP and other enterprise applications for TechTarget Editorial.