James Thew - Fotolia
SAP pushes intelligent spend with its Ariba-Fieldglass integration
At SAP Ariba Live, the company announced SAP Ariba and SAP Fieldglass will no longer operate as separate entities. Instead, they'll be integrated to support intelligent spend management.
AUSTIN, Texas -- The bonds between SAP Ariba and SAP Fieldglass, two pillars of the vendor's business network, are strengthening. Executives from Ariba and Fieldglass touted the combination of forces at the annual SAP Ariba Live conference.
SAP Ariba is a cloud-based platform for direct and indirect procurement of goods, connecting buyers and suppliers via the Ariba Network. SAP Fieldglass is a cloud-based vendor management system for external workforce and services procurement. The two companies had been operating independently after each was acquired by SAP, but will work more seamlessly now in the vendor's quest for intelligent spend.
Their combined focus will be on helping companies solve business problems with SAP Cloud Platform and machine learning, rather than using specific technologies, Barry Padgett, CEO of SAP Ariba and SAP Fieldglass, said in his keynote address at the conference.
Things are changing rapidly in the enterprise, and employees are being asked to do more and do it faster, so they need tools that can make life easier, he said.
"We're on a path to this intelligent enterprise that you are asking us to help facilitate," Padgett said. "And it's powered by intelligent spend."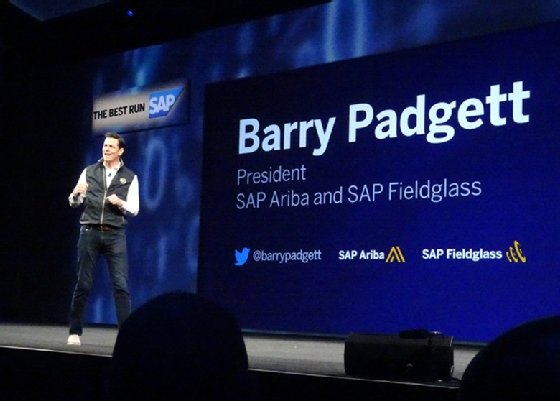 Big business runs through the SAP Ariba Network
The business opportunity in figuring out intelligent spend -- a data-driven approach to making smart, efficient procurement decisions -- is significant, as SAP Ariba reported that $3 trillion of commerce is projected to run through the SAP Ariba Network this year. The SAP Ariba Network now includes 3.8 million sellers.
The $3 trillion represents more than 10% of total global commerce, said Tifenn Dano Kwan, SAP Ariba's chief marketing officer, in the conference's opening keynote.
Intelligent spend isn't just about procurement and data; it's also about knowledge, Dano Kwan said in a subsequent panel discussion. Knowledge helps companies spend better, a primary focus for both Ariba and Fieldglass.
A company strategy should be to get all organizational spend in one place so there's clear visibility and understanding of what's happening at every detail, Arun Srinivasan, SAP Fieldglass' senior vice president, said in the panel discussion.
"That's not new, per se. But the realization that has come to the front -- based on a lot of mistakes in the past -- is that you need to make sure upfront that all of the data is structured [and] taxonomies align," Srinivasan said. "Then, the different categories of spend are brought together, so you answer the business questions you want to answer and derive the right outcomes."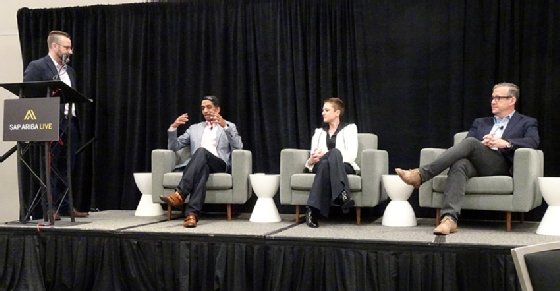 Getting a single view of spend
Unlike in the past, customers now want a spend management application experience that feels designed specifically for them, according to Srinivasan. Previous efforts to combine the systems led to a user experience that was too generic, with everything stuffed into an all-encompassing process.
Drew Hofler, vice president of portfolio marketing for SAP Ariba, explained that spend management is not just direct procurement or indirect procurement. It incorporates services, external workforce, travel and expenses that need to be accounted for. Organizations want a single view of spend, especially when dealing with vendors that may cross over spend categories.
Hofler explained that intelligent spend management ties the various spend categories on SAP Cloud Platform with AI and machine learning, and then attaches the spend data to a network that connects to outside data sources and third-party extensions.
"That's the big thing right now with [Ariba] coming together with SAP Fieldglass as an organization, and [it] also includes Concur," Hofler said.
Combining Ariba and Fieldglass makes sense
The implications of combining Ariba and Fieldglass are important, according to Dana Gardner, president and principal analyst at Interarbor Solutions in Gilford, N.H. But he said it will be interesting to see if the move is an isolated combination or a harbinger for business applications, common data, and processes to coalesce around AI and cloud.
Procurement of goods, services and the contingent workforce are similar enough that companies may ask why they wouldn't want those platforms to have more in common.
"They're trying to find a common fabric," Gardner said. "I think that makes tremendous sense. The more there's common data, the more opportunity there is to do better analysis. The better the analysis, the more intelligent the enterprise."
The product integration also makes sense to Andrew Bartolini, founder and chief research officer at Ardent Partners, based in Waltham, Mass.
"As contingent workforce management has been more broadly defined in scope over the past couple [of] years, and whether you want to call it total workforce management or the future of work in the gig economy, from a procurement perspective, it makes total sense that they would go to market together," he said.
The alignment could be another step in SAP's long-term strategy to make cloud companies that comprise the SAP Business Network, which include SAP SuccessFactors and Concur, along with Ariba and Fieldglass, a single operating entity.
"When you do a Venn diagram of the applications, there are some redundancies, and it's been a long enough period of time now where you're not disrupting current customers," Bartolini said. "There's a bigger picture strategy, which I don't know that they've communicated to the marketplace yet, but it makes perfect sense overall."
This could establish a proof point for SAP: If it can establish a methodology and market confidence that it can be done well, other business applications and processes may undergo a similar mashup to get common data and better analytics to drive real digital transformation, according to Gardner.
If companies begin to see greater efficiencies, better intelligence and more commonality around processes, leading to more productivity, then they'll want to see more, Gardner said. But he also warned that the converse is true, as well.
"There's a lot at stake, and if the market doesn't accept that the tighter integration of SAP Ariba and SAP Fieldglass makes the whole greater than the sum of its parts, it could put a damper on the mashup efforts," Gardner said.
Dig Deeper on SAP ERP software and modules