James Thew - Fotolia
SAP Ariba Discovery now open to all buyers and suppliers
Buyers and suppliers can now access SAP Ariba Discovery for free, and SAP Ariba, Fieldglass and S/4HANA are further integrated for an 'intelligent spend management' platform.
To help mitigate massive disruptions to the global supply chain, SAP is making it easier for buyers and suppliers to connect by providing free access to SAP Ariba Discovery.
The move was announced in conjunction with SAP Ariba Live, an annual conference that was recast as a virtual conference Wednesday due to the ongoing coronavirus pandemic.
SAP Ariba Discovery is a service that enables buyers and suppliers to connect on the SAP Ariba Network, which currently includes 4 million suppliers. Buyers have always been able to join the network and post sourcing needs for free; suppliers normally pay fees to respond with their ability to provide the goods or services require. The supplier response fees are being waived until at least June 30, 2020, at which point the situation will be reevaluated and the free access may be extended, said Chris Haydon, president of the SAP procurement solutions area.
The move was made to help alleviate global supply chain disruption because of the coronavirus outbreak crisis, Haydon said.
As the COVID-19 outbreak unfolded, SAP saw SAP Ariba Discovery as a useful tool that enables buyers to find supply sources, regardless if they were an existing SAP Ariba customer, Haydon said.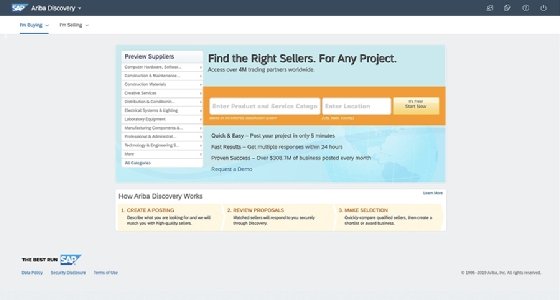 "We wanted to remove the barriers by making it free to any supplier for the next 90 days," he said. "In many ways, it's a custom-built tool for this dynamic sourcing of demand, and given the times we're in, we just thought it was the right thing to do."
The move was a positive step in a time of crisis, said Predrag Jakovljevic, principal industry analyst with Technology Evaluation Centers, a Montreal-based enterprise technology analysis firm.
Given the times we're in, we just thought it was the right thing to do.

Chris HaydonPresident of procurement solutions area, SAP
"Opening up the [SAP Ariba Discovery] to all suppliers and buyers without any fees charged by Ariba Network is a nice gesture to help companies navigate during these trying times of disruption," Jakovljevic said. "If your usual suppliers are unable to help you today, there might be some in regions still not -- or less -- affected by coronavirus, who are also begging for some business."
Simple, intelligent procurement UI
At the virtual SAP Ariba Live conference, which happened in the form of a series of video presentations, SAP demonstrated the integrated procurement environment that it calls "intelligent spend management."
SAP Ariba, SAP Fieldglass and S/4HANA operational procurement are now integrated under a single UI that runs on top of the HANA database, and is connected through SAP Cloud Platform.
The idea is to provide a simpler, common user experience, but intelligent spend management goes further than that, Haydon said.
"Intelligent spend management is a forward-looking way to think about procurement. It's about using technology that focuses its power on the tasks that can and should be automated or eliminated so you can focus on the aspects of business that can and should have human expertise," he said. "We need to get beyond focusing only on creating simple screens and UIs and, instead, power procurement to succeed amongst today's known disruptions and the unknown disruptions of tomorrow."
This integration of procurement applications and embedding of intelligence could make SAP stronger in the areas of direct procurement and sourcing by integrating data from S/4HANA ERP such as bills of materials (BOMs), routing and manufacturing planning into the process, Jakovljevic said.
"One thing to watch about all that integration with S/4HANA is whether [SAP Ariba] is becoming serious about direct procurement and sourcing, which is much more complicated than buying the office staples," he said. "Ariba has always been strong in the indirect materials space and perhaps is now getting serious about catching up with the likes of Jaggaer or SourceDay."