James Thew - Fotolia
Which SAP software supports sustainability?
SAP is releasing new sustainability software to give organizations the environmental data they need to achieve climate targets. Learn more about each type.
Like many vendors, SAP is rolling out tools to help enterprises measure their environmental impact, dial back waste and contribute to a more sustainable economy.
SAP is embedding capabilities in supply chain and product design software. It is also releasing some dedicated sustainability software to help organizations achieve their climate targets and support their corporate sustainability efforts, including climate tracking tools, circular economy tools and reporting tools.
The software augments the SAP Climate 21 initiative.
Here are some sustainability products SAP has released or is releasing.
Product Footprint Management
Scheduled for a fall 2021 release, Product Footprint Management will rely on data that S/4HANA collects and manages at the transactional and master data level. The product will initially focus on a company's carbon impact but will eventually include water consumption, energy consumption and land usage. The resulting data may help companies measure and understand their products' sustainability. They can then use this information to reevaluate parts of the production process like product design and sourcing.
Responsible Design and Production
The software, which is currently scheduled for the fourth quarter of this year, may help companies meet environmental sustainability regulations. These include the Extended Producer Responsibility (EPR) initiative. EPR asserts that companies bear some responsibility for their products upstream and downstream from production and sales, including materials sourcing, the manufacturing process and disposal. Responsible Design and Production focuses on collecting relevant data, including materials used and recycling rates. It will then compile a report about the company's production process and whether it meets regulations.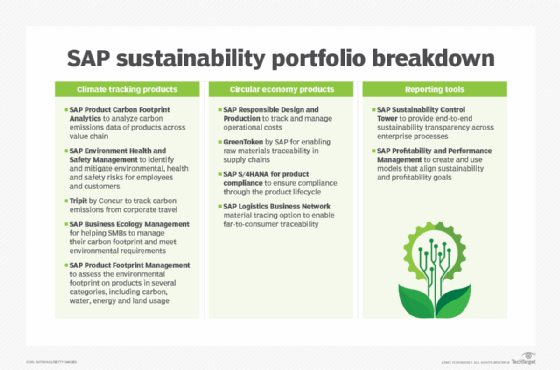 Sustainability Control Tower
Also due later in 2021, Sustainability Control Tower should provide a business performance management view of sustainability initiatives. The software focuses on compiling data from across the enterprise. It will then use that data to assess whether a company is on track to meet its sustainability goals, such as achieving carbon neutrality by a certain date.
Other products
Other SAP sustainability products include SAP Rural Sourcing Management, which is out now and is aimed at agribusiness organizations. The software will compile information about a company's suppliers to improve transparency into each supplier's sourcing and other sustainability-related metrics. Meanwhile, Environment, Health and Safety Management, out now, helps companies track and manage their air and water emissions.
In total, these products fit into SAP's overall sustainability vision.
About the author
Jim Kofalt has spent over two decades working with ERP and CRM software for small and midsize enterprises. He spent 16 years at SAP working with SME business applications. Prior to that, he was a product manager for integration technology at Microsoft's Business Solutions division and has managed numerous ERP implementations. He is currently the president of DX4 Research, a technology advisory practice specializing in ERP and digital transformation. He has a bachelor's from Georgetown University and an MBA from Syracuse University's Whitman School of Management.
Dig Deeper on SAP ERP software and modules
As supply chain issues continue to affect companies, SAP's Integrated Business Planning could help improve users' supply chain management. Learn how. Continue Reading
SAP is emphasizing its Integrated Business Planning product and moving its Advanced Planning and Optimization tools out of the spotlight. Learn ... Continue Reading
SAP's predictive analytics could help users with their supply chain management as supply chain problems persist. Learn more about how these ... Continue Reading