Getty Images
5 examples of greenwashing claims
Sustainable marketing can improve brand loyalty, but greenwashing diminishes it. Explore five examples of organizations that have faced greenwashing claims.
Whether intentional or unintentional, greenwashing can tarnish an organization's reputation.
Sustainable marketing campaigns have become increasingly prevalent as organizations face pressure from consumers to address environmental, social and governance (ESG) issues. These campaigns can link a brand's public image to environmental sustainability and help drive sales. However, organizations may face claims of greenwashing from activist groups, consumers and regulatory bodies if they exaggerate the sustainability of their offerings or cannot provide evidence to back up their claims within marketing campaigns.
Greenwashing can erode customer trust, damage brands' reputations and lead to multi-million-dollar fines, said Thomas Husson, vice president and principal analyst at Forrester Research. To avoid such accusations, business and marketing leaders should familiarize themselves with notable examples of greenwashing claims, which involve organizations such as FIFA and Deutsche bank's DWS.
What is greenwashing?
Greenwashing describes unsubstantiated, exaggerated or false marketing claims about an organization's environmental sustainability. Despite its legal and long-term business risks, some organizations knowingly engage in greenwashing to increase sales. However, a well-intentioned organization can also engage in greenwashing if it overestimates its initiative's effectiveness or fails to accurately measure its environmental data, such as its carbon footprint.
Greenwashing happens when organizations do the following:
Make broad sustainability claims without evidence.
Overstate their positive environmental effects in marketing materials.
Advertise products as eco-friendly, but source raw materials from unsustainable suppliers.
As marketing teams craft sustainability campaigns, they should consult with legal teams to prevent potential false advertising.
5 examples of greenwashing claims
Organizations in any industry can face claims of greenwashing. Notable examples include FIFA, Deutsche Bank's DWS, Ikea, H&M and Volkswagen.
1. FIFA
The international sports organization, FIFA, faced public backlash after it claimed its 2022 Qatar FIFA World Cup would be fully carbon-neutral -- which means the organizers would purchase carbon offsets to counteract all carbon dioxide emissions the tournament generated. Leading up to the event, FIFA released a report detailing its sustainability strategy, but climate experts and activist nonprofit organizations found faults with it.
Carbon Market Watch, a climate activism organization, released a report that suggested FIFA dramatically underestimated the tournament's emissions levels. FIFA has denied accusations of greenwashing and said it's committed to reducing its effect on the climate. However, the organization's public image has suffered since the tournament.
This case demonstrates that organizations should not use terms like carbon-neutral lightly.
"There's lots of very vague definitions about what it means to be carbon neutral, net-zero and carbon negative, which can cause confusion," Husson said. In response, authorities such as the UK's Advertising Standards Authority and the French government have begun to demand advertisers offer conclusive evidence to support claims of sustainability.
2. Deutsche Bank's DWS
In September 2022, a German consumer group filed a lawsuit against Deutsche Bank's asset management arm, DWS, for alleged greenwashing. The group said DWS's marketing material made misleading claims about its DWS Invest ESG Climate Tech fund, which aims to invest in companies that largely work to counteract climate change.
The consumer group said the fund's marketing materials advertised 0% investment in sectors like coal, but also stated that holdings could include companies that received revenue from the coal industry. The group said this contradictory information could confuse consumers and constitutes greenwashing. DWS denied the claims and said the marketing material complies with legal requirements.
The lawsuit came in the wake of similar allegations that DWS's former sustainability officer, Desiree Fixler, made. Fixler said the company overstated the degree to which it used sustainability criteria -- which evaluate an organization's level of sustainability -- in its investment offerings. After Fixler went public with her allegations in 2021, the U.S. Securities and Exchange Commission and BaFin, a German financial regulatory body, opened investigations into DWS.
Then, in May 2022, German prosecutors and police raided the DWS office and Deutsche Bank headquarters in Frankfurt based on greenwashing claims. DWS told reporters it has cooperated with the investigation and denied allegations that it misled investors. However, in February 2023, DWS's CEO told analysts the company cannot rule out the possibility of fines as a result of the investigation.
This investigation serves as a warning for organizations in the asset management industry. Regulatory bodies around the globe are ready and willing to prosecute potential greenwashers.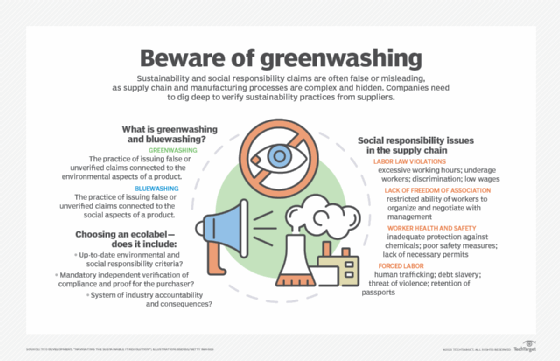 3. Ikea
Ikea launched a sustainability initiative before many of its competitors, including phasing out single-use plastics in 2020 and planning to eliminate plastic from consumer packaging by 2028. However, the furniture retailer faced accusations of greenwashing after a nonprofit organization, Earthsight, launched an investigation into its supply chain. Earthsight released a report in 2021 that suggested Ikea sold wood that suppliers illegally sourced from Russia.
Like many organizations, Ikea relies on the Forest Stewardship Council (FSC) certification to obtain its wood. The FSC is a voluntary forest certification system that aims to help organizations find wood sourced in accordance with strict environmental and social sustainability criteria. However, the illegally sourced wood that Ikea allegedly sold was FSC-certified, according to the report.
Earthsight's report largely blamed the FSC for Ikea's alleged involvement in the scandal. Following the greenwashing accusations, Ikea said it parted ways with the suppliers.
This case highlights the challenges of supply chain sustainability, even for companies that have led the way in terms of ESG.
"Some pretty well-known sustainable brands … have been caught in greenwashing because it's difficult to master the entire value chain," Husson said. "This is why we're starting to see some organizations going into auditing processes … to ensure that their supply chains are clean."
4. H&M
The fast-fashion brand, H&M, faced accusations of greenwashing after a 2022 investigation from the news publication Quartz claimed the brand misled consumers with its environmental scorecards.
To offer consumers information about its Conscious Choice collection, H&M used a fashion industry metric called the Higg Sustainability Profile. This metric gauges how much carbon a material's manufacturing releases into the atmosphere compared to traditional materials. It also compares water and energy usage. However, more than half of H&M's scorecards overstated their respective products' environmental soundness, according to Quartz.
In one example, a scorecard for a garment that required 20% more water to create than average said the garment required 20% less water. H&M said a technical error caused this discrepancy.
Shortly after Quartz went public with its findings, a consumer filed a class-action lawsuit against H&M for alleged false advertising of this collection.
Misleading marketing like H&M's case has worn down customer trust in corporate sustainability initiatives. Organizations that make false claims may swiftly face greenwashing accusations from an increasingly wary customer base.
"Almost two-thirds of U.S. consumers consider companies to be responsible for protecting the environment, but only 28% of them trust companies when they say they will commit to reducing climate change," Husson said.
5. Volkswagen
In 2015, the U.S. Environmental Protection Agency (EPA) discovered German motor vehicle manufacturer, Volkswagen, cheated on federal emissions tests to make its vehicles seem less harmful to the environment than they were.
Volkswagen had installed software into many of its diesel vehicles that could detect emissions testing scenarios, the EPA said. The software lowered engines' emissions during federal tests to bypass regulations. However, in normal driving scenarios, the engines emitted up to 40 times more nitrogen oxides than the EPA allowed.
Volkswagen admitted to cheating on the tests and the company's CEO resigned shortly after the scandal unraveled.
How to avoid greenwashing
Some organizations shy away from marketing their ESG efforts because they fear greenwashing claims. In fact, 76% of chief marketing officers fear greenwashing, Husson said. To avoid these claims, marketers should use caution if they advertise sustainability efforts that only marginally reduce their organization's environmental effect.
"If you are a large energy company that invests in fossil fuels, and you start advertising some initiatives that are pretty much irrelevant given the scope of your environmental impact, you're going to be accused of greenwashing," Husson said.
Instead, organizations can take steps to address the full scope of their environmental effects. For example, they can consider the following types of greenhouse gas emissions before they attempt to benefit from sustainable marketing:
Scope 1 emissions. These emissions come directly from organizations' business operations, such as company vehicles.
Scope 2 emissions. Organizations should account for emissions from electricity, heating and cooling that they purchase.
Scope 3 emission. These indirect emissions come from suppliers and customers.
As customers increasingly value environmental sustainability, marketers may want to flaunt their organizations' ESG initiatives broadly. However, these teams must exercise caution. Most instances of greenwashing are unintentional and come from careless marketing campaigns, Husson said. Yet, if organizations put in work to reduce the full scope of their emissions, they can advertise their efforts with confidence.
Dig Deeper on Sustainability and ESG data and reporting