4 tips to avoid greenwashing with authentic commitment
Greenwashing can undermine an organization's reputation, but practicing sustainability makes all the difference. Learn how to avoid the label with these actionable tips.
Although there's increasing pressure on companies to become sustainable, business and IT leaders should understand how to avoid the real possibility of greenwashing.
Sustainability in the corporate world has gone from an afterthought to a necessity as companies continue to navigate a modern workplace that prioritizes purpose-driven, effective work.
Fifty-eight percent of decision-makers are concerned about the strength of their company's sustainability strategy, according to "Enterprise Survey: Sustainability in Corporate IT Purchasing and Use, 2023," an April study from CCS Insight and NTT Data.
But fewer than 50% of respondents believe their company should spend more on sustainable materials and services.
These opposing viewpoints could highlight the phenomenon known as greenwashing. Greenwashing involves the prioritization of appearing environmentally friendly over actually minimizing environmental effects.
This action -- which can be intentional or unintentional -- prompts the question: How can leaders genuinely and successfully develop an organization's sustainability initiative that moves past performative claims while dealing with lackluster corporate buy-in?
Here are four tips that organizations can use right now to avoid greenwashing.
1. Understand ESG vs. sustainability
Environmental, social and governance and sustainability are related and can overlap. ESG examines a company's overall business strategy regarding environmental effects, how the company treats different groups of people, and internal controls and practices. In contrast, sustainability looks at how to fulfill the current generation's needs without compromising future generations, ensuring a balance between economic growth, social well-being and environmental care.
ESG is more of a framework designed for company stakeholders to drive overall decision-making and strategy. Sustainability comes down to the company's effect on the environment and society. While the differences might seem subtle, it's important to keep both in mind so that you don't focus on one over the other. ESG goals and measurements are key to getting stakeholder support in your programs. Sustainability initiatives will likely create cultural changes that lead to real-world influence.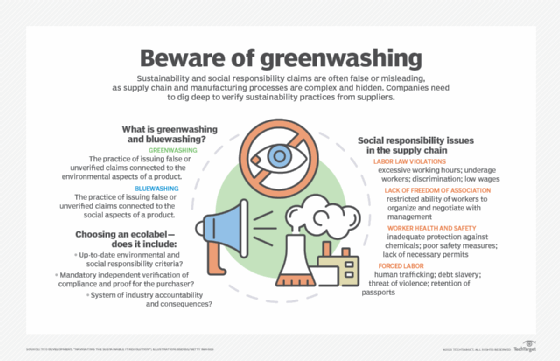 2. Identify barriers and knowledge gaps
In my experience engaging with clients, cost and insufficient or negative ROI are the most significant barriers to sustainability proposals. There remains a pervasive misconception that sustainable practices are "nice to have" instead of something that will bring value. It's crucial to align sustainability goals with overall business goals and employee initiatives to get organizational buy-in. These actions should include measurable KPIs to ensure continued commitment.
While sustainability is an up-and-coming career field, there still needs to be more internal expertise on the subject in many companies. That knowledge gap can doom a sustainability initiative before it gets off the ground. Adherence to regulations is still a primary driving factor behind enterprise investment in sustainability, so it's important to stay one step ahead of local regulations, industry standards and what competitors are doing to incentivize taking real action. A search for external resources such as corporate sustainability consultants to help build the business case or establish a green strategy can be worthwhile.
When determining KPIs and measuring progress, it's also important to set expectations that not all returns will be immediate -- but that it doesn't mean sustainability efforts are faltering. Investments made now will pay dividends for generations to come. Now and in the future, clear, well-defined education and training about what progress looks like is necessary for all organizational leaders and external stakeholders.
3. Perform routine sustainability audits
The CCS Insight study also found that less than a third of decision-makers feel confident that suppliers provide adequate metrics about their environmental efforts. A further 70% believe their partners must do more to communicate sustainability commitments.
To address these issues, companies will need to work closely with suppliers on the latter's sustainability as part of their own sustainability efforts.
New and upcoming ESG reporting requirements should help in this area.
ESG frameworks, especially the environment component, are going to become much more quantitative in the near future as governments mandate disclosures related to climate change. Boards should prepare to offer investor-grade reporting on ESG factors.
Outside promotion should never be the primary goal. But talking about sustainability success can help other organizations understand what their peers prioritize and can incentivize industry-wide initiatives. To avoid the greenwashing trap, make sure any marketing or advertising using ESG metrics maps back to promoting green practices rather than promoting the company.
4. Use tech for accessible sustainability goals
Investing in renewable energy and modernizing infrastructure, application systems and IT operating processes are critical to achieving sustainability goals. Beyond optimizing existing tech, consider options that measure and track carbon emissions and other indicators in real time.
Companies are starting to realize that accurate carbon accounting and greenhouse gas reporting does not only include emissions from a corporation's activities. Organizations must include the emissions from purchased electricity and emissions caused by their supply chain, products and vendors as well. These external emissions can be a lot to stay on top of, further emphasizing the need for dedicated sustainability monitoring and tracking solutions.
For example, digital twin technology uses enterprise and IoT data at the edge to create models in the cloud, allowing organizations to integrate and visualize large, connected ecosystems. From there, companies can begin to understand their energy usage patterns, identify waste, and monitor equipment to prevent maintenance and downtime that can help optimize energy consumption.
Sustainability commitments require a major cross-departmental team effort regardless of where the conversation starts. Sustainability is a journey for organizations. Green initiatives will only be successful with buy-in and active support from people at all levels. To integrate sustainability into corporate strategy, executives and employees should clearly understand what sustainability means for their organization and create programs linked to a company's purpose. Finding a balance between an organization's effects -- while still answering to shareholders and constituents -- is key.
To avoid the perception of greenwashing and deceptive marketing practices, the primary focus cannot be on profitability or ROI. True sustainability isn't an easy undertaking, but it is a worthwhile one. Business leaders have a responsibility to drive the path forward to a greener future.
About the author
Tanvir Khan is chief digital and strategy officer at NTT Data, an IT and business services consulting company. He holds five patents and four pending patents in AI and automation. Khan has over 25 years of experience in IT outsourcing and running scalable P&L operations across multiple continents. Previously, Khan served as president of NTT Data's business process outsourcing, infrastructure, dynamic workplace services, and intelligent automation and data service. Before joining NTT Data, he held global leadership positions at Dell Technologies and Wipro Limited.
Dig Deeper on Sustainability and ESG strategy and leadership