Getty Images
7 examples of sustainable marketing
Organizations can help the environment, society and their bottom line at the same time with sustainable marketing. Examples include charity partnerships and social transparency.
Organizations are increasingly promoting their brands' sustainability initiatives as part of their marketing campaigns.
Environmental, social and governance (ESG) strategies include environmental best practices such as reducing greenhouse gas emissions, renewable energy adoption and supply chain transparency. Other programs bring transparency to the social side of ESG. For example, organizations may disclose details about their working conditions, foster community and facilitate audience engagement around social sustainability.
After organizations launch an ESG initiative, marketing teams can promote it, which can improve brand reputation, sales and customer engagement. Companies may choose to highlight their positive effect on the environment or bring attention to how their manufacturing process positively affects workers. Organizations can also help build communities around products, services and local organizations.
Explore seven sustainable marketing examples, which include sustainability content on social media, personalized sustainable offerings and charity partnerships.
1. Share sustainability content on social media
Customers have become more interested in eco-friendly products over time. Organizations with environmentally focused offerings are exploring creative ways to engage with these audiences.
For example, the sustainable fashion brand Rapanui developed a catalog of products made from sustainable materials, such as certified organic cotton, which is grown without harmful pesticides and fertilizers. Its factories that manufacture the company's products run on renewable energy.
Social media content that addresses Rapanui's sustainability efforts regularly outperforms the brand's other product-based content by over 300% in reach and engagement, said Hannah Rochell, content lead at Teemill. Rapanui uses Teemill as its e-commerce platform.
"Our customer base is politically and socially engaged in tackling sustainability issues worldwide," she said. "By creating content that is relevant to their interests, we position ourselves as a driving force of change in the industry and create a community of engaged customers who share our values."
2. Create personalized, sustainable offerings
A lot of marketing involves creating what people want. Personalized products have become more popular in recent years. Rapanui's team created a custom design webpage that lets customers create their own products. The page has a conversion rate five times higher than other site pages.
"Our customizable products are our best-selling category," said Tom Marriott, brand lead at Teemill. "We capture browsing intent through on-page SEO and constantly improve the user experience of our design studio, finding that sweet spot between traffic and conversion rate."
3. Partner with charities
Organizations can also align their environmental actions with sales or promotions. For instance, Teemill runs regular tree-planting offers on weekends in coordination with its charity partner Tree-Nation. Teemill stores can choose to promote the offer to their customers, and Tree-Nation will plant a tree with every order.
Teemill's team has found that during the "Buy One, Get One Tree" weekends, online stores that promote the offer see a 42% increase in traffic and a 25% increase in revenue compared to a typical weekend.
"Customers are looking for ways to shop more sustainably, and they like to see their order contributing something positive to the world," said Sara Debreceni, digital content officer at Teemill. "Our tree planting weekends are some of our most effective offers, despite offering no discount."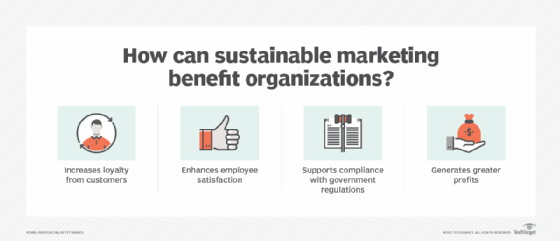 4. Promote accessible product information
As consumers become increasingly concerned with the environment, they want to support businesses that offer sustainable products. Organizations should do more than add sustainability messaging to their mission statements. They should take specific, measurable ESG actions, such as planning to reduce greenhouse gas emissions and using organic materials in product production. Marketing teams can then share those actions with consumers to build trust.
Sustainable product marketing has already become more prominent among brands like Nike and Ikea, said Marcel Hollerbach, chief innovation officer at Productsup, a product information management platform. For example, Nike introduced Nike Forward, a lightweight material that aims to reduce the brand's carbon footprint by 75% compared to traditional knit materials. Nike promotes this material on its sustainability portal. Similarly, Ikea promotes how it makes 60% of its products from renewable materials.
5. Get third-party certified
Organizations can use third-party certifications and verifications to make sustainable product information more visible to customers.
B Corp Certification is a private sustainability certification for for-profit organizations. Certified organizations can place the B seal on their products, which may help them attract and retain environmentally and socially conscious consumers.
"Rather than sharing a list of sustainable practices on the product itself, a seal from Certified B visually shows a company prioritizing sustainability," Hollerbach said.
6. Be transparent about supply chains
To invest in a sustainable supply chain, organizations must prioritize care for workers in addition to the environment. Socially conscious consumers want visibility into the social practices within organizations' supply chains.
Many larger brands have rolled out supply chain-tracking tools to meet this demand for transparency. For example, Nike's Manufacturing Map lets consumers learn where Nike manufactures products, the number of workers in each factory, their average age and how many are migrant workers. Similarly, Patagonia's "Our Footprint" webpage helps visitors learn about product materials and environmental programs, social responsibility, and how the company makes its products.
7. Invest in communities
The healthcare industry is increasingly exploring how community events can improve health outcomes for patients and reduce burnout for healthcare providers. Additionally, community offerings can help providers boost their brand awareness.
Customers are looking for ways to shop more sustainably, and they like to see their order contributing something positive to the world.

Sara DebreceniDigital content officer, Teemill
For example, Open Source Wellness is a nonprofit that works with healthcare organizations to create community events that offer healthy meals, mindfulness and movement practices, and small-group health coaching. The programs aim to improve customers' health outcomes and experiences with healthcare providers.
Being part of a community can help participants achieve their health goals, according to Dr. Benjamin Emmert-Aronson, co-founder and director of operations at Open Source Wellness. The organization's research shows participants reduced their blood pressure by 20 points and their depression and anxiety by over 40%.
"We have always had a real focus on the community because we believe that the social support of the community drives the rest of our choices around our health and wellbeing," Emmert-Aronson said. "With that social support in place, healthy behavior no longer occurs as a chore but as a fun choice that happens naturally."
Community events have helped Open Source Wellness build customer relationships and create brand advocates that advertise the organization through word of mouth. For instance, other healthcare organizations, such as Healthcare Services Agency of Alameda County, Recipe4Health and Kaiser Permanente, have helped spread the word.
Dig Deeper on Marketing and sales