5 ways organizations can address the social factors of ESG
The social factors of ESG have become more prominent. Here's what they involve and how companies can take tangible actions to address social issues in ESG programs.
Corporate reporting on environmental, social and governance issues can be used by various stakeholders -- including employees, investors, customers and others -- to assess the ESG-related risks and opportunities relevant to an organization. While environmental and governance factors are often at the forefront of ESG considerations, the social aspect is equally important.
Addressing the social factors of ESG is crucial to creating a sustainable and responsible organization. This involves actively working to improve diversity, equity and inclusion (DEI) within the company, as well as promoting ethical behavior and social responsibility in all operations. IT departments can play a significant role in this process by ensuring that technology is used ethically and responsibly, protecting sensitive data and promoting digital inclusion.
What does the 'S' in ESG involve?
ESG social factors include a company's treatment of employees, supply chain practices, community engagement and overall impact on society. ESG's social element is intertwined with the concept of corporate social responsibility (CSR), a self-regulating model for committing to business practices that will have a positive impact on society. Some of the components of a CSR strategy can be built into ESG metrics to track and report on an organization's performance on social issues.
The social aspect of ESG also aims to redress injustice in the environments in which companies operate. Today, companies are faced with a growing number of social justice issues that can drive business risk, including worker rights, gender and racial equality, child labor and environmental effects on people's health. The way companies operate can have a huge impact on these issues. As part of ESG initiatives, this can mean taking steps toward fair wages for all employees, including workers at supply chain partners, or adopting policies designed to reduce environmental damage in local communities.
For example, sustainability expert and author Andrew Winston points to a broad range of companies that are raising wages for their lower-paid workers, including Walmart increasing pay for its store employees. Such moves also have economic benefits. "This more sustainable social side of rising wages for the middle class is driving a better economy," Winston said.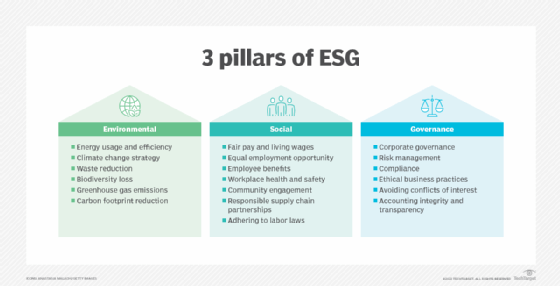 Prominent social issues for organizations today
There are a variety of social issues that organizations can incorporate into their ESG programs. The following are some common examples:
DEI.
Fair pay, living wages and other labor practices.
Workplace health and safety.
Fair treatment of customers and suppliers.
Oversight of practices at supply chain partners.
Responsible sourcing of supplies and materials.
Community engagement and involvement.
Charitable donations and funding of social programs.
Support for human rights and international labor standards.
Why ESG social factors have become more relevant and important
The ESG movement evolved from socially responsible and sustainable investing practices that first emerged in the 1970s and became more widespread during the 1990s and early 2000s. In many cases, ESG investing focused mostly on understanding the climate-related risks faced by companies. But since the start of the COVID-19 pandemic, the social factors of ESG have grown in prominence.
There's now increased awareness and advocacy of ESG-related social issues from consumers, employees and other stakeholders. Companies are expected to take a more active role in addressing these issues and having a positive social impact. Reporting on ESG's social factors helps create a sort of "social credit score" that's meant to function like personal credit scores for consumers.
A June 2021 report titled "Accelerating the S in ESG -- a roadmap for global progress on social standards," which was published by the U.K.-based International Regulatory Strategy Group and consulting firm KPMG, pointed out that the pandemic fueled more interest in ESG overall and, in particular, focused greater attention on its social factors. "COVID-19 forced working and living practices to change and has highlighted -- and exacerbated -- longstanding social issues," the report said.
For more on ESG strategy and management, read the following articles:
5 tangible ways to address the 'S' in ESG
Here are five specific areas for addressing social issues that companies can focus on as part of their ESG strategy:
DEI initiatives. Programs and policies that promote diversity and inclusion in the workplace -- as part of hiring practices, training, mentorship programs and more -- can help increase the representation and participation of different groups of people. In addition, equity measures are designed to ensure that all employees are treated equally and have the same kinds of opportunities. DEI principles include recognizing that people face different challenges and not taking for granted the prevailing ways of doing things and thinking. Effective DEI efforts can result in more diverse views and a workforce that better reflects a company's customer base.
Employee engagement and well-being. As part of the human capital management process, companies can prioritize the health and well-being of their employees through initiatives such as mental health support, flexible work arrangements and fair compensation. These efforts are key to combatting widespread employee disengagement and increasing retention rates. They can also help attract new employees. Ensuring that working conditions are safe and healthy is another important part of ESG programs.
Community involvement. Engaging with the local communities where companies have operations can be done through business partnerships, volunteerism, mentoring and philanthropic initiatives. This can benefit both the communities and companies. For example, IT departments can offer internships with local high schools and community colleges to provide a pathway for advancement while filling open IT positions. Having a positive impact on communities can also improve the standing of a company, reducing potential business risks.
Ethical behavior and social responsibility. This relates to practices that "support human well-being and orient companies to the ways they impact and are impacted by society," as Ann Skeet, senior director of leadership ethics at Santa Clara University's Markkula Center for Applied Ethics, wrote in February 2022. Ethical behavior and social responsibility can be promoted through codes of conduct, transparency and accountability. For example, being proactive about communicating how organizations adhere to their internal codes of conduct can go a long way toward avoiding investor votes against directors and challenges to executive pay.
Corporate purpose and culture. Identify a corporate purpose that incorporates ESG goals, including social ones, and then build your company culture around it. A purpose-driven culture is critical to getting internal support for ESG efforts, Harvard Business School professor George Serafeim wrote in a 2020 Harvard Business Review article. Purpose isn't a slogan on the wall at corporate headquarters, an online mission statement or a town hall meeting speech by the CEO, he said, but "how employees perceive the meaning and impact of their work."
IT's role in managing ESG's social aspect
Data is at the heart of ESG reporting. As managers and custodians of corporate data, IT leaders need to ensure the quality and availability of their organization's ESG data. This becomes more difficult in the context of the social aspect of ESG, because there aren't standard ways to measure social impacts -- and because many of these metrics are qualitative in nature. Some evidence of that: In a global survey of investors conducted in 2021 by financial services firm BNP Paribas, 51% of the respondents said they found social issues to be the most difficult component of ESG to analyze.
IT can aid in developing metrics and measuring progress on social initiatives. Data analytics tools are needed to track and analyze a company's social impact, while the IT team manages data privacy, security and protection. CIOs can also help ensure that the full range of social effects comes into play in ESG reporting -- including the positive side of how a company operates as part of society, as opposed to just the risk of operating in a more antisocial way.
Another crucial task for the IT department is making sure that technology is used in an ethical and responsible way. This will only become more pressing in the AI era, which demands clear usage policies. In addition, IT can promote digital inclusion by ensuring that required technology is accessible to all employees and by aiding in community access to some technologies, such as high-speed Wi-Fi connections.
ESG investing has lately come under fire from some politicians in the U.S., primarily Republicans. More than a dozen states, including Texas, Florida and West Virginia, have enacted legislation to limit or bar ESG considerations such as decarbonization from influencing investment decisions by state pension funds. In March 2023, Congress approved a Republican-driven resolution to block a federal rule that allows retirement fund managers to consider ESG criteria, but President Biden vetoed the measure. Despite the politicization of the issue, it's clear that ESG initiatives in companies are here to stay.
All types of ESG considerations must be embedded in both business strategies and operations, Serafeim said in his Harvard Business Review article. Promoting ESG factors, including social ones, is aligned with financial performance and business strength, he noted, writing that organizations "are likely to be more resilient in the face of unexpected shocks and hardships if they are managed for the long term and in line with societal megatrends, such as inclusion and climate change."
Dig Deeper on Social and human impact