Box CIO talks IT innovation and pressures in an 'all-cloud' environment
Box CIO Paul Chapman discusses the demands of running IT at a company that was 'born digital' and why an 'all-cloud' environment doesn't preclude having to manage legacy IT.
As a technology firm executive, Paul Chapman, interestingly enough, puts technology in second place when it comes...
Continue Reading This Article
Enjoy this article as well as all of our content, including E-Guides, news, tips and more.
to innovation. "Disruption isn't about technology. It's enabled by technology, but it's caused by companies who can rethink how their business model should be built," he said in a recent interview with SearchCIO.
Chapman is CIO of Box, a cloud content management and file sharing service for business founded in 2005 and headquartered Redwood City, Calif. He joined the company in July 2015, having worked previously as CIO at HP Software and, prior to that, at VMware in several senior and executive positions. At Box, he's responsible for leading the company's global IT strategy, focusing on technology that provides a competitive advantage and implementing what he calls "best-of-breed solutions" for functional services. He leads a team of 70, compromised of some 50 employees and 20 contingent workers. Here he speaks about agility, innovation and delivering value for employees in an all-cloud environment.
Having been in IT for 30 years, you've seen the function's role and the CIO position evolve. How, then, would you describe the CIO role today?
Paul Chapman: The CIO role today is not ubiquitous in the fact that the CIO -- depending on which organizations they're at, where that company is in terms of its lifecycle -- has to be very adaptable to that environment. The way I used to think about IT and what I focused on at VMware was different than what I thought about IT at HP and what I think about here at Box.
So, one of the things that's really important in IT is reinventing yourself. You have to reinvent yourself many times over during your career to stay relevant. I was a COBOL programmer back in 1987. And I had to learn many waves of technology since then to stay relevant.
Also, as more and more companies become technology companies, the CIO is now moving closer to the customer. As we all know, in the digital world the customer is at the center. So, it's about getting closer to the customer and adding more value to your company in doing so. And at a company like Box, I think the employee and the customer are at the center. So, [for me] there's a focus on culture and making your employees as productive as possible.
You talk about using 'best-of-breed solutions.' What do you mean by that, and how does that fit into your technology strategy?
Chapman: When we talk about best-of-breed solutions, we're talking about products and services that aren't differentiating to your business. You're talking about your front office or back office services. They're the services that are important to how you run your business; you don't run your business without them, but they don't differentiate you.
However, one of the things you get to do by leveraging best of breed, you get to leverage the innovations going on in those areas, you get to stay on the most relevant, most current versions, you get to retire tech debt, you get freedom from infrastructure, from direct operational overhead, the ability to focus on things that produce higher value and you get to spend less time on the things that don't add value. It gives you back time to go focus on the things that do strategically differentiate you.
And I would add one other piece -- and I don't think it gets enough attention put on it -- is that as you start to shift to more modern best-of-breed services, they are built with a modern reference architecture; it's much more platform-based. It's the internet of APIs, and how these services interoperate with each other is really, really important.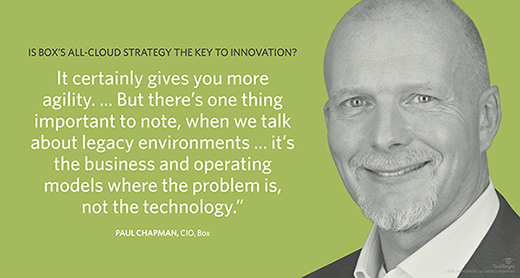 Is your IT organization completely in the cloud?
Chapman: That's correct. And it has always been. We're born in the cloud, grown up digital. We started with a clean sheet, an unconstrained environment. We had the confluence of tech trends that have allowed us to do that: mobile ubiquity, the globally networked economy, access to cloud computing and infrastructure in the cloud.
I'll add one other thing -- if you look at the business of Box, there aren't a lot of things we do that I think are necessarily different or complex enough to have to manage a bunch of capabilities that we would need to run in a hybrid world or run ourselves.
Does being all cloud mean you have no legacy IT? Nothing outdated?
Chapman: So, the services that run in your business still have to be managed and cared for. In that regard, that hasn't changed. But cloud puts customers in a different position; today, they have more freedom to choose. The services customers subscribe to are in business because they provide the most relevant, most innovative capabilities in that practical domain. If they don't, the on-ramps are shorter these days and so the off-ramps are as well. If a company stops innovating, there's another company right around the corner. You can move from cloud to cloud, and that happens on a regular basis. It's incumbent on the service provider to continue to innovate, to build reliable, scalable services, to continue to provide the right trust capabilities in security and compliance and regulatory [requirements] and so on to provide a great user experience.
Is all cloud then the key to innovation?
Chapman: It certainly gives you more agility. Legacy has set in in a lot of organizations because they lack agility in their architecture. But there's one thing important to note, when we talk about legacy environments -- the dreaded inertia -- it's the business and operating models where the problem is, not the technology. I think all too often there's an overemphasis on thinking that it's a technology-solve when the reality is that it's much more about the culture and how the company thinks and operates.
In part two, "Machine learning use cases, touch-text-talk on Box CIO's to-do list," Chapman discusses his IT priorities, an exciting agenda that focuses on the technology expectations of Box's Millennial-heavy workforce and machine learning use cases.