Sergey Nivens - Fotolia
Digital transformation in manufacturing: Carton maker taps Predix software
Learn about a digital transformation project at Swiss manufacturer Sig Combibloc, which is using GE Digital's Predix software and IoT sensors to boost productivity and cut costs.
Digital transformation in manufacturing has arrived in the food and beverage sector.
Continue Reading This Article
Enjoy this article as well as all of our content, including E-Guides, news, tips and more.
Sig Combibloc Group AG, a manufacturer of food and beverage cartons and filling equipment based in Neuhausen, Switzerland, has tapped GE Digital to provide its Predix software to build a digital platform that aims to maximize uptime for manufacturing plant machinery. The initial rollout of the technology is expected to go live in July 2018.
Sig makes aseptic paper board cartons for packaging food and beverage products. The cartons ship to customers as flat sleeves. The company also manufactures machines that fill the cartons with food or beverage and installs packaging production lines for customers. More than 400 customer factories worldwide use Sig's systems, according to the company. The GE Digital software and an array of IoT sensors will keep tabs on the manufacturing equipment housed in those factories. Sig will also deploy the software in its own carton-making factories.
Christian Alt, director of digital transformation at Sig, said the GE Digital system will play a key role in the company's digitalization efforts.
"This will be a major cornerstone," he said.
Digital transformation in manufacturing: Optimizing uptime
The goal of this digital transformation in manufacturing initiative is to keep the production lines flowing, boost throughput and increase quality. To do that, GE Digital aims to link two key applications: its Predix Asset Performance Management (APM) System and Predix ServiceMax field services management. Predix APM will monitor the health of Sig-equipped filling lines and use AI and predictive diagnostics to anticipate problems with those filling machines before they occur. With insight into when equipment is likely to fail, factory managers can schedule maintenance windows and downtime to minimize disruption and control costs.
"What [Sig customers] want to do is optimize the uptime and availability of equipment," said Scott Berg, CEO of ServiceMax, an operating unit of GE Digital.
Next, comes the handoff of maintenance data -- what to fix and when -- from Predix APM to ServiceMax, which the factories will use to dispatch Sig's field technicians to work on a given piece of machinery. The field technicians receive the APM system's maintenance recommendations on the mobile app component of ServiceMax. That application will also collect data on technicians' performance in carrying out the recommended maintenance. That data will funnel back into the Predix APM.
The integrated systems "capture the actions taken by the individuals out there -- no two technicians have the same fix rate," Berg said. The result is "a closed-loop service model" in which data flows from Predix APM to ServiceMax and back again, he added.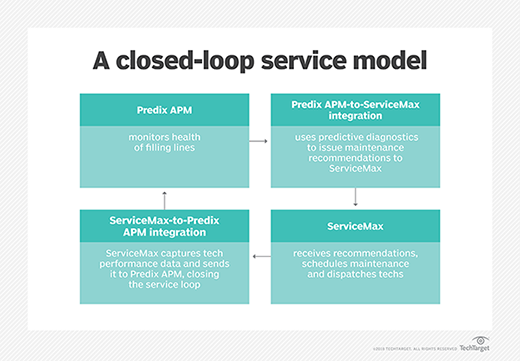 Predix software provides end-to-end platform
Alt said Sig will initially start with "digital service" -- combining Predix APM and ServiceMax across all Sig customers. After that, the company will move onto a digital production phase in which it will roll out Predix APM and ServiceMax across Sig's own plants. That move aims to "help drive out costs and increase productivity through automation and analytics," Alt explained.
Alt envisions a digital end-to-end platform that links "connected assets" -- Sig's term for manufacturing equipment such as filling lines tethered to the industrial IoT -- to Sig's Connected Pack initiative. With Connected Pack, Sig's track-and-trace system uses QR codes printed on carton packs to collect data -- information on scrap rates, for example -- to improve a plant's efficiency.
From carton packs, Sig will move on to all types of food and beverage packaging, he added.
In addition, the Predix APM system will eventually be able to track the container sleeves as they move through production. Alt said APM currently doesn't follow the cartons but said the company, going forward, will have line of sight to production data from the carton pack sleeves that can be integrated with data on the QR codes.
Replacing systems
Prior to the GE Digital deployment, Sig had a bidirectional link between filling lines in the field and a central control system. What's new with the Predix software deployment is the integration between the systems overseeing the filling lines with the service management system.
While Predix APM will replace the systems that monitored the filling lines, ServiceMax will replace Sig's Global Service Management System, which was based on SAPUI5 and Innosoft. SAPUI5 was used in a ticketing application, while Innosoft supplied a scheduling and dispatch console, according to Alt.
While the GE Digital project involves two Predix software components, Sig views the deployment as a unified whole, Berg noted.
"The customer had a combined objective in mind," Berg said. "They were not looking at two sets of problems and two apps. The Sig team really doesn't want to hear about the integration of applications. They see the whole digital footprint here as a single project with a single outcome in mind."
The initial deployment of this digital transformation in manufacturing project will lead to a global rollout slated to begin in January 2019.