How CIOs can achieve cloud cost savings in 3 steps
With this three-pronged cloud savings framework, organizations can alleviate the enterprise IT cost pressures they're experiencing as a result of the pandemic in as little as 30 days.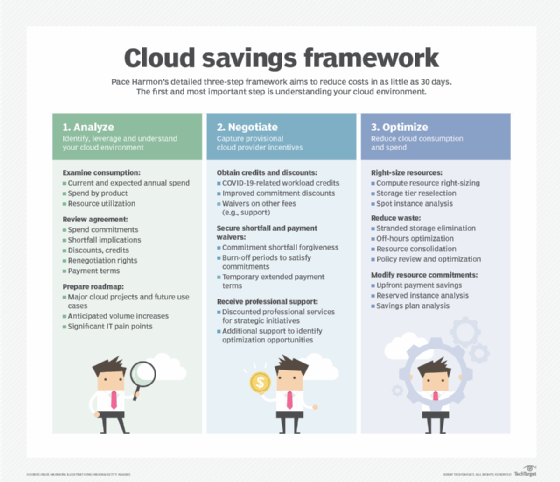 The move to the cloud is more important than ever, as CIOs and IT leaders are now relying on its scalability to help their companies successfully transition to and maintain a work-from-home environment during the COVID-19 pandemic.
However, several of these organizations are also facing the challenge of having to reduce IT spending as a result of the economic downturn during the pandemic.
"Whether the motivation is to free up funds for other investments, accommodate fluctuations in demand and revenue, or as a precautionary measure because of the unpredictable nature of our current environment, IT spending has risen as a priority," said Stephanie Radlick, cloud strategy and transformation advisor at Pace Harmon, the management consultant firm.
So, how can organizations continue to invest in the use of cloud computing technologies to ensure their businesses can operate while having to factor in the need to reduce IT costs?
Pace Harmon has developed a cloud cost savings framework -- also known as Rapid Action for Cost Elimination (RACE) -- to help enterprises identify opportunities where they can reduce third-party IT or service costs, according to Radlick. The firm took it one step further and identified the specific cost levers that can be applied to the public cloud.
"As it can be overwhelming to synthesize the vast amount of resources that speak to all the ways an organization can optimize its cloud spend, we distilled that into action-oriented initiatives that yield a quick return," Radlick said.
While this cloud cost savings framework works best for organizations with public cloud service provider agreements, any organization adopting a cloud-based infrastructure can find value in it.
"The framework centers on optimization and governance best practices that are commensurate with a relatively mature cloud practice. A significant majority of large enterprises aspire to reach that level of cloud maturity and are taking steps toward realizing it but are currently further back on the maturity curve," Radlick said. "This framework is designed to help organizations that have not yet achieved the full maturity optimization best practices that more mature organizations tend to deploy regularly to achieve quick wins for their cloud environments."