How augmented intelligence can enhance jobs
Augmented intelligence -- AI used to enhance human skills -- makes workplaces more productive, diverse, inclusive and authentic. That's one future conjured at an MIT forum on AI.
As workplaces adopt machine learning and other productivity-boosting technologies, workforces will need to adapt, learning the necessary skills and negotiating their own concerns about what the IT advancements might mean for their jobs.
The knotty employment questions that will accompany today's technological revolution was a running theme at MIT, which last week hosted the AI and the Future of Work Congress.
"Are humans going to go the way of horses?" Erik Brynjolfsson, director of MIT's Initiative on the Digital Economy, asked the audience at the opening of the conference. Brynjolfsson didn't think robots would supplant humans the way cars supplanted horse-drawn carriages a century ago, because humans excel at skills like empathy, creativity and the human touch. But he said there are lessons in that historical shift in transportation modes.
Determining how workers with a diverse set of skills fit into an enterprise's technology architecture is an important -- and challenging -- aspect of making strategic technology decisions. The good news is natural language processing and other user-friendly advancements have made technology more accessible to a broader array of people.
Clear differentiation between tasks better performed by a human versus the tasks that a robot can more adeptly handle is a helpful step, according to Allison Horn, managing director of learning and leadership development at Accenture, based in Dublin, who said other jobs will lie somewhere in between obvious use cases for a person or a robot.
"We need to get to the place where we're very, very clear on what are the skills that machines are better than we are at. They will always be better at transactions. They will always be better at memorization, speed and so forth. And then we look at what are the skills that -- at least for the foreseeable future -- humans will be better than machines at: judgment, creativity, leadership," Horn said.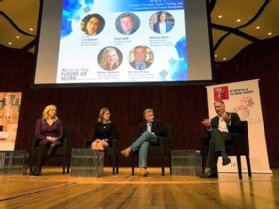 "The middle is the place where humans and machines are working together," she added. Sometimes referred to as augmented intelligence, this is an area where machines provide humans with the ability to work "in ways that we never could have imagined as recently as two to three years ago," Horn said.
Indeed, the private sector needs to put more effort into considering how technology will alter its workforce, according to Karen Mills, who was administrator of the U.S. Small Business Administration under then-President Barack Obama and is now a senior fellow at the Harvard Business School, based in Boston.
"I think businesses are not doing a very good job about thinking about their workforce of the future and those who are going to have a competitive advantage," Mills said.
Augmented intelligence in brick-and-mortar businesses
At Walmart, which has well over 2 million employees worldwide, the retail giant uses robots to assist with stocking the shelves, and it has turned to virtual reality to train its employees in customer support and emergency preparedness, according to Becky Schmitt, senior vice president of global people at Walmart.
"We're able to use technology to both augment the human and lift the bottom line by providing a better experience," Schmitt said. By training employees with Oculus headsets, the company has given them "confidence in not feeling completely threatened that the robots are coming."
Many people who do not work in the information economy believe AI and other augmented intelligence tools will harm their earnings, according to Fred Goff, founder and CEO of Jobcase, based in Cambridge, Mass., a company that has more than 90 million registered members.
Jobcase surveyed its membership and found that while about 46% believe technology has helped increase their earnings, only 27% believe AI will help increase their earnings, according to Goff. But Goff is optimistic about the prospects for AI to assist people like auto mechanics, because natural language processing and other tools open up information technology to a new array of workers.
"Right now, if we say, 'The problem is I need to teach everyone how to code so they can be part of this economy,' it's just not rational," Goff said. "But if we say, 'No, the machines are speaking our language now,' I can teach people how to use the tools to open up their productivity."
Augmented intelligence and the reason for concern
For all the talk about AI and augmented intelligence as a force for good, employees have some cause for concern about technology supplanting their responsibilities, some panelists argued.
In the United States, the system of taxes and employee benefits "massively favors" expending capital and makes hiring labor more burdensome, Daron Acemoglu, an MIT economics professor, told the audience.
"So, a rational executive would look at buying a machine versus hiring another person and say, 'This is becoming increasingly a no-brainer. Give me the machine,'" said Andrew McAfee, co-director of IDE and principal research scientist at MIT, continuing Acemoglu's point.
Diana Farrell, president and CEO of JPMorgan Chase Institute, advised attendees to look to the industrial revolution for lessons on how technological advancement can upend society.
"The most obvious disruption that sits in the history books today was the movement from agriculture to manufacturing, and people use that to say, 'Hey, look, it all worked out fine.' Go read Steinbeck," Farrell said. "These were periods of massive social upheaval and massive difficulty for large numbers of people. Left alone, the market will not necessarily yield the right results."
Augmented intelligence, autism and authenticity
Kate Fractal, a conference attendee who works on K-12 computer science education, asked panelists what could be done to make workplaces more welcoming to people who are different from the population at large, including people with disabilities.
"I have two kids on the autism spectrum. They need jobs," replied Anjali Sastry, a senior lecturer at the MIT Sloan School of Management. "This is actually the promise of machine learning. I keep thinking, why aren't we able to get away from rigid, old job definitions and redesign jobs based on the person in front of us in the enterprise today. We actually have the possibility today to create really flexible enterprises that respond to the people they have."
Rodney Sampson, executive chairman and CEO of Opportunity Hub, based in Atlanta, suggested that tools like AI-powered bots could be used to enable a range of talent, not just the tech-savvy, to participate in the information economy -- boosting employment and profits. Studies have shown that companies with diverse workforces are more successful.
"Imagine the day when anyone can show up in the workplace in their authentic self, their authentic person," Sampson said.
Learning how to learn is vital
As companies look to hire new talent, they will turn to the educational sector. But while technology has advanced to the point where typing ability is not required to use, say, a talking bot like Alexa or Siri, Horn said the fundamentals of education are overdue for a leap forward.
"We in the private sector at least -- and I think also the education sector -- are doing a pretty terrible job of teaching people actually how to learn," she said. Doing a better job at teaching people how to learn "will be a massive multiplier" of talent for whatever comes next.
Lags in education and training have an effect on today's economy. And Diana Farrell, president and CEO of JPMorgan Chase Institute, a think tank, said, "We can't wait two generations to fix that. There are many, many things we can do starting today."
"There have never been more job openings that can't get filled today than we've ever had before," Farrell said. "We have a big skills mismatch."
At Northeastern University, the school's president, Joseph Aoun, said he believes "lifelong learning" is a key to preparing the workforce for the advent of robots, and educational institutions should adapt to that.
"We're a very conservative sector. We want to change the world, but we don't want to change ourselves," Aoun said.