IT Priorities 2018: Network upgrades, automation, cloud make the cut
The TechTarget IT Priorities 2018 survey finds that networking, automation and cloud projects will keep IT pros busy. IoT and AI lag, but that doesn't mean they aren't happening.
Networking, cloud and automation initiatives are top of mind for IT pros in 2018, according to TechTarget's IT Priorities 2018 survey.
That's according to nearly 300 IT professionals who took part in the annual survey, conducted between September and November of 2017 and garnering responses from more than 1,000 people who work in the IT industry. IT professionals defined themselves as focused primarily on "general IT management."
In answer to which broad IT initiatives they would be implementing in 2018, 21.4% of IT professionals targeted networking technology, making it the top response. IT automation (20.5%) and hybrid IT/cloud (20%) were a close second and third.
Of note, IoT and artificial intelligence, two technologies consistently called out as popular tech trends for enterprise IT, fell near the bottom of 2018 priorities for the group, tied at 9.5%. But experts interviewed on the survey findings said their low priority ranking might not reflect their uptake in the enterprise, as projects in these areas often get started outside the IT organization.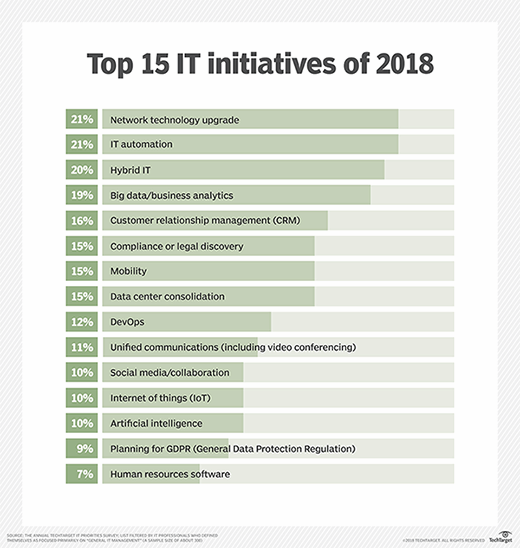 Networking
None of the top three priorities named by IT pros was a surprise to Bob Egan, chief research officer and founder of the Sepharim Research Group, a technology research and executive advisory firm -- especially the emphasis on networking.
Organizations' insatiable need for speed, capacity and low latency is driving enterprise investments in network technology upgrades. My sense is that 2018 is going to be a huge year for network equipment suppliers.

Bob Eganchief research officer and founder, Sepharim Research Group
"Organizations' insatiable need for speed, capacity and low latency is driving enterprise investments in network technology upgrades -- especially because of the explosion in video," he said. "My sense is that 2018 is going to be a huge year for network equipment suppliers."
Breaking down the networking initiatives, IT pros cited network management and monitoring projects (23.4%), along with VPN/NAC projects (19.2%) and DNS/DHCP management and monitoring projects (17.8%) as the top networking projects being implemented in 2018.
Other networking-related results worth mentioning: Network virtualization, which includes NSX, SDN and other technologies, was listed as the top data center infrastructure technology being deployed this year. Somewhat disconcerting: Despite networking being a top priority in 2018, network security wasn't a top security concern, according to the survey -- it ranked 11th on the list of top priorities for IT professionals.
Cloud and IT automation
On the cloud front, hybrid IT, which mixes on-premises systems with cloud services, continues to be a go-to approach that many organizations are investing in. Nearly half (44.6%) of all respondents said they plan on using a hybrid cloud deployment model in 2018. Cloud-based enterprise applications, such as CRM, ERP and others, also continued to top respondents' software initiatives lists, with 22% of IT pros planning to deploy them in 2018.
Egan said hybrid cloud is a growing and transformative force in the enterprise.
"Hybrid cloud reminds me of Goldilocks and the three bears," he said. "Private cloud was too cold (expensive), public cloud was too hot (risky), hybrid cloud is just right. The awakening in the enterprise for hybrid cloud is way overdue and is becoming the centerpiece for digital transformation."
IT automation, according to the IT Priorities 2018 survey, is down slightly from last year when it was respondents' number one priority, but Egan said it remains a popular and necessary undertaking for most IT professionals.
"IT automation continues the trend from 2017 in which enterprises must automate many of the mundane tasks that only keep the wheels on the bus and provide no business growth," he said.
Paul Miller, senior analyst at Forrester Research, also emphasized the importance of IT automation in digital transformation efforts and said it lets IT teams manage existing resources efficiently and "launch new applications and workloads in a consistent, secure, dependable, cost-effective and often self-service manner."
IoT and AI
Ranking low on respondents' priority lists was IoT. Why might that be? Egan shared his thoughts.
"IoT remains very much a work in progress and very niche except for early adopters in a few specific industries," Egan said. "IoT will become mainstream in the consumer market way before it does in the enterprise market, which has bigger digital transformation initiatives [to go after] that drive business growth."
Miller said right now, the bigger driver for IoT in most enterprises is operations. It's the plant managers and the logistics managers who run small IoT projects, and they're almost always designed, implemented and used out in the field with little to no visibility or control from IT. Miller said that's understandable given where the projects originate, but that can't continue.
"If these point solutions are to be stitched together to align with the bigger ambitions of the board or the C-Suite, then they need to include the IT organization and the systems (ERP, Sales, supply chain, analytics, etc.) that IT already knows, understands and manages," he said. "The IT organization needs to get involved soon, but it needs to do so as a willing and cooperative partner, not as an enforcer wading in to take engineers' toys away."
As for AI, which ranked equally as low on the IT Priorities 2018 list, Egan said the issue with the technology seems threefold:
The tech is really young.
Data scientists are in short supply.
Most of the efforts are misplaced consumer intelligence efforts instead of predictive analysis initiatives elsewhere in enterprise business operations.
Dig Deeper on IT applications, infrastructure and operations