patpitchaya - Fotolia
3 stages of ITSM and 5 ways to enhance your ITSM strategy
From help desk to service desk to business-aligned ITSM -- how evolved is your ITSM strategy? Dennis Drogseth explains ITSM's three stages and offers five tips for reaching maturity.
Editor's note: Dennis Drogseth is vice president at IT and data management research and consulting firm Enterprise Management Associates (EMA). An expert in service management solutions, His work covers IT service management (ITSM) and configuration management database (CMDB) systems, as well as megatrends like advanced operations analytics, cross-domain automation systems, business-IT alignment and service-centric financial optimization. He also works over several practice areas to promote dialogue across critical areas of technology and market interdependencies. Drogseth, who joined EMA in 1998, currently manages the firm's New Hampshire office.
In "What is driving the evolution of ITSM processes?" Drogseth talked about the evolution of ITSM to "cross-domain service management."
Here, he gives his perspective on how an ITSM strategy evolves at most companies.
Where are most companies in terms of their ITSM strategy?
Any one IT organization could be at any one of these three stages:
Help desk: Customer service agents handle IT incidents and routine requests frequently using a trouble ticketing system for effective response and thorough reporting.
Service desk: Formalized frameworks such as ITIL shape the delivery and measurement of service to the enterprise and sometimes beyond. Integration with operations and other areas of IT facilitates automation.
Business-aligned ITSM: The IT service desk also functions as a center for non-IT enterprise services such as HR, facilities and procurement. It may play a key role in advancing organizational initiatives including agile/DevOps, SecOps, cloud and digital transformation.
These are the three stages of an ITSM program that are meaningful.
With the traditional reactive help desk, where you're dealing with complaints most of the time, you don't have a good handshake with the rest of IT; you're sort of the vestigial role. If that's what you're stuck in, you're a thing of the past and likely to be outsourced. I'd say about 50% of organizations out there still have a reactive help desk in various forms.
Stage two is much a more progressive, integrated service desk with integrated automation, integrated analytics, a much more proactive rather than reactive approach and a much broader role to support initiatives.
And then there is the ITSM role in the next stage, where those potential hubs are very real and activated. The progressive service desk has some of the core help desk capabilities, but it is a more fully evolved ITSM team that goes beyond the service desk to serve as a hub of communication.
You don't get there without executive-level support and ITSM in its center.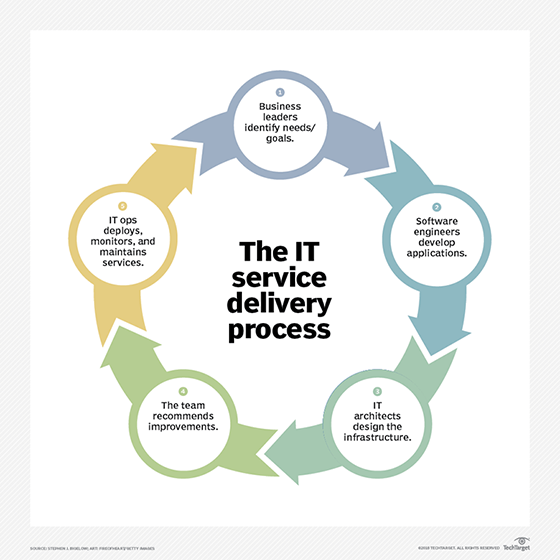 Five ways to evolve your ITSM strategy
Here are five ways to move your ITSM program from a reactive help desk to business-aligned ITSM.
Create a team to own the progress of your ITSM strategy: Document stakeholders and requirements.
Be honest: Do an assessment of where you are now in terms of organization, process and technology. Don't assume that there's a generic answer. Don't just circulate a few email messages.
Ensure executive commitment/leadership: If you're the executive, that's good. But people often don't like to change the way they work, even if it's for the best. (One of our clients called it the "hamster wheel" -- how does the hamster finally realize it's time to get off the wheel and do something new?)
Select technologies appropriate to what's most relevant to your most immediately critical use cases: But do so understanding technology interdependencies. For instance, if you don't have good discovery and inventory tools, don't try to jump ahead and create a CMDB.
Progress in stages, based on priorities: Boiling the ocean doesn't work. And continue to evaluate as you move forward.
Dig Deeper on IT applications, infrastructure and operations