phonlamaiphoto - stock.adobe.com
How WPI uses AI in ITSM to improve help desk support
WPI is using AI in ITSM to route help desk tickets to the most qualified technicians. ITSM automation of this ilk helps users and IT-- but it requires some handholding.
The help desk at Worcester Polytechnic Institute is on the forefront of information technology service management, as it starts to use its data troves to fuel an artificial intelligence program.
The goal for its AI initiative is to create better, more efficient ITSM operations, according to Chris Chagnon, an ITSM application and web developer at the Worcester, Mass., university.
"When a help desk ticket is completed, the information sits there or it might get aggregated to use for executive reports, but there's a lot of value in that information and we're looking at that data and figuring out how to use it," Chagnon said.
He pointed to one of his team's current applications of AI in ITSM as an example. He and his colleagues analyzed 100,000 help desk tickets, using natural language processing to reduce the data in the tickets to just the keywords that could be tied with the actions needed to resolve the requests.
His team next built an automation process that analyzes each new help desk ticket to identify the requested actions and then route each one to the appropriate place for handling -- thereby creating a process that helps ensures requests are assigned to those best suited to resolve them.
"That front-line worker has a lot of pressure on them. They have to know a lot about all the technologies, even though they're some of the most junior workers on staff. But by using this data and using a decision-support system to route requests, you can provide a lot better information to your technicians," Chagnon said.
WPI is not alone in its adoption of AI in ITSM. A number of ITSM software vendors are introducing AI functionalities into their products at the same time that leading-edge companies are finding ways to create their own AI capabilities for their ITSM function, industry experts said.
ITSM ripe for AI
Chagnon said that AI in ITSM is a natural fit.
To start, this space is rich with data. Chagnon noted that help desk tickets, for example, typically include descriptions of various problems and common requests along with critical information such as user types (i.e., student, staff or faculty).
Additionally, he said the help desk handles a lot of repeatable processes, which are typically well-suited, and, thus, the best targets, for automation.
Furthermore, using AI for automating ITSM processes produces tangible returns, Chagnon said. It produces better and more efficient service to users -- which generates time- and money-savings -- and it also gives the help desk workers more time to focus on higher-value tasks.
He explained that using AI in ITSM boils down all the information on help desk requests to only the essential details and then analyzes that core information to determine appropriate actions, such as directing the request to workers or handling them itself.
AI benefits workers in a few ways in this scenario, Chagnon explained. First, by handling problems itself, it allows workers to focus on high-value work. Also, by identifying the core information from all the data provided on tickets, AI saves workers time.
Chagnon said those benefits deliver ROI, adding, "It's not about decreasing headcount, but saying, 'What are the things I know I can save time on?' Because when you free up this processing, repeatable stuff, those workers still have plenty of other jobs waiting for them."
Chagnon said he and his team are utilizing AI in ITSM areas beyond the help desk, too, aiming at getting the right information to the right place at the right time.
For example, they're also using indexing algorithms to better match user search terms to what they're actually trying to find. And they're also watching how Cherwell Software, the vendor that WPI uses for ITSM tasks, plans to introduce more AI into its own products -- such as its emerging chatbots to better support self-service.
Growing demand for AI in ITSM
Many enterprise IT departments are looking at automating ITSM processes as they move off legacy systems and onto cloud-based solutions where automation and AI-powered functions can be more easily introduced, said Tyrone Canaday, managing director and global head of innovation at consulting firm Protiviti Inc.
"Infrastructure provisioning and onboarding people who need access to different systems -- these are some of the tasks that are mundane and can be automated and where we're seeing AI," Canaday said. "That allows the support team to optimize by shifting their focus to more high-value work such as investigating failures."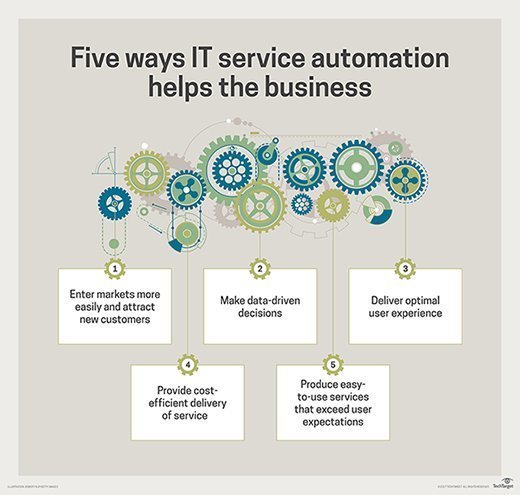 Canaday said some enterprise IT departments have their ITSM teams developing AI-powered functionalities, but many others are turning to third-party providers for out-of-the-box capabilities.
Software vendors are working to meet demand.
Vendors in this space include: ServiceNow Inc., whose AI and machine learning capability automatically routes technical problems to IT professionals best equipped to handle them; FixStream, which uses AI in its offerings for IT operations; and Ivanti, which, in early 2018, announced a new cloud-delivered AI application for service management.
AI in ITSM: Adoption challenges
Not all IT departments are ready to harness the power of artificial intelligence, even if they plan to buy off-the-shelf capabilities.
Canaday said many CIOs struggle to determine how the upfront investments required to introduce AI into ITSM can be recouped in a timely fashion. "And it's hard to get the money for those investments when you can't articulate a strong business case," he said.
Meanwhile, some CIOs find that some of their staffers resist using AI in ITSM as they fear that the machines will take their jobs. "You have people whose jobs are going to change, so you might have some pushback," Canaday said, adding that CIOs will need to implement effective change management plans to lead their own team through the role adjustments that come with the adoption of new technology.
IT departments that don't have a mature, well-governed ITSM function also struggle with AI implementations, Chagnon said. And even if they do have well-defined processes, they might not have the staff -- or have the money to hire new the new talent -- needed to configure and maintain the technology.
Chagnon, a doctoral student studying user experience and decision-making, also said many IT leaders still don't trust the quality of the AI capabilities being developed.
"There are a lot of people out there who aren't confident enough in the tools just yet. You see a lot of people try out a product, but they don't see the product as good enough," he said.
Even with such obstacles, industry experts said they expect AI to make significant inroads into the ITSM function in the upcoming five years.
"What we're going to see is feature creep. Companies will start to release more and more AI functionality. So, it's a question of when -- when [AI in ITSM] is going to creep up on us," Chagnon said.
Dig Deeper on IT applications, infrastructure and operations