zapp2photo - stock.adobe.com
Robotic process automation vendor teams with Tech Mahindra
Service desk automation is the focus of a recently launched joint offering from digital transformation firm Tech Mahindra and robotic process automation vendor UiPath.
Tech Mahindra Ltd. and robotic process automation vendor UiPath have launched a joint offering that aims to squeeze more productivity out of service desk operations and points to the trend of out-of-the-box RPA solutions.
Tech Mahindra, a provider of digital transformation and consulting services based in Pune, India, and UiPath, based in New York, unveiled their IT operations platform last month. The offering combines Tech Mahindra's AIOps platform, called TACTiX, with UiPath's RPA technology, providing what the companies describe as "end-to-end automation" for service desks.
An IT department's service desk handles users' service requests, responds to incidents and coordinates problem resolution. Technologies such as IT service management (ITSM) software automate the process of creating and routing tickets to the appropriate service desk technician. But Tech Mahindra contends manual tasks persist in service desk workflow, citing an opportunity to cut manual effort by 20% to 30%.
Additional automation results in higher productivity and quicker problem resolution, said Sameer Dania, global head, business development -- platforms, at Tech Mahindra.
"It is all about enabling the service desk to handle higher volumes of tickets faster," he said.
Service desk automation: How it works
The combined Tech Mahindra-UiPath offering intends to automate the entire lifecycle of a service desk ticket, from creation to closure. That lifecycle includes such processes as categorization, triaging, resolution and knowledge management. The companies' service desk automation package can overlay an existing ITSM deployment, integrating into ITSM ticketing systems from vendors such as ServiceNow and BMC, noted George Mundassery, senior vice president and global head of AI and automation at Tech Mahindra.
It is all about enabling the service desk to handle higher volumes of tickets faster.

Sameer DaniaGlobal head, business development -- platforms, Tech Mahindra
The combined offering addresses lingering pockets of manual service desk activity. For example, humans are typically involved in triaging and understanding issues, Mundassery explained. But when a service desk technician miscategorizes a problem, the ticket could take multiple hops before it reaches the appropriate person for resolution. The cost of manual service desk support increases by a factor of 3X with each escalation, according to Tech Mahindra.
TACTiX uses natural language processing algorithms and machine learning to automate the classification and categorization of service requests and incidents. Once that's done, TACTiX uses its knowledge base to trigger the relevant bot in UiPath to automatically resolve the requests, according to the Tech Mahindra executives. UiPath further orchestrates actions based on the service desk's standard operating procedures. TACTiX uses multiple knowledge sources and feedback mechanisms to continuously evolve and improve ticket resolutions and the knowledge base, the executives noted. In addition, the knowledge base speeds up the task of training and onboarding service desk agents.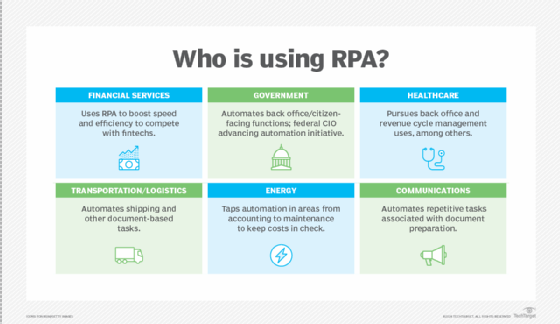 Toward repeatable solutions
The service desk automation offering is part of a broader trend in which robotic process automation vendors and service providers aim to make RPA a repeatable solution, rather than a one-off system. RPA's early days featured custom development, but the current direction is to productize RPA offerings to accelerate the technology's adoption.
The issue is, "How do we adopt it rapidly?" Mundassery noted. "All these technologies are good as long as we can get them embedded in operations."
Tech Mahindra has been working with UiPath for nearly three years, during which time the companies collaborated on service desk-oriented projects. Working together, the companies saw the chance to create a solution "we could jointly take to market," Mundassery said.
Other examples of productized RPA include a turnkey RPA Accelerator offering from IGrafx LLC, a business process management (BPM) software vendor. That package includes IGrafx's BPM platform, MyInvenio's process mining tool, RPA software from UiPath and Servicetrace, and professional services from BP3 Global Inc.
In addition, online marketplaces now offer prebuilt bots organizations can download and put to use. Automation Anywhere's Bot Store features more than 500 software bots and digital workers. Other bot marketplaces hosted by robotic process automation vendors include Blue Prism's Digital Exchange and UiPath Go. Argos Labs, another RPA vendor, plans to launch its software robot marketplace in mid-2019.