Definition
OpenStack Horizon
OpenStack Horizon is a web-based graphical interface that cloud administrators and users can access to manage OpenStack compute, storage and networking services.
For example, administrators can use Horizon to launch virtual machine instances, view the size and current state of their OpenStack cloud deployment, manage networks, and set limits on the cloud resources available to users. For end users, Horizon acts as a self-service portal to provision cloud resources.
The Horizon interface works with Openstack Nova, a compute service; OpenStack Swift, an object storage system; OpenStack Keystone, an identify management service; and many others. It accesses these services via OpenStack application programming interfaces (APIs).
OpenStack Horizon offers three versions of management dashboards: a User Dashboard, a System Dashboard and a Settings Dashboard. Cloud admins are able to customize visual elements of the Horizon interface, including the navigation bar, tables, alerts and other elements. Developers can also extend any existing dashboard to include more functionality by building an application that integrates with the dashboard.
In addition, it is possible to integrate third-party management and monitoring tools with OpenStack Horizon.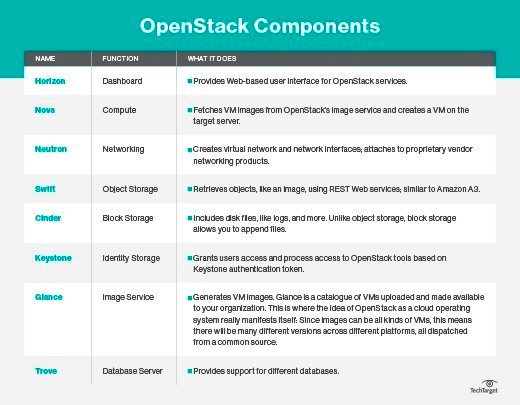 OpenStack Horizon requirements
In order to install OpenStack Horizon, the basic system requirements include:
Python 2.7
Django 1.7 or 1.8
Nova
Keystone
Glance
Neutron (unless Nova-network is used)
It is important to note that OpenStack Horizon is an optional application. Developers can choose to build their own user interface. The primary, supported web browsers for Horizon are the latest version of Firefox, the latest version of Chrome and Internet Explorer 9 and up.
This was last updated in
June 2017
Continue Reading About OpenStack Horizon
Dig Deeper on Cloud deployment and architecture