Fotolia
Cloud content management system improves page load speeds
Digital asset management remains in-house for most media companies. A cloud offering for video, image storage and editing helps Concourse Media better serve users on many devices.
Need to know why Forbes named Johnny Depp the most overpaid actor on its newest list? What charges Adam "Pac-Man" Jones will face stemming from his latest arrest? Ten new mind-blowing uses for Sriracha sauce? Five-year-old Canadian company Concourse Media's sites have all those juicy tidbits, creative ideas, movie gossip and other crazy esoterica that can distract you for a moment from life's daily grind.
The company, which owns Forkly, Fame10 and SportsBreak, among other websites, averages 25 million site visitors per month across its sites. But that content, running on WordPress and loaded with rich media video and images, is difficult to serve up to the millions of consumers who check into Concourse sites for the daily dish. Smartphone users don't want high-resolution, heavy graphics, and desktop users don't want low-grade samples of the high-definition content they crave.
Instead of dealing with all those back-end technical issues in-house with a team of system administrators, Concourse searched for a cloud content management system. The company selected Cloudinary Ltd., a vendor that offers storage, editing and digital asset management as a service, though it was mostly for still images during the first year of its engagement with the cloud vendor.
The need for speed
When a page loads slowly, it hurts search rankings. To ameliorate slow loads, Concourse CTO Shane Landry said that Google and Concourse worked together to get image-laden pages to load faster.
Concourse used a then little-known beta Google tool called PageSpeed Service, a content delivery network (CDN), to optimize images. When the PageSpeed modules went live, Concourse installed the production versions on its network -- integrated with Concourse's own CDN.
"That allowed us to compress images on the fly and do a lot of nice things like that, but it didn't work nicely behind the CDN," Landry said. "Obviously, that's pretty important when content is being distributed worldwide. We ran into caching issues, compression issues, a lot of strange behavior ... it became a bit of a nightmare to maintain."
That's the story of many present -- and future -- Cloudinary customers, said Chris Zakharoff, Cloudinary senior solutions engineer.
"Anyone with a website, anyone with an app, anyone who uses media at all will run up against this challenge," Zakharoff said. "It's only getting more complicated with new file formats and the new performance mindset. There's always new tricks and things coming out to speed up performance. Cloudinary takes the entire thing, automates it and makes it easy to deal with."
Cloud content management system tests well
After considering several cloud content management systems, Concourse settled on Cloudinary "because it matched all of the pain points we had and did everything we needed to do without having to maintain it ourselves -- and [it] offloaded a lot of the bandwidth consideration and caching to somewhere else," Landry said.
Rolling it out one site at a time, results were "pretty decent right off the bat," he added.
Cloudinary's technology helped improve performance not only by having more hardware resources, but also through software improvements such as browser-specific virtual agents that can deliver images in the optimal format for the viewer, such as WebP format for Google Chrome users. Based on the device a person reading an article is using, Cloudinary serves up the smallest-sized image file the browser will support.
Not only does the technology help Concourse content in the search engine rankings because of better page load speed, but it also saves bandwidth and, therefore, cost.
"There's a cost savings in terms of payload," Landry said. "We're still finding little optimizations we can make and [cutting] down on those pieces further. Browser cache times are where they should be now, rather than [the company using] hacks to make it work nicely with the CDN."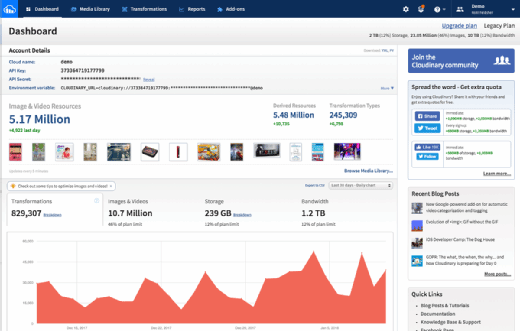 Some organizations might have a tough time taking the leap of faith to entrust a cloud vendor with its multimedia content that was formerly hosted on premises, as it's hard to trust a third party with components central to a site's look and feel, as well as the popularity of its pages.
Concourse found Cloudinary's pull model -- in which Concourse still stores original images on its own servers like before and Cloudinary pulls copies off of them for optimization and to serve them to site visitors -- a valid strategy to maintain control of its content while still enjoying the benefits of a cloud service. This also sidestepped a potentially messy migration to the cloud content management system at the start, and, of course, this prevents data from being held hostage if the arrangement with Cloudinary ends.
Results so far
At the time of the interview, Concourse didn't have enough data to share how much savings it had reaped through the pilot project. As all of its sites come online with Cloudinary image delivery, it plans to keep close tabs on that -- as well as IT savings. Landry said early indicators were that, if site traffic numbers remain static, Concourse will at least break even on CDN and bandwidth costs.
On top of that, however, there's time savings from not having to hold together image optimization workflows and "fix everything that was breaking," Landry said.
"We've also seen about a 10% decrease in page load time across all properties," Landry said. That has increased performance on PageSpeed, the Google metric that counts for page rankings in search results.
That 10% figure is an average; some sites were very well optimized before the Cloudinary cloud content management system implementation, so they didn't get as much of a bump in performance. Other sites have seen far more significant improvements, Landry said, with up to 50% faster page load speeds in daily tests with Google's own measurement tools.
"It can take [a page] from 40 to 80 on a scale of 100," Landry said of the Google metric, which directly affects Concourse's search page rank.
Next Steps
How cloud DAM opens up digital media management