Fotolia
Cloud DAM platforms vs. on premises for digital asset management
Learn about digital asset management and how cloud DAM democratizes media management and delivery across the enterprise while reducing operations costs and increasing productivity.
With smart tools that connect to cloud DAM deployments, line-of-business workers can keep up with the volume, variety...
Continue Reading This Article
Enjoy this article as well as all of our content, including E-Guides, news, tips and more.
and velocity of the digital assets fueling today's media-rich experiences.
First popularized in the client/server computing era of the 1990s, digital asset management (DAM) was initially designed to enable content reuse. Organizations invested a lot of time and money digitizing high-value visuals -- including professional photos, stylized marketing brochures and collateral for advertising campaigns. Companies needed a way to collect, store, share and distribute these digital assets and ensure that creative teams could easily access, retrieve and update items when needed.
DAM included a shared repository to manage rich media files. Running on a server within a networked computing environment, these platforms bundled essential technologies to secure, categorize, view and download digital assets on demand.
DAM use expands
Today, managing digital assets is no longer exclusively the domain of creative teams. Digital marketers, brand managers, website editors, merchandisers and many other line-of-business workers must contend with the rapidly growing volume, variety and velocity of the digital assets needed to sustain digital experiences.
By leveraging a shared repository, DAM becomes the single source of truth for managing the rich media resources that empower a firm's branded messaging. DAM orchestrates a content supply chain for rich media, linking creative teams with line-of-business workers.
Creative teams source, select and compose works in progress to produce images and other brand assets within a secure workspace. Line-of-business workers then access approved collections of brand assets and incorporate them into their own work tasks, such as building landing pages for an online marketing campaign or producing the signage for in-store promotions.
Behind the scenes, DAM provides the tools to tag, store and retrieve assets by predefined categories, as well as to define and manage the categories. It also manages the security and access rights of individual assets. DAM often includes Digital rights management capabilities to track asset provenance and to monetize assets.
Moreover, performance matters. DAM is designed around a hardware and networking infrastructure for efficiently storing and rapidly transmitting very large files. And, over the years, DAM deployments have become increasingly cloudy -- hosted in the cloud to ensure the scalability and resilience that is difficult to achieve with on-premises systems.
But, at its core, until relatively recently, DAM has remained surprisingly self-contained, delivering a set of predefined functions that produce stovepiped experiences. In years past, it has taken organizations considerable time and effort, not to mention upfront costs, to set up and maintain their DAM -- importing and categorizing various types of digital assets, organizing production workflows, enabling effective searching and ensuring secure distribution on demand. Only brand-aware firms and media-rich groups have been willing to make the investment.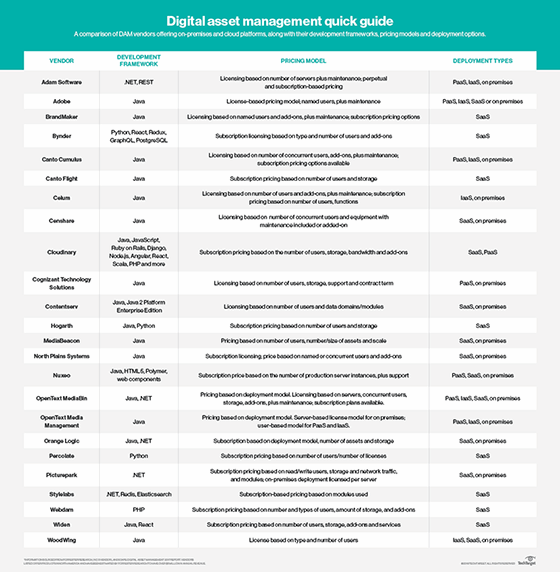 Cloud DAM expands media management
With cloud deployments, this is no longer the case. In addition to running within a cloud-based infrastructure, DAM can begin to incorporate microservices that are accessible through RESTful APIs. When key management functions can be called as microservices, DAM becomes extensible and provides tantalizing opportunities for innovative digital experiences.
Cloud DAM democratizes digital media management and delivery across an enterprise. Cloud DAM also promises to reduce the cost of operations and increase productivity while continuing to provide a single source of truth to maintain brand identity.
Consider Bynder, a cloud DAM provider founded in the Netherlands in 2013, which initially targeted creative teams in digital agencies. The firm focused first on file sync-and-share services when managing very large -- multigigabyte and terabyte -- creative files. Through successive platform updates, Bynder now delivers familiar DAM capabilities -- including asset ingestion, categorization, taxonomy management, storage, workflow, search, security, collaboration, thumbnail galleries and asset downloads -- while relying on AWS for its cloud infrastructure.
Moreover, cloud DAM pays dividends. With its back-end investment in AWS, Bynder is rapidly adding innovative capabilities while minimizing setup costs by bypassing on-premises infrastructure.
Bynder provides artificial intelligence-powered image searching -- leveraging image analysis, object recognition and video analysis services provided by AWS. Photo editors no longer need to manually categorize assets upon ingestion -- a time-consuming yet critical step to ensure the enterprise adoption of DAM. Bynder automatically scans images and attaches matching keywords with modifiable accuracy levels. With its machine learning capabilities, asset collection becomes more intelligent over time.
"We build image recognition into the upload process and save assets to the image bank, therefore saving time and enriching the search experience for an end user," said Chris Hall, Bynder CEO.
Behind the scenes, AWS provides the image recognition algorithms, the machine learning capabilities and the core image training sets.
Cloud DAM affects front-end experiences, as well. In May, Bynder introduced its integration with Hootsuite Inc., a widely used social media management platform that also runs in the cloud. The integration connects Hootsuite dashboards with digital assets sourced from Bynder, enabling social media marketers to easily access creative content without the need to download, resize and reupload individual files.
The secret sauce, of course, is the set of microservices from Bynder, exposed as RESTful APIs and callable by the Hootsuite dashboards. Within its ecosystem, Bynder remains the single source of truth to manage all of the approved brand assets.
The benefits of cloud DAM aren't limited to cloud newcomers. Many long-standing DAM products now have cloud-hosted offerings; some are also introducing microservices to integrate with external services through cloud-linked connections. As a result, media-savvy organizations can leverage their existing DAM investments and rely on AI-powered media analysis to automate key parts of their content supply chain.
For instance, OpenText Media Management (OTMM), once a client/server application and now a web-based platform, can also be deployed within a cloud infrastructure. Its latest release introduced image and video recognition capabilities where automatic media analysis capabilities enhance manual categorization processes.
Utilizing Microsoft Azure's cognitive services, OTMM offers rich media analytics with descriptive tagging as a service for image analysis, optical character recognition (OCR), face detection and video analytics.
To start, OTMM routes assets through the appropriate cloud cognitive service for smart tagging. These AI-powered capabilities automatically identify and categorize objects of interest within images -- such as trees, blue flowers and cats, as well as OCR, faces, genders, ages, colors, speaker identification and speech-to-text for videos -- and provide a confidence level for each identified item.
Assets can be routed for a human to review based on an established confidence threshold. Assets that are already in an OTMM repository can be scheduled for rich media analytics via a scheduling dashboard. OTMM provides a management dashboard for an overview of assets in progress and scheduled processing.
Azure's cognitive services provide the image analysis capabilities to automatically recognize objects within asset collections and to categorize their contents. However, like maintaining an operating system in the client/server era, Microsoft must continuously enhance the image training sets behind these cognitive services to make cloud DAM successful.
Despite this dependency, the potential productivity gains are huge. Once the ingestion processes are set up and tuned, photo editors no longer need to manually tag images; rather, they can define the parameters and revise the results as required. With smart tagging, editors can automate and augment their work activities, add speed and precision to categorization, and increase their productivity.
Cloud DAM, AI and the digital experience
As Bynder and OTMM illustrate, cloud DAM makes it easy to add intelligence to the mundane categorization tasks that are essential for enterprise adoption. And these AI capabilities are only the beginning.
By accessing microservices from third-party sources, cloud DAM can become part of a task-oriented ecosystem to deliver digital experiences to line-of-business workers. Thus, marketers can quickly access approved, branded assets when developing a new promotional campaign. In addition, finance can have visibility into royalty payments, improving both productivity and cost control for digital business operations.
Organizations can reduce the time and effort required to maintain their DAM repository as their single source of truth for managing their brand-related assets across their business operations. They can overcome the stovepipes of separate, hard-to-integrate, stand-alone applications.
Dig Deeper on Content management software and services