buchachon - Fotolia
How Mediavine succeeded with cloud digital asset management
Mediavine, an ad management company, has cut web hosting costs by using a SaaS content management platform to store, edit, and manipulate images and video.
SaaS tools for managing digital assets in the cloud have been creeping into the market for years. Many new companies will start out using a SaaS tool, while others make the switch when upgrading from a shared folder drive or file-sharing platform such as Google Drive or Box. Another group may choose a SaaS model after attempting to build a system in-house.
Mediavine Inc., a publisher turned ad management company that represents ads for 4,200 sites, falls into the third category.
"We absolutely tried to do it ourselves, and it was not sustainable," said Eric Hochberger, co-founder of Mediavine.
When the task of manipulating, editing and storing tens of thousands of images became too unwieldy, Mediavine turned to Cloudinary Ltd., a cloud digital asset management company that specializes in image and video management. As Mediavine scaled up its business and offered a video player option to its publishers, Cloudinary became an even more vital part of its operations.
"We've helped Mediavine optimize the bandwidth when they are serving videos as ads, which improves page and video load performance and improves user experience," said Lilly Hsueh, a customer success manager at Cloudinary who works with Mediavine. "Cloudinary enables them to do what they do best, which is pushing ad technology further and further without worrying about the infrastructure needed to support that."
Within Mediavine's interface, its customers are able to upload images and videos directly to Cloudinary. Cloudinary then takes care of transcoding, thumbnail creation and video processing, as well as image manipulations such as cropping, sizing and rotation.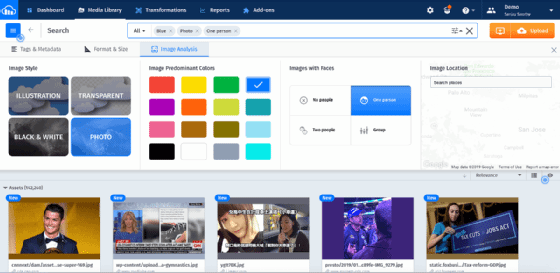 According to Hochberger, there aren't many companies that do all of those services.
"If you don't use something like Cloudinary, you have to piece together a bunch of other technologies," he said.
Cloudinary offers multiple levels of service -- a free plan with self-service options for small businesses, as well as two levels of monthly subscriptions and a customizable service option aimed at larger businesses. Sanjay Sarathy, vice president of marketing at Cloudinary, said the vendor's sweet spot is not necessarily companies of a certain size, but companies where rich media is intrinsic to the business model.
Becoming a trend
Organizations don't want to shoulder the burden of the capital and operational expenditures required to manage their own servers and upgrade and maintain them over time.

Bryan Yeageranalyst, Gartner
Moving rich media asset management to the cloud is a trend, with organizations choosing SaaS content management over traditional content management applications. However, Bryan Yeager, a Gartner analyst, said the trend is not uniform. Highly regulated industries, such as finance and healthcare, have not seen the same migration to the cloud -- but the trend is definitely shifting toward SaaS.
"Organizations don't want to shoulder the burden of the capital and operational expenditures required to manage their own servers and upgrade and maintain them over time," Yeager said.
By moving to a cloud digital asset management system, companies can offload ownership and maintenance of hardware to cloud services such as AWS, Google Cloud Platform or Microsoft Azure. This is particularly helpful with images and video because, compared to other types of content, they require a lot of bandwidth.
"[Images and video] are two of the biggest components of your website," Hochberger said. "They are certainly the largest aspects of your website in terms of file size and delivery. In terms of computation, transcoding and manipulating images and video is the most expensive part of hosting, so outsourcing that literally lowers hosting costs. It almost pays for itself."
According to Sarathy, as trends like web content personalization and user-generated content become more widespread, brands will use even more rich media assets, all of which require management of some kind.
Even small publishers can benefit from SaaS content management. For example, Google's PageSpeed Insights currently recommends that sites use new image formats such as WebP and JPEG 2000. According to Hochberger, WordPress and other built-in image manipulation tools are not necessarily going to offer those file types because they need to be able to perform sophisticated image detection on the content delivery network.
"We would strongly recommend outsourcing because you are going to be able to take advantage of modern technologies," Hochberger said. "It may seem like it is going to cost more money, but for the most part, it should be pretty revenue-neutral, or, if anything, positive."
Dig Deeper on Content management software and services