Fotolia
Cohesity backup saves time and space for Nebraska hospital
Community Hospital switched to Cohesity backup after scrapping the Dell EMC Avamar software and fourth-generation hardware it was using since 2009, saving rack space and improving performance.
When upgrading Community Hospital's aging backup system, Derek Sailors didn't want to change his entire architecture. He just wanted faster backups and restores, simpler management, a path to scalability and a reduced infrastructure footprint that could save power and cooling costs.
Sailors, Community Hospital's director of information systems and information security officer, said he found all that when he switched from Dell EMC Avamar to Cohesity's DataPlatform in June 2018.
"We're a lot more confident," Sailors said of his new data protection. "Architecturally, it's not much different -- we're still taking virtual machines and backing them up on a hard drive somewhere else. But the process to build those backups is easier, and it's easier to restore them."
He was especially impressed when he was able to restore a crashed Citrix environment in 15 minutes with three clicks.
How Cohesity backup stood out
Community Hospital is based out of McCook, Neb., which has a population of about 7,000. However, the hospital also covers the rural towns surrounding McCook. According to Sailors, this brings the hospital's service area to about 30,000 people.
Community Hospital's data center contains all of the organization's business data and electronic medical record data, totaling about 900 TB. All of this is hosted on premises, with a primary data center in one building replicating to a disaster recovery (DR) site in a different building.
Sailors said the Avamar software had been in place since 2009, running on an appliance that took up an entire server rack. Moving to Cohesity reduced the data center footprint to a 2U box.
Sailors said he wasn't looking to change Community Hospital's fundamental IT infrastructure -- specifically, he had no intention to move to the cloud because of compliance reasons. While shopping for new backup, Sailors looked at a newer version of the Dell EMC Avamar product, along with other backup vendors. He said it came down to a combination of price and performance that led him to purchase Cohesity backup.
We're a lot more confident.

Derek Sailorsdirector of information systems and information security officer, Community Hospital
"We looked at a scaled-down version of Dell EMC's Avamar, which is what we had previously. We looked at Rubrik, Commvault and Cohesity," Sailors said. "We did a proof of concept with a few of them, and we were just really happy with how Cohesity performed. It was between Cohesity and Rubrik, and Cohesity came in at a really good price point."
Saving on power and cooling costs was a big plus, but actually a secondary goal when Sailors went shopping for new backup. His primary concern was to build a system that was scalable and easy to use.
"As things become more and more electronic in healthcare, it's going to get crazy, with surveillance video, [medical] images, diagnostic data and 3D mammography data," Sailors said. "Being able to utilize deduplication, compression -- it's all important."
Sailors said the Cohesity backup is faster, more reliable and more secure than his previous system. He claimed Avamar's encryption bogged down performance.
'Ease of use' a key
The Cohesity backup package Sailors purchased came with Cohesity DataPlatform integrated on server hardware, which allowed him to throw out the old appliances he used with Avamar. Along with performance boosts and reduced rack space, Sailors found a few new capabilities particularly useful, including the ability to spin up a DR testing environment.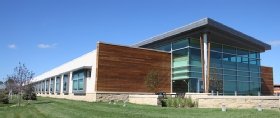 Sailors said the only feature he feels is missing from Cohesity is the ability to back up raw device mappings, but he's otherwise satisfied.
Community Hospital's IT team consists of nine people, including Sailors. He said Cohesity's ease of use proved especially important to his small team, as they had to "wear different hats on different days, all the time."
"Ease of use and ease of administration was a big selling point," Sailors said. "It's great that my staff doesn't have to worry about it -- they get to move on to all the other fires."
Dig Deeper on Data backup and recovery software