buchachon - Fotolia
Nutanix Flow, Beam, Era highlight .NEXT 2018 launches
Nutanix uses small acquisitions to fuel further expansion of its core HCI into an enterprise cloud OS with Flow, Era and Beam, which were announced at the Nutanix .NEXT 2018.
NEW ORLEANS -- Nutanix today bolstered its hyper-converged infrastructure stack with software-defined networking, platform-as-a-service database management and software-as-a-service cost control across multiple clouds.
Nutanix Flow can provision network devices, adding management and security. Nutanix Era is a PaaS addition that handles copy data management for Oracle and Postgres databases. Nutanix Beam is a software-as-a-service (SaaS) option for optimizing cloud resources. The launches came at Nutanix .NEXT 2018, providing a hint of where the hyper-converged infrastructure pioneer is heading now that HCI has matured and is commonly found in the market.
The additions fit with Nutanix's theme of making its HCI software stack fit enterprise cloud deployments.
"We want to give our customers tools to optimize the private cloud and get the most use out of their public cloud consumption," said Greg Smith, Nutanix's vice president of product marketing. "We want to harmonize those operations, so they can ultimately make the cloud invisible [and] so they can run any application in any cloud."
Eric Sheppard, research vice president for storage and services at IDC, called Nutanix's plans ambitious and said it was trying to normalize the differences between private and public clouds.
"Private and public clouds have two different architectures, and they're trying to bring them together," he said. "They have the architecture and the stack and now the connectivity to the cloud."
Nutanix's journey to the cloud can be long and winding, while waiting for engineering to catch up with marketing. The vendor's big launch at Nutanix .NEXT 2017 was Xi Cloud Services. The first of those Xi services, disaster recovery, is not yet generally available.
Nutanix Flow has also been a long time coming. Nutanix first disclosed it was working on the software-defined networking (SDN) features in November 2016.
Flow and Beam are available now, and early availability of Era is expected by September. All three are integrated into Nutanix Prism management software and will be separate licenses.
Flow: Last pillar of HCI
Nutanix Flow shows network performance and availability per application, and it uses microsegmentation to manage application traffic. It also automates network configuration changes, such as virtual LAN or load-balancer modifications. The changes are based on lifecycle events for virtual machines running on Nutanix AHV hypervisors.
Arista, Citrix, Mellanox, Broadcom Brocade, Plexxi and Lenovo are the first to support the Nutanix APIs, allowing Flow to interoperate with their networking products. Missing from that list is Cisco, the networking market leader and Nutanix HCI competitor.
Smith described Flow as "infrastructure as a service for the enterprise."
"We've built and delivered a complete infrastructure stack for hyper-convergence," he said. "We've completed the enterprise IaaS portion of Nutanix with Flow, and we'll use that to extend into platform services."
Nutanix Beam looks at cloud resources
Smith said Beam shows customers unused and underutilized cloud resources, helping them pick the right cloud service for each application. It also enables organizations to track cloud consumption by group or department and set and enforce spending policies. Beam is Nutanix's first SaaS offering.
"I think of Beam as an online financial adviser for cloud operators," Smith said.
Nutanix Era is targeted at database administrators looking to automate management with a single click. Its first release focuses on copy data management. Era builds on Nutanix database snapshot technology, allowing organizations to clone databases running on Nutanix, or to recover them at a specific point in time.
Nutanix Era will support Oracle and Postgres database engines at the start, with Microsoft SQL Server and MySQL on the roadmap to follow.
Nutanix Flow and Beam incorporate technologies from startups the HCI vendor acquired last March. When fully integrated, Netsil technology will give Flow real-time application visibility and discovery for applications running in public and private clouds. Netsil is expected to be integrated with Flow this year.
Beam is based on the Botmetric service that Nutanix acquired when it bought Minjar. Minjar had customers using Botmetric to manage their spending levels on AWS and Azure before the acquisition.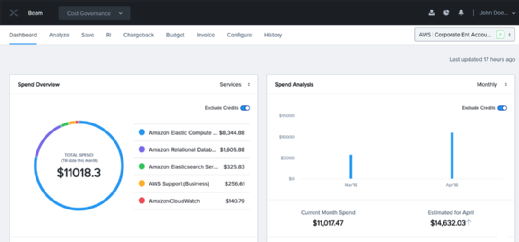 Where does Xi fit?
Smith said Nutanix plans the first availability of Xi over the next few months, with wider availability by the end of the year. He said Xi will work with the Nutanix .NEXT 2018 launches.
"When Xi is available, it will augment customers' Nutanix implementations in their own data center," he said. "If I set a Flow policy for microsegmentation in the data center, I can replicate that into Xi. I can carry my Flow policy from my on-premises environment into the Xi cloud. Same thing with Era -- I can provision a database for managing snapshots and carry that over into Xi."
SDN has been the missing link of HCI. Storage, compute and virtualization were part of HCI from the start, but networking support has lagged. VMware has connected its NSX technology to its vSAN HCI software, and Nutanix is now getting into the game with Flow.
Networking is the last pillar of our infrastructure stack.

Greg Smithvice president of product marketing, Nutanix
"Networking is the last pillar of our infrastructure stack," Smith said.
Nutanix will try to convince customers at .NEXT to give the new features an early try.
Scott Voigts, director of infrastructure at Keck Medical Center of the University of Southern California, said he considers SDN too much trouble at this point with his Cisco networking.
"We're just doing traditional networking now. SDN, especially from the Cisco side, is immature," Voigts said. "It requires an entire Cisco stack. You need a rack of dedicated equipment for the device analytics so you can put it in the right groups. We don't have the time for all that work. I think the juice isn't worth the squeeze right now for software-defined networking."
Sean Keenan, senior systems engineer at Callaway Golf, based in Carlsbad, Calif., also uses Cisco for networking. He said he is pessimistic about interoperability between Nutanix and Cisco.
"We use physical networking appliances," Keenan said. "I haven't seen much in the partnership between Nutanix and Cisco. Because we're such a Cisco shop, I don't know if we're going to be into network virtualization with Nutanix yet."
Keenan is more optimistic about using Nutanix in a hybrid and multi-cloud setup, even if it means an adjustment for him.
"I'd like to try their cloud features, but I'm an infrastructure guy, not a cloud guy," he said. "It took me a while to even call myself an HCI guy. It was a big issue for me to move to HCI, as opposed to all-flash storage arrays. But Callaway has acquired two major companies in the last two years, and having a hybrid cloud would have significantly reduced the amount of time it took to integrate. So, that's definitely an area where it would save us a lot of money."
Voigts said he likes what he's heard in the past from Nutanix about its one-click cloud features and plans for hybrid and multi-cloud management.
"I don't want it just to be a private cloud," he said. "I want it to be something where I have some flexibility, so if I don't like Amazon's pricing, I can just switch it with one click of the button to Google."