designsoliman - Fotolia
Explore compelling benefits of hyper-converged infrastructure
Better support remote office/branch office environments and address budgetary, efficiency, scaling and operational challenges with hyper-converged infrastructure.
Hyper-converged infrastructure was one of the breakout technologies in what can sometimes be an unforgiving market. At its inception, HCI was little more than a server with some software running atop a hypervisor. But over the years, hyper-converged infrastructure has become increasingly powerful as the technology has matured.
Today's hyper-converged offerings are powerful components of enterprise IT architecture, and it can handily solve myriad business and technology challenges. As you might expect, most benefits of HCI have some level of financial affect, both directly and indirectly.
Scaling in bite-sized pieces: A technical and budgetary benefit
The most immediately visible benefit of hyper-converged infrastructure is how it scales. You don't need to become an oracle or predict down to the gigabyte exactly how much storage your company will need in five years. As with converged infrastructure, with HCI you buy what you need and only add more when you start to run out. The problem for standard hyper-converged systems, unlike with converged, is that you have to purchase a whole new node (storage, compute, networking, et al.) even if you, say, only require more storage or processing power. Or, at least, that's how it used to be.
Modern HCI platforms are a bit more varied than they once were. Today, companies such as Hewlett Packard Enterprise (HPE), Datrium and NetApp are all absconding with the hyper-converged moniker and slapping it on products that don't look hyper-converged. HPE calls its new Nimble Storage dHCI offering -- which consists of HPE ProLiant servers bundled with Nimble Storage arrays and automation software to assist with deployment -- "disaggregated hyper-converged." The common denominator among these hyper-converged systems is that you can scale compute and storage independently of one another.
The key is you can still scale them easily, and that's what defines the technology, regardless of whether there are a few differences under the hood.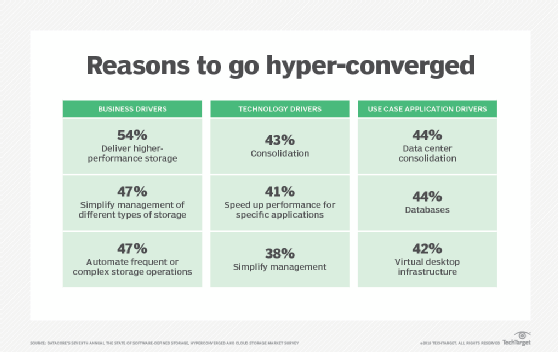 Operational efficiencies
The ability to easily scale is an operational efficiency, but hyper-convergence brings about other operational benefits as well. With regular three-tier infrastructure, you need to manage a lot of moving parts, whereas with hyper-converged, most infrastructure administration happens under a single roof. This frees you up to do other, more important, things and is one of the main drivers behind the rise of hyper-converged infrastructure.
This focus on simplicity can't be overstated. It's become something of a rallying cry, particularly as cloud providers make it easier to provision resources. Of course, there are a lot of complexities around cloud, but single service deployment isn't one of them.
A boon for the edge and ROBO
So-called edge environments, including remote offices/branch office (ROBO), are notoriously fickle, expensive and difficult to support. You can deploy a three-tier architecture to provide high availability for workloads in such environments, but this can be expensive and add administrative demands that are tough to support.
HCI is a boon for ROBO use cases, which are often relatively lightweight but still very important. In fact, companies such as Scale Computing, Nutanix and DataCore Software have ROBO-centric offerings that can help with these issues. In these instances, HCI provides an extensive platform that's simple to manage, scale and support and can run edge applications, such as point-of-sale and security systems.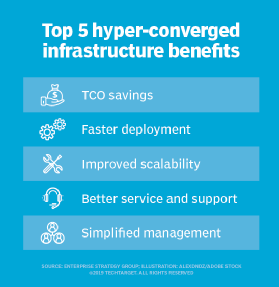 In fact, Scale Computing recently released a line of appliances targeted squarely at ROBO. I see ROBO as the next great use case for hyper-convergence, much like virtual desktop infrastructure was in the platform's early days.
On the security systems front, another hyper-converged player has a relatively unique offering that serves ROBO needs well. Pivot3, a well-known HCI company, has an alter ego that provides comprehensive IP video surveillance systems for clients. By merging these two offerings, businesses get a hearty and scalable video platform that can also operate edge workloads.
The potential benefits of hyper-converged infrastructure platforms available to those who adopt these kinds of systems are many. From solving budget and operational challenges to enabling a new way to support ROBO environments, HCI is demonstrating its versatility -- an evolution I fully expect to continue as time goes on.
Dig Deeper on Converged infrastructure management