Edelweiss - Fotolia
Hyper-converged infrastructure benefits by reducing IT complexity
Businesses turn to hyper-convergence to reduce data center complexity so IT can more directly support business goals and capitalize on the value of data.
The rise of the data-driven economy is fundamentally altering the role of IT and its approach to modernizing the data center. Hyper-convergence is playing a central role in how IT is coping with this transition.
Enterprise Strategy Group (ESG) research has found that, for IT decision-makers prioritizing data center modernization, the most commonly identified modernization activity is the deployment of converged and, in particular, hyper-converged infrastructure (HCI). As businesses discover new ways to use data to maximize its value, the job of the IT department has become more difficult. According to ESG surveys, 66% of IT decision-makers said IT is more complex than it was just two years ago. This rapid rise in IT complexity doesn't look like a short-term phenomenon either; it is a fundamental fact of conducting business in the modern, data-driven economy.
Simply scaling budgets to keep pace with growing IT complexity isn't sustainable in the long run, and it's often a non-starter. With innovation showing no signs of slowing down (see sidebar below), IT needs to reduce the number of things it has to manage. Some of this can be done via automation, some with the cloud and some with newer, more performant -- for example, hyper-converged -- systems that enable IT to consolidate old ones.
What is making IT more complex?
IT has always kept pace with natural business growth by increasing staff, applications, workstations, etc., along with storing and protecting all the data that comes with that. The difference today is businesses have learned they can use all that data to make more money.
Whether it's through improving operational efficiencies, enhancing products, providing better customer engagement, delivering new generations of digital products or opening new markets, IT is no longer just necessary for the bottom line. The need to accelerate the delivery of new technology and services means IT now plays a direct role in increasing that bottom line.
Businesses are generating more data and hiring more people who specialize in generating and using data. This has accelerated growth in things that IT has to manage. As the volume of stuff to deploy, manage, maintain and worry about increases, a slew of new technologies have emerged for IT to learn and understand. These include big data analytics, AI, containers and the myriad public cloud services now available.
Let's see how HCI streamlines tech and transforms the data center to help IT departments cope with this increasing complexity and better support business in the new digital economy.
How hyper-converged infrastructure benefits business
By consolidating multiple data center technologies -- server, storage, networking and hypervisor -- into a single platform, HCI dramatically simplifies IT infrastructure. When ESG asked HCI users to identify the benefits they received from their hyper-converged deployment, the top five were TCO savings, faster deployment, improved scalability, improved service and support, and simplified management.
Slow IT deployment has become a top complaint among business leaders who view IT as a business inhibitor.
Each of these hyper-converged infrastructure benefits directly reduces the time and effort required for basic IT tasks.
How HCI changes data centers
While HCI can add networking issues to consider for the incremental east-west traffic of some hyper-converged environments, its deployment looks to be positive overall. HCI reduces the number of elements IT administrations must manage, as much of the traditional three-tier architecture -- server, network and storage -- is abstracted away.
This simplifies qualification and speeds up deployment, which then frees time for IT administrators to address other tasks. Additionally, hyper-convergence has enabled some IT organizations to allocate certain tasks traditionally held by storage administrators, such as storage provisioning, to other teams.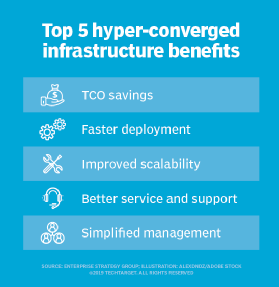 Simplification is important to help control the cost of operations, but in the modern digital era of business, speed matters as well. The way a business interacts with -- and judges -- IT is often based on two things: reliability and speed of new service deployment. Though every organization is different, for years, IT has predominately focused on reliability, while speed was considered more on a best-efforts basis. Job number one has long been to ensure IT services stay up and available. As a result, IT overindexed toward security, governance and reliability at the expense of speed of deployment.
How faster deployment of hyper-converged infrastructure benefits business
While all important -- even vital -- priorities, the complex and slow deployment of traditional IT infrastructure and services has become a larger issue for business leaders. Executives no longer view IT as simply vital; in the digital era of business, access to new IT services has become an integral step to growing the business and meeting revenue targets. This shifting dynamic has made speed of deployment a much higher priority.
Slow IT deployment has become a top complaint among business leaders who view IT as a business inhibitor. In other words, IT needs to pick up the pace or get left behind.
While this increase in the need for speedy IT services has almost certainly helped fuel the rise of the public cloud, hyper-converged infrastructure benefits on-premises workloads as well. Even with hyper-convergence, IT will probably need to take additional steps to meet deployment time goals.
The key is convergence, in the form of HCI or even larger converged deployments, which reduce IT work. With the increasing complexity of today's IT, every little bit helps.